The single best feature of Twitter as a communication medium is that it's permission-based. You need not follow me and I don't have to follow you… no handshake, no approvals, no intervention necessary. If, for some reason, I insult you or SPAM you… or you simply get tired of my tweets, you can unfollow. No one's feelings get hurt – no harm, no foul.
This month, Navy Vets will shoot past 1,000 users online. This is a social network for veterans that's owned and operated by veterans. When revenue begins to exceed expenses and the startup costs are repaid, we're looking forward to making NavyVets.com a non-profit enterprise – with all revenue being returned to Veterans' Charities.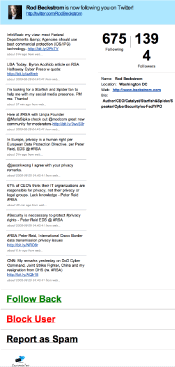 To keep costs low, I've run very small budgets of pay-per-click advertising and organically promoted the site as much as possible.
Last night I did something a little different, I added a NavyVets Twitter account, added the activity feed into the Twitter account utilizing Twitterfeed, and then searched for and followed Navy Veterans on Twitter!
It's a time-consuming job, but after a period of time I found and followed about 40 Navy Veterans on Twitter. This sends them a message with my information so that they can check out the Navy Vets profile. Many of the folks I followed turned around, visited the Navy Vets network, and applied for membership! It's not the easiest method of acquiring leads, but it was both effective and didn't irritate anyone so I believe it's a success!
Some Additional Twitter Tools
The email that you receive when someone follows you on Twitter is pretty bare bones. Someone on Twitter turned me on to Twimailer. You replace your Twitter email address with the Twimailer email address and voila! See the image on the right. You receive very informative emails with the photo, profile information, latest tweets, as well as quick links to follow, block or report the user for SPAM.
Since everyone's public tweets are accessible by search, it seems this is a fantastic way for businesses to – not just react to customers – but to proactively connect to prospects as well!
Do you have a product or service you wish to promote? Some tools for Twitter will reply if keywords are mentioned and/or a specific geographic area is specified. I think this may be a bit intrusive – thankfully they also offer an opt-out mechanism. I tried Tweetlater a while back, but to no avail. Simply following the twitter account is a nice, quiet means of nudging the account into checking you out.
This is datamining and it's a fairly well-known technique for acquiring leads through data sources. Datamining Twitter may be a great means for you to find new leads in Twitter today!