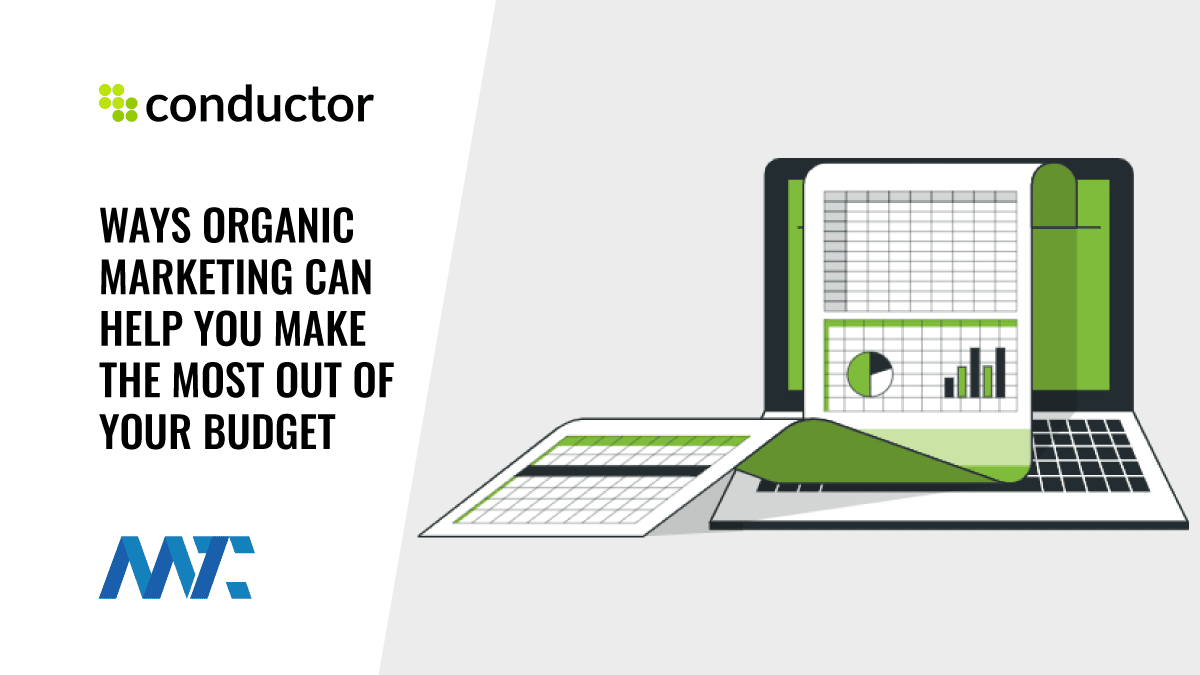 Search Marketing
3 Ways Organic Marketing Can Help You Make The Most Out Of Your Budget In 2022
Marketing budgets plummeted to a record low of 6% of company revenue in 2021, down from 11% in 2020.

Gartner, The Annual CMO Spend Survey 2021
With expectations as high as ever, now is the time for marketers to optimize spending and stretch their dollars.
As companies allocate fewer resources to marketing—but still demand a high return on ROI—it doesn't come as a surprise that organic marketing spend is soaring in comparison to ad spend. Organic marketing efforts like search engine optimization (SEO) tend to be more cost-effective than paid ads. They continue to deliver results even after marketers stop spending. Simply put, organic marketing is a smart investment to safeguard against inevitable budget fluctuations.
So, what's the formula? To get the most out of your budget and improve organic marketing initiatives, marketers need a diverse strategy. With the right mix of channels—and with SEO and collaboration as a central focus—you can build customer trust and drive revenue.
Why Organic Marketing?
Marketers often feel pressure to deliver immediate results, which paid ads can deliver. While organic search may not help you achieve ROI as quickly as paid ads, it contributes to more than half of all trackable website traffic and influences nearly 40% of all purchases. Organic search is a long-term driver of marketing success that is essential to business growth.
An organic growth strategy also presents an opportunity for marketers to build lasting relationships with customers. After entering a question into Google, 74% of consumers immediately scroll past paid ads and rely on a more trusted organic result to answer their questions. The data doesn't lie—organic search results drive significantly more traffic than paid ads.
Beyond the benefits of driving brand awareness and customer trust, organic marketing is extremely cost-effective. Unlike paid ads, you don't have to pay for media placements. Your organic marketing costs are technology and headcount. The best organic marketing programs are driven by in-house teams, and they use enterprise-grade technology to scale.
Paid ads aren't a thing of the past, but organic marketing is a big part of the future. This is especially important as Google plans to remove third-party cookies in 2023, decreasing the efficacy of paid ads. By incorporating organic initiatives like SEO into your marketing plan, you are more likely to meet business objectives and achieve a higher ROI.
Improve Organic Marketing Strategies in 2022
The value that organic marketing provides makes it a powerful tool, especially for organizations with a limited marketing budget. But organic growth is only successful with the right strategy. To gauge where organizations' marketing priorities lie in 2022, Conductor surveyed more than 350 marketers to learn about their plans for the year and identify trends in spending.
And, according to the survey, the top priorities for digital leaders over the next 12 months include website user experience (UX), content marketing, and stronger collaboration between teams.
With this in mind, here's how you can take your initiatives to the next level and get the most out of your marketing budget:
Harness the power of SEO. Successful marketing provides searchers with content that answers their questions—what we refer to as customer-first marketing. Since both B2B and B2C decision-makers typically start their purchasing journey with their own research, it's worth investing in SEO. But keyword stuffing won't boost search rankings. Prioritize keyword research and technical audits to ensure search engines can effectively index the website's content.

To maximize impact, invest in an organic marketing platform and in an in-house SEO team to ensure company-wide consistency in content across channels with SEO strategies.
Collaborate for excellent UX. According to digital leaders, maintaining a positive UX for your brand's website is paramount in 2022—but it's not possible without collaboration. Workers in web, SEO, and content roles found individuals in other roles to be collaborative less than 50% of the time. This disconnect can easily result in duplicate work, bottlenecks, and inconsistent SEO practices. Successful UX initiatives involve regular communication between departments, highlighting the need to break down organizational silos. An added bonus with excellent UX? It improves your Google search rankings.
Measure results. A common theme our survey uncovered is the need to measure the success of SEO programs in 2022. Continuously evaluating the effectiveness of SEO technologies and practices can inform your priorities.

Do yourself a favor: Before implementing your SEO program, determine which metrics you will monitor (e.g., traffic, keyword ranking, and market share) and how you will measure results. This enables you to hone your content and prioritize the initiatives that work best—saving you time and money.
A reduced marketing budget doesn't have to mean a low-quality marketing plan for 2022—you just need to optimize your resources. With a strong strategy and a focus on organic marketing, you can build customer trust and brand awareness while driving revenue.
Interested in learning more? Check out Conductor's latest report:
The State of Organic Marketing in 2022