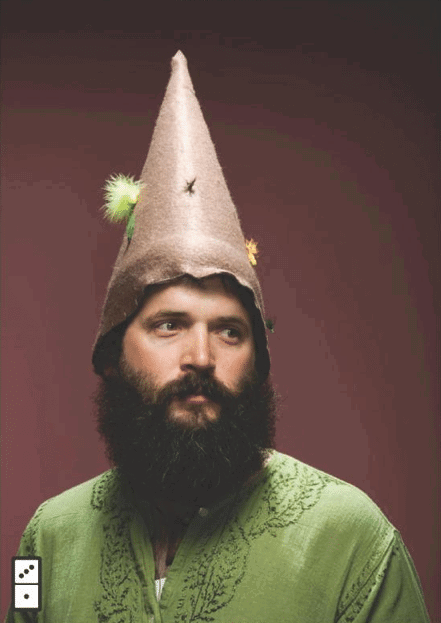 As soon as I saw that there were only limited copies of We Are All Weird out for sale, I knew I had to order a copy. This is Seth Godin's latest book and it's a fabulous little manifesto.
From the inside sleeve: Godin's argument is that the choice to push all of us toward a universal normal merely to help sell more junk to the masses is both inefficient and wrong. The opportunity of our time is to support the weird, to sell to the weird and, if you wish, to become weird.
Accompanying the content is this diagram which illustrates what Seth Godin describes. Globalization, inexpensive distribution, and increased communication has enabled us all to be as weird as we actually are. We don't have to to be normal – we can find people with interests, hobbies and tastes just like us from all corners of the globe.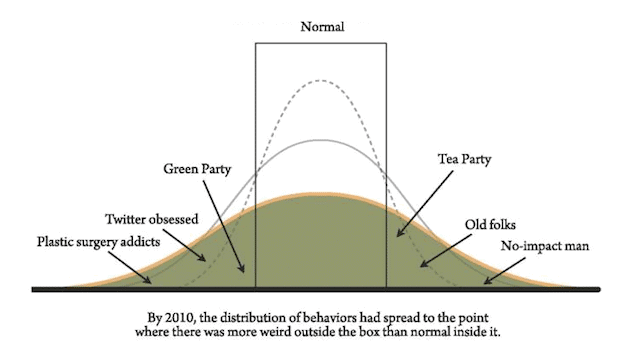 As it applies to modern marketing, the message of the book is critical in my opinion. Too many out there are utilizing social media as just another channel. It's a statement that I hear all the time and it's absolutely wrong. It's only just another channel when you wish to waste your time trying to sell one way through it. Targeting out is not the ideal tactic with social media.
Companies have the resources and the opportunity to provide the weird with a place to gather, share, and communicate. Char-Broil's social community isn't about selling grills, it's about bringing together a community of folks whose passion with grilling is almost religious. Once that community thrives, they're appreciative of the brand who gave them the opportunity and, ultimately, the sales will follow.
The place your company develops for the weird to organize doesn't even have to be relevant to the product or service. Other companies do a fantastic job fostering social gatherings around a community, a charity, an event or some other common purpose.
Our agency is reinvesting heavily into this blog, our video series, our radio show, and sponsoring regional and national events that target weird folks like us that like to leverage technology for marketing. We are strange… we'd rather talk code, APIs, beta applications, analytics and automation than other marketing topics. We don't talk much about Facebook, Google+ or Twitter news… those topics are normal and you can find a couple hundred blogs fighting for that traffic!
We'll stick to weird.
What a great book. I love books that clarify what we're doing and push us to work harder at it. As Seth states, The goal is to find and organize and cater to and lead a tribe of people, embracing their weirdness, not fighting it. I hope we're continuing to do that!
To continue fostering this conversation, please join our Meetup page and subscribe to our newsletter (above). You don't need to be from Indianapolis although the regional events are all posted there. We're going to begin having some webinars and virtual events soon – perhaps the first one, as the Domino Project requests, is to share and discuss this book!