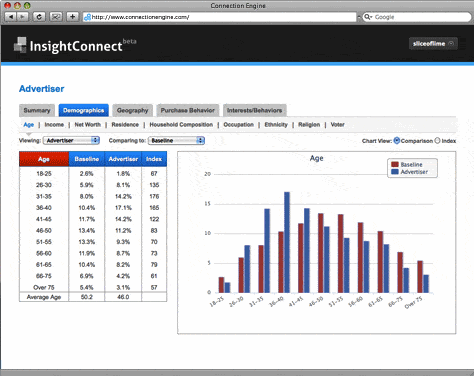 A friend sent me a note today about an interesting service for appending demographic, purchase and geographic information with your email list called Connection Engine. The service allows you to append hash codes to your email lists to keep your email addresses secure. You upload your hash codes (an encrypted key applied to a unique email address) to the service and they append the data.

Most email marketers are simply interested in more subscribers, but don't pay attention to the relevance of those subscribers. Batch and blast is the old methodology and basically wears down your email and results in more complaints, unsubscribes and lower click-through rates and conversions. Identifying the demographics of those who have engaged with you will allow you to quit blasting and to start segmenting your list. By tailoring the right message to the right subscriber, you will see a significant increase in conversions.
We use secure, encrypted email hash codes to match your customers with over 50 billion real-world data points and instantly build a detailed profile of your subscriber base. Simply upload your hash codes and within minutes you'll have detailed insights into your customers including demographics, interests, purchase behavior, location and much more. From the Connection Engine site.
It appears that Connection Engine has tossed all the bells and whistles and really kept this a simple, secure means of appending data. I really appreciate when folks keep these services simple like this! Call them for a free trial.