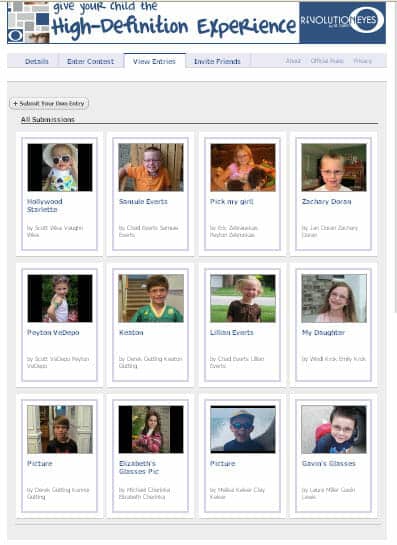 Marketers both love and hate sweepstakes and contests.  While effective tools to build brand awareness and generate prospect lists, they tedious, time consuming, and challenging to administer. So when  Daniel Herndon of Red Wall Live came up with a terrific idea for a back to school promotion for our client Dr. Jeremy Ciano of RevolutionEyes I was excited about the idea, but concerned about the execution.
The contest is simple:
Parents submit photos of their kids wearing glasses and sunglasses
Then they get their friends and family to vote.
The child with the most votes wins a helicopter ride, tickets to an Ice game and a ride in a zamboni machine, and a behind the scenes tour of the zoo.
The objectives behind the contest, not so simple:
Collect images we can use to build awareness of the pediatric practice
Build fans for facebook page
Collect email addresses
The administration was intimidating. But this is the age of the internet and the iPhone, and there is always an "App" for that.  In this case the application is Wildfire. What I like About using Wildfire:
It was relatively easy to build the campaign.  (Depending on how much time you want to spend on the graphics you can be up in less than an hour)
We had options:  Sweepstakes, coupons, photos and essay contests
Inserts easily into fan page.
Facebook is not required -Wildfire also offers simply widget for website and a microsite you can direct contestants to as well.
The simple user interface makes it easy for people to invite their friends and expand the contest virally.
The price is reasonable.  Depending on the length of the campaign, and the amount of customization you require, your administration budget will be a fraction of what it used to cost to run a program like this.  ( Dr. Ciano's budget spent around $200 for this six week program)
What I don't like about Wildfire: ( Lets face it, nothing is perfect)
Only one submission per computer – I understand the reason, but this prevents us from signing people up as they come to Dr. Ciano's office.  While we can hand out reminders,  not everyone will go home and do it.  (after I wrote this post, we found a way to increase the number of submissions, so one less thing to dislike)
We can capture emails of everyone who submits, but not everyone who votes.  The real benefit of this campaign is expanding the mailing list.  So we want o parents AND all of their friends and family members.  To accomplish this, we will switch to Formstack for the voting
Bottom line…  I am excited about Wildfire, and will be testing a number of the variations for clients in the coming months.  Including our own : Biz Card Makeover Have you used Wildfire?  What experiences have you had with the product?