Back at BlogIndiana 2010, we did a soft launch for WordPress plugin to help increase employee productivity. It's called Blogging Checklist, and it's based on the unbelievably simple and yet astounding power of a checklist.
Blogging Checklist is just what it sounds like: it creates a bunch of checkboxes for you to use when writing a blog post. Sure, you could achieve the same thing with a Word document or a post it note, but by embedding this in a WordPress plugin it's much more likely to be standardized and actually used. Here's what it looks like:

That's it! Except, of course, you can customize the items to contain whatever you want. And the checklist appears in the most useful place imaginable, on the Edit Post page itself. So while you are writing a post, you can actually check off the items on the list.
Customizing the list is really easy too. You don't have to know any HTML. (Although you can use it if you want to.) Here's the admin page: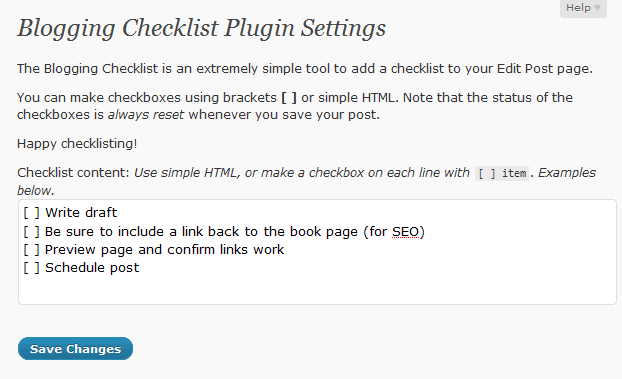 The design of the plugin is not intended to be anything other than a scratch pad. None of the data is saved, which is exactly you want. After all, a visual inspection should be done to confirm that you did everything listed. This might include steps such as "run spellcheck" or "insert a stock photo" or maybe "test outbound links." All of these are items you know you should do every time you blog, but with this plugin you can be reminded to do them every time. Best of all, every one of your authors will see the same list, leading to more consistent, high quality posts.
It's free and part of the official WordPress plugin repository. Search for "Blogging Checklist" in your own WordPress installation, or visit the official page.
Happy checklisting!