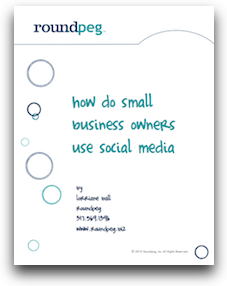 Roundpeg recently did a social media survey and put together a fantastic whitepaper on the results. As I read through the pages, one of the results really struck me. More than 70% of the business owners surveyed said social media generates 10% or less of their total business.
In truth, I don't believe these customers know how much of an impact social media had on their business. As I look at direct requests from social media resources, even my social media company has had few leads generated. But that's not the real picture. I know that I have prospects who researched me online prior to calling. Of all the leads that I've had in the last year, there's only been 2 that were direct word of mouth that had not found me online.
However, of those two, they actually spoke to me because the person they found out about me from was engaged with me in social media. So… there's actually two ways to ask and answer the question of social media influence:
What percent of leads are you getting from social media?
What percent of your leads researched you via social media or found you through your extended online social network?
The answer to #1 is low, even for me! The answer to #2, though, is 100%. Granted, as a social media agency, we're an exception. However, I would be willing to bet that most of your leads that are coming in have researched you online – including within your social network. That means that social media may not be driving all your business, but it is impacting your business.
Social media has also opened other opportunities – including public speaking engagements and even writing a blogging book. Those speaking engagements have brought leads… and I'm guessing the book will, too. That's all stemming from the efforts I've put into social media.
When you get the opportunity, ask your leads whether or not they researched you online through search, social media, or within their business network. My guess is that you'll be surprised at the results!