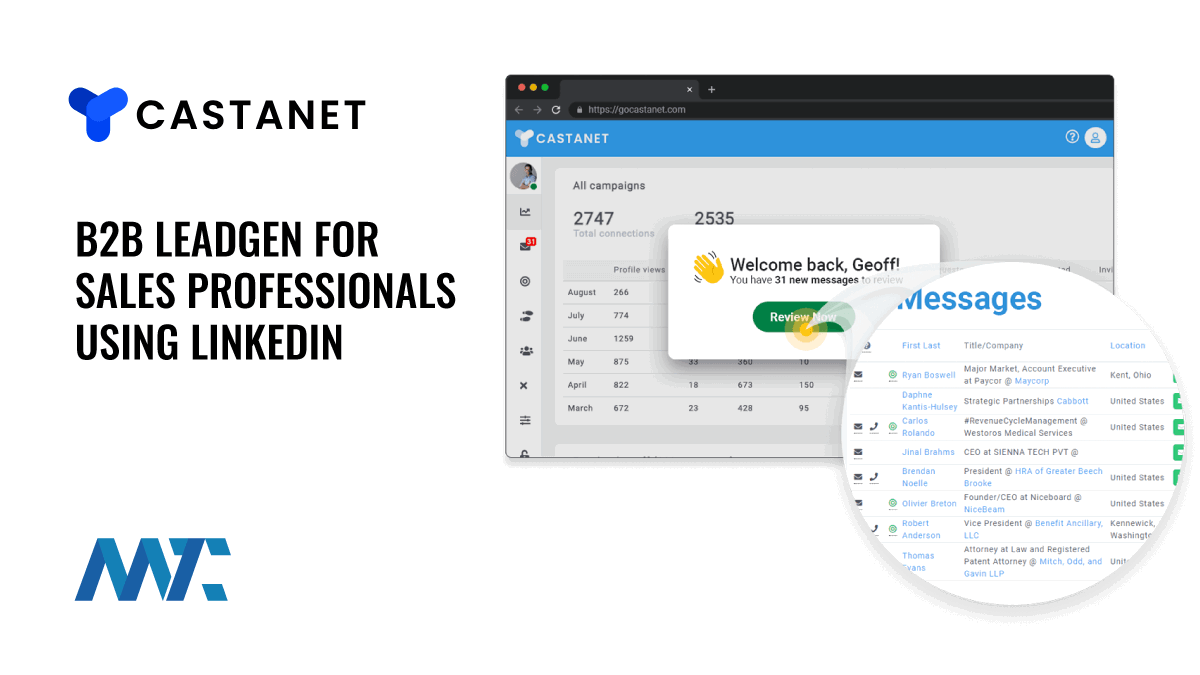 The task of generating valuable leads can be an arduous and time-consuming endeavor. Enter CASTANET, an automated B2B lead generation tool designed to transform how sales professionals, realtors, investors, insurance agents, SaaS technology providers, business advisors, coaches, and marketing agencies approach lead acquisition.
Traditional manual LinkedIn lead generation demands extensive time and effort, leaving sales professionals and agencies stretched thin. Keeping up with identifying, connecting, and engaging with potential leads can be overwhelming. Cold outreach often yields disappointing results, making relationship-building and trust-establishment a struggle.
CASTANET Benefits
Automated Campaigns for Effortless Leads: One of the key benefits of CASTANET is its ability to automate the entire lead generation process—no more spending hours on repetitive tasks. CASTANET operates 24/7, continually bringing in new leads even when you're not actively working. This means more opportunities for engagement and growth without constantly burning the midnight oil.
Data-Driven Insights for Precision: CASTANET's cutting-edge technology goes beyond basic lead details. It provides valuable insights into prospects' educational backgrounds, group affiliations, and professional event attendance. This enables you to tailor your approach, making your engagement more personalized and relevant. More data means better leads, translating into higher conversion rates.
Effective LinkedIn Engagement: Building a rapport with potential clients is paramount for success. CASTANET encourages meaningful interactions over blunt sales pitches. By communicating, sharing interests, and positioning yourself as a valuable resource, you nurture relationships that convert leads into loyal clients. CASTANET is your ally in building trust and credibility over time.
Seamless Integration with Zapier: CASTANET understands the importance of streamlining workflows. With its robust integration with Zapier, you can seamlessly connect leads to your CRM, notify your sales team through Slack, or sync data with numerous other apps. This feature simplifies processes and ensures your leads seamlessly transition through your sales pipeline.
By automating campaigns, offering data-rich insights, facilitating meaningful LinkedIn engagement, and seamlessly integrating with Zapier, CASTANET empowers sales professionals and agencies to work smarter, not harder. The benefits are clear: a steady influx of leads, efficient engagement, and a proven track record of success. With CASTANET, you can bid farewell to manual lead generation and usher in a new era of efficiency, growth, and meaningful connections.
How Does CASTANET Work?
CASTANET is a cloud-based solution, meaning installing anything on your device is unnecessary. It's accessible from anywhere with an internet connection, making it hassle-free to manage your LinkedIn outreach. Here's how to use it:
Setting Up Your Criteria: You'll input your search criteria to get started. This includes defining the characteristics of your target audience – the professionals you want to connect with on LinkedIn.
Craft Your Custom Messaging: Next, you'll create personalized messaging sequences. These messages are tailored to resonate with your intended audience. You can craft messages for various touchpoints, such as connection invites, appointment requests, and skill endorsements.
Leveraging LinkedIn Tools: CASTANET employs LinkedIn's tools to identify potential leads. It can utilize LinkedIn search results, tap into Sales Navigator for advanced options, and even explore professional groups to build your list of potential connections.
Automated Outreach: Once your criteria and messages are set, CASTANET takes over. It triggers your messaging sequences at the right moments. This ensures a strategic and well-paced engagement strategy with your leads.
CASTANET becomes an extension of your outreach efforts. It handles the time-consuming tasks, allowing you to focus on building a robust professional network, generating new leads, and cultivating meaningful B2B relationships.
CASTANET operates within the daily action limits set by LinkedIn. This ensures that your outreach remains compliant and doesn't trigger any restrictions on your account. Depending on your chosen CASTANET plan, you can manage multiple LinkedIn profiles if needed.
In essence, CASTANET is your partner in streamlining and enhancing your LinkedIn outreach efforts, enabling you to focus on what matters most – connecting, engaging, and building lasting relationships with your target audience.
I've been prospecting with Castanet for about 6 weeks and have many new leads and already landed two as clients. One is with the Auto industry and other is a Lawyer. The thing I like about Castanet, it promps you to jump into a conversation after the automation has warmed it up. I highly recommend Castanet for agencies!

Steven Keltsch Owner, Outrageous Digital
With over 2.75 million new B2B connections generated, CASTANET stands tall as a leader in LinkedIn campaign management. Its success stories demonstrate its effectiveness in connecting professionals across various industries. CASTANET offers plans catering to different needs. Whether you're a solo sales professional or a large agency, CASTANET's tiered pricing ensures you access the right features for your business.
Ready to supercharge your lead generation efforts? Try CASTANET today and experience the transformation firsthand. With a 7-day free trial and a 100% satisfaction guarantee, there's nothing to lose and everything to gain. Your journey toward a more productive and prosperous future starts now.
Start Your 7-Day Free Trial of CASTANET