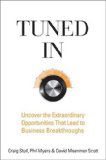 After reading quite a bit of Tuned In, I was really intrigued by one of the questions posed by the team at Pragmatic Marketing. Is your website talking about your company or is it talking about your customers?
Though it's important to justify your authority in your space, it's much more important for you to speak to what you've achieved for your customers. I posed the question on Twitter and it got some attention from quite a few folks, including Andy Beal of Marketing Pilgrim.
I decided to put myself to the test… am I talking about myself more on my blog than about the readers? I wrote a Tuned In Calculator to find out! The calculator parses your feed and measures the volume of I, me, we, you, you're, us, etc. in the content of the feed. It weighs titles greater as well!
Here are the results for my blog, a 9 out of 10: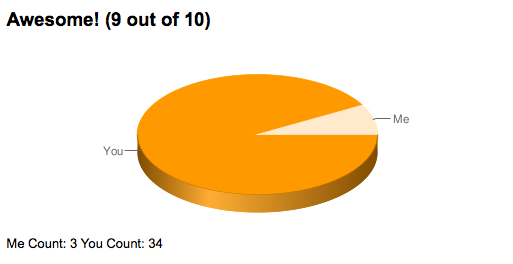 This basically means that I talk about you the majority of the time! Interestingly enough, I put the feed addresses of some major A-listers and the results were all over the scale! Give it a shot! If you find any Narcissists (A score of 0), let me know! I had some fun with the titles of the results.
And be sure to pick up a copy of Tuned In: Uncover the Extraordinary Opportunities That Lead to Business Breakthroughs. It's an outstanding book on effectively communicating with customers and prospects in order to grow your business. My favorite feature of the book is that each section provides real-world examples of Tuned In companies!