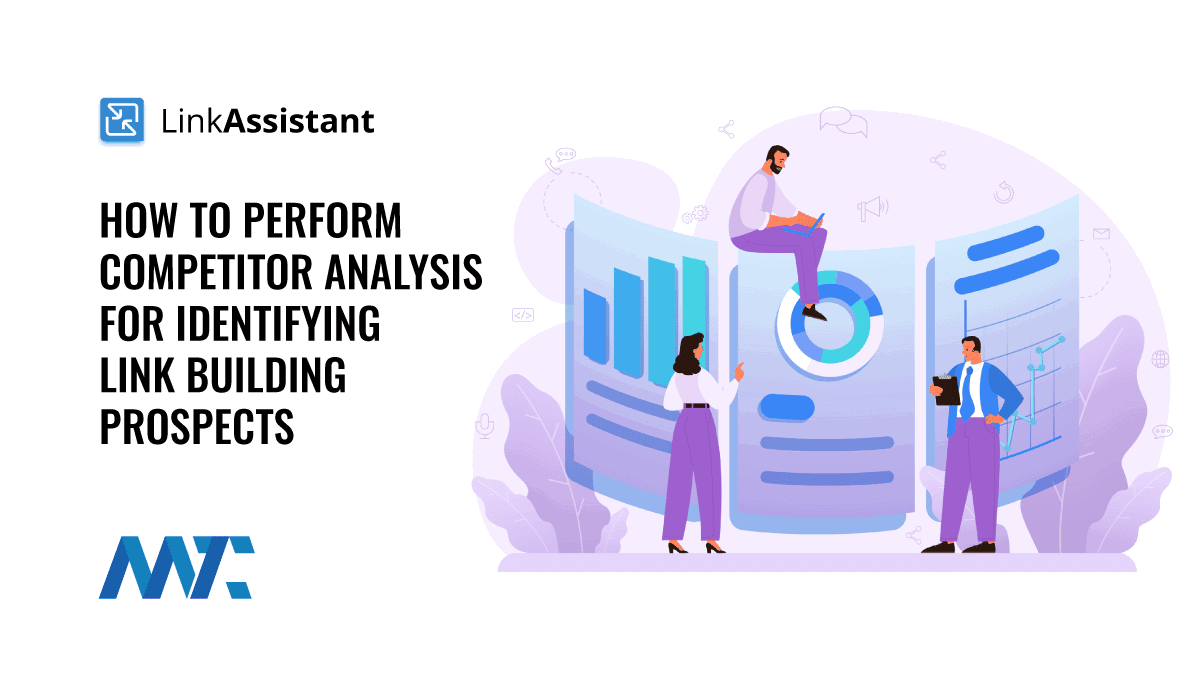 Search Marketing
How To Perform Competitor Analysis for Identifying Link Building Prospects
How do you find new backlink prospects? Some prefer to search for websites on a similar topic. Some look for business directories and web 2.0 platforms. And some just buy backlinks in bulk and hope for the best.
But there is one method to rule them all and it's competitor research. Websites linking to your competitors are likely to be thematically relevant. What's more, they are likely to be open to backlink partnerships. And your competitors have done all the work of finding them, so all you have to do is swoop in and take their prospects for yourself.
In this guide, you will learn how to find your true competitors, discover their backlinks, and borrow the ones with the highest potential.
1. Find Your True Competitors
The first thing to do is figure out who your true search competitors are and choose the best ones to spy on. Remember that your search competitors are not necessarily the same as your real-life competitors. Instead, these are the websites that rank high in your search engine result pages (SERPs), i.e. for the keywords in your niche. This research can also help you determine the estimated budget of your future link-building campaign.
The easiest way to see who your key competitors are is to type your seed keywords in Google and see what domains appear on Google SERP most often. Now, you'll get some odd websites, like Men's Health or Forbes or other lifestyle magazines ranking for very niche keywords, but, after a few searches, you should have a pretty good idea of who is actually operating in your niche.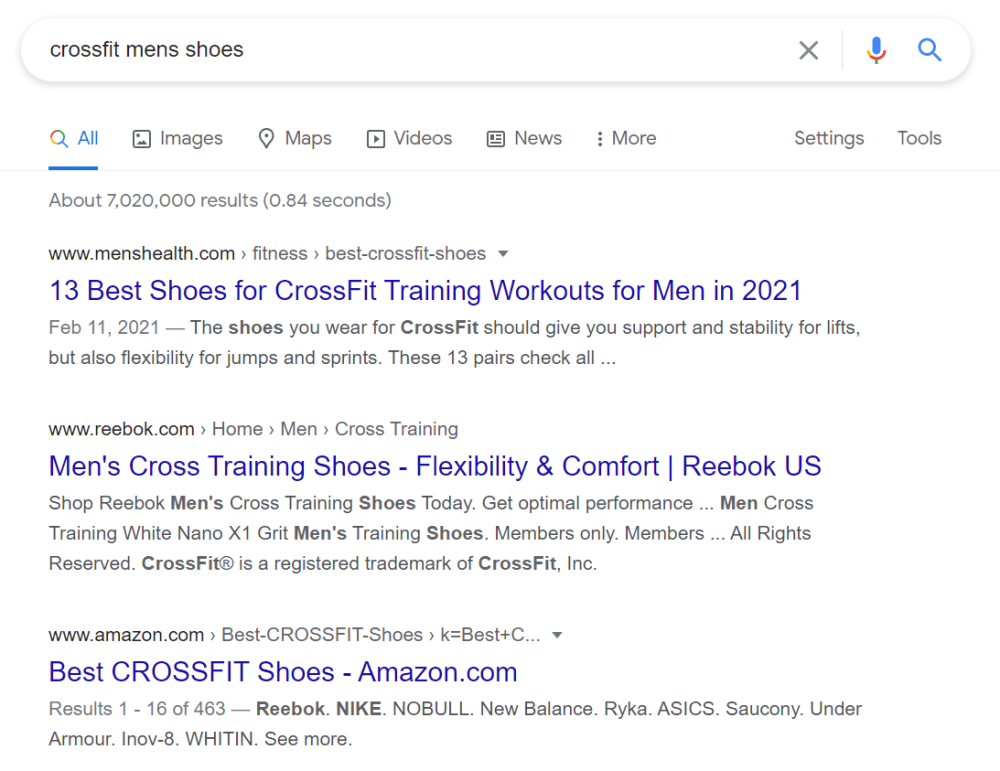 Of course, googling all of your seed keywords and writing down the websites that rank for most is not very efficient. Luckily, competitive analysis is a common challenge for SEOs and website owners, so there are many professional tools that can speed up the process. If you are already using an SEO tool, whether it be Moz, Semrush, or Ahrefs, it is likely to have some form of competitor research built-in. Depending on the SEO tool that you use, you will be able to identify your search competitors either by topic or by domain, or sometimes both.
To identify your competitors by topic, you would have to enter a few seed keywords and the tool would find top websites ranked for these keywords most often. This method allows you to cherry-pick the keywords and look for competitors in a narrow niche.
To identify competitors by domain, you would have to submit your domain. The tool would analyze all of the keywords that you rank for and find websites with the largest keyword overlap. This method allows you to find competitor websites that are most similar to your own website, although the niche might be broader than you intended.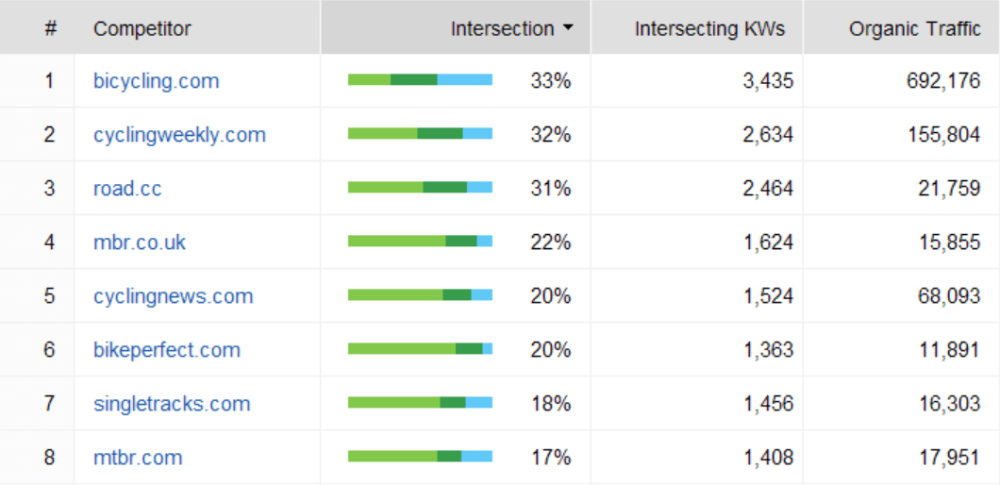 Once you get a list of competitors, most SEO tools would allow you to evaluate them using a range of quality metrics. The most common metrics include domain authority, organic traffic, and the percentage of keyword intersection, i.e. how similar a competitor's website is to yours. Use these metrics to select between five and ten top-quality competitors for further backlink research.
2. Find Your Competitors' Backlinks
Once you've come up with the list of your most relevant competitors, you can move to investigate their backlink profiles.
For a quick check of competitor's backlinks, you can use any backlink checker tool. Type the competitor's domain to see the exact pages that link to a website, the URLs they link to, anchor texts, domain ranks, whether a link is dofollow or not: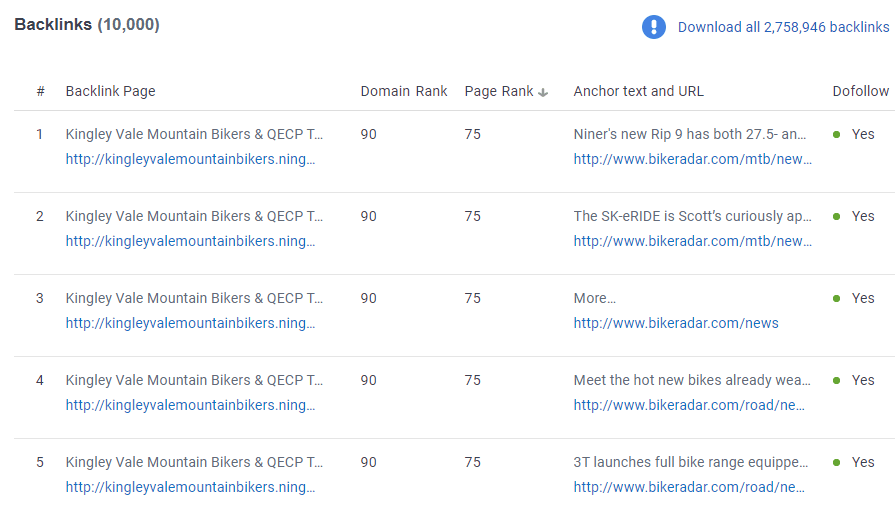 If you want to run a more comprehensive research of your competitors' backlinks, you'll need to use professional SEO software. A dedicated competitor analysis tool will allow you to research several competitors at once, as well as filter discovered backlinks by authority, location, nofollow tags, penalty risk, and other parameters: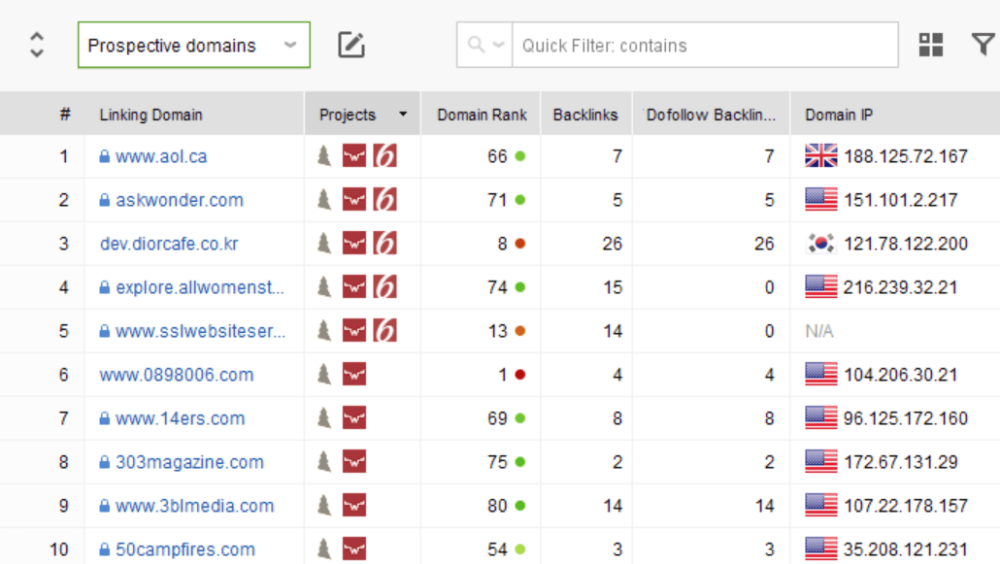 Arguably, one of the best features of backlink research is when you can see which websites link to two or more of your competitors. These websites are your top priority backlink prospects — they are more likely to operate within your niche and less likely to have an exclusive partnership with any one of your competitors.
3. Select The Strongest Backlink Prospects
Once you've pulled a full list of your competitors' backlinks, you are likely to have thousands, sometimes tens of thousands of prospective websites. Which is clearly too many to run an effective outreach campaign. Besides, blindly copying all of the backlink prospects of your competitors is not the best strategy, as some of them may offer low-quality backlinks that will only harm your SEO.
To shorten the list of your backlink prospects down to a manageable size, you need to discard the websites that offer low-quality backlinks. The most common factors that signalize the quality of backlink prospects include:
Domain authority. The higher it is, the better. High authority domains are the websites that themselves have many backlinks, high-quality content, and good user experience, and therefore pass more authority through their links.
Dofollow/nofollow. Unlike nofollow links, dofollow links are capable of passing link juice to their destination pages. Nofollow links are not entirely useless, but they do not contribute to your rankings. It's ok to have nofollow links in your profile, but you shouldn't waste your resources getting more of them.
Link overlap. As already mentioned, domains linking to two or more of your competitors are especially valuable as backlink prospects.
Penalty risk. Links that come from shady websites with thin or nonsensical content, tons of ads, and bad user experience may land you in hot water with Google.
Depending on the SEO tool you've used to collect backlink prospects, you'll be able to use some or all of these parameters above to filter the list of backlinks. Taking Moz as an example, you'll have DA for domain authority, Spam Score, and Sites that intersect: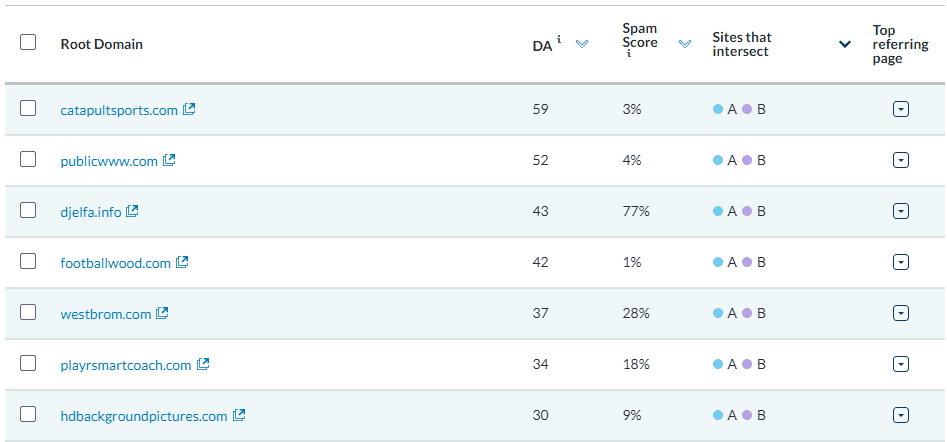 Other SEO tools might have different metrics or different names for the same metrics, but the process is basically the same. You have to decide what your thresholds are (e.g. website authority > 60; penalty risk > 50) and filter your prospects accordingly. Tune your settings until you are left with a satisfactory number of prospects and this is your shortlist.
4. Start Outreach Campaigns
Now that you have a shortlist of high-potential prospects, it's time to see which of them will be willing to host your backlinks.
The first step in your outreach campaign is to split your prospects into distinct segments and choose a proper way to build communication with each segment. Open the pages you've picked for your shortlist, and check where exactly the backlinks are placed on the page. Segment the prospects according to the backlink context.
Here are the examples of what the backlink contexts may look like:
listicles;
blog posts;
guest posts;
reviews;
comments;
website footers;
business partners sections;
press releases;
business directories.
If you are using dedicated outreach software, you'll probably be able to tag your prospects right there. If not, copy the backlink prospect domains to an Excel spreadsheet, and mark the categories in the next column:

You can then sort your prospects into categories, find contact information, and start your outreach. Choose the email template according to the type of prospect, and say directly what you're going to ask for, and what you will offer in return.
Remember to make your outreach message personalized. People don't like bot-like letters, and most often delete them without reading.
Note: Investigating your prospects gives you another opportunity to check their websites for relevance and quality and remove some more prospects from the list. Also, if you find that some of the websites are business directories, web 2.0 websites, or other places where you are free to create content, there is no need to reach out to them. Move them to a different list and place your own backlinks in whichever format is required.
5. Monitor Your Backlink Profile
Monitoring your backlink history will let you see if new backlinks have made any changes to your ranking positions, notice if something goes wrong, and investigate any arising issues.
A sudden influx of low-quality backlinks is one of the things that may require your attention. It might be a negative SEO attack by one of your competitors, or the links may appear organically, or it might be your SEO agency buying low-quality links for your website. But whatever the reason, a sudden rise in spammy links may attract Google's attention and earn you a penalty. And recovering from such a penalty may take from several months to, well, never.
If you see a suspicious growth of the number of backlinks on your website, make sure to investigate whether these links are good or bad and where do they come from. If the links are bad, try contacting website owners and asking them to remove or at least nofollow the links. If it can't be done, then you can use Google's disavow tool to tell Google you had nothing to do with them.
A sudden drop in high-quality backlinks is another thing that may require your attention. This may happen because the linking page moved to another URL, was deleted, the page's content had changed, or the backlink itself was deleted or replaced by a link to your competitor. In this case, you need to contact the backlink partner to see what's happened and restore the backlink if possible.
Don't forget to monitor your competitors' backlink profiles, too. Pay attention to sudden recent rises in backlink quantity. If there are any, check where they came from. If the new prospect appears to be a credible one, consider including it in your outreach, too.
Pro Tip
Competitive analysis is the most effective way of finding quality backlink prospects. There is simply no other method that can deliver this degree of relevance. And the leads are hot too, since your competitors have already managed to place their backlinks there. it's definitely a place to start building your backlinks or something to try if you haven't tried it before.