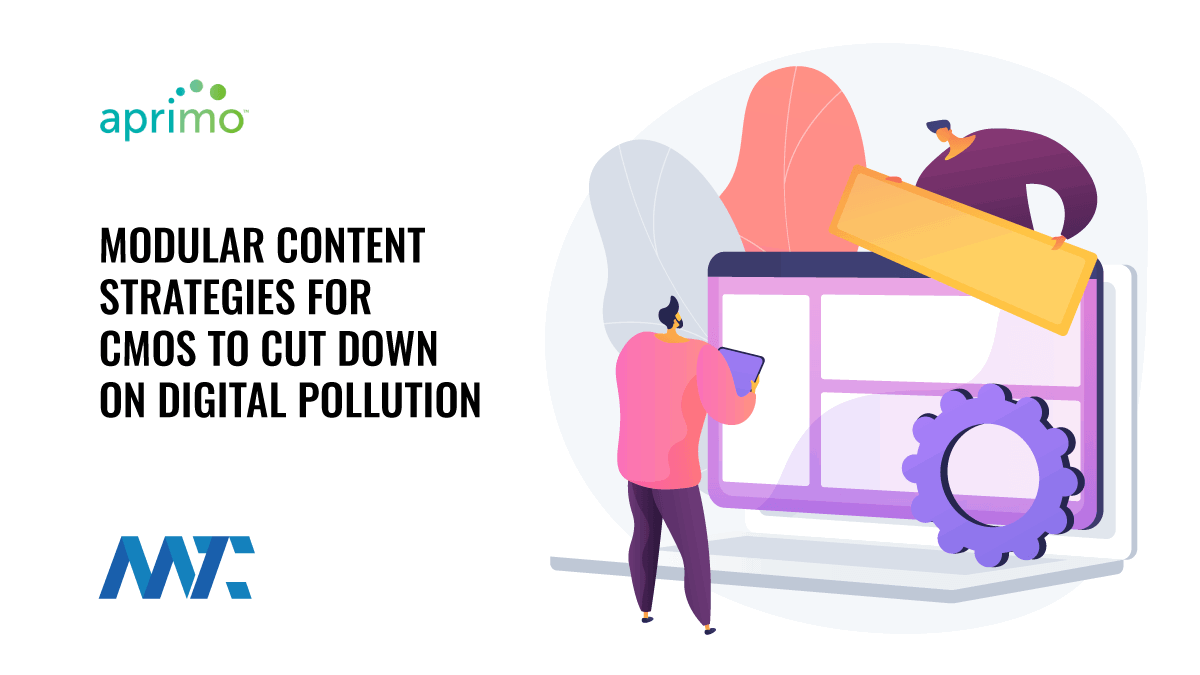 It should shock you, maybe even piss you off, to learn that 60-70% of the content marketers create goes unused. Not only is this incredibly wasteful, it means your teams aren't strategically publishing or distributing content, let alone personalizing that content for customer experience.
The concept of modular content isn't new – it still exists as a rather conceptual model rather than a practical one for a lot of organizations. One reason is the mindset- the organizational shift that's required to truly adopt it – the other is technological. 
Modular content isn't just a singular tactic, it's not something to be added into a content production workflow template or project management methodology so that it is merely task-based. It requires an organizational commitment to evolve the way content and creative teams work today.
Modular content, done right, has the potential to transform the entire content lifecycle and significantly reduce your footprint of wasteful content. It informs and optimizes how your teams:
Strategize, ideate, and plan content
Create, Assemble, re-use, and integrate content
Architect, model, and curate content
Track, and provide insights into, content and campaigns
If this sounds daunting, consider the benefits.
Forrester reports that leveraging content reuse through modular components allows businesses to assemble custom – either personalized or localized – digital experiences much faster than the traditional, linear model of content production and management. The days of one-and-done content experiences are over, or at least they need to be. Modular content helps facilitate the always-on, continuous conversation through content engagement with your audience by enabling teams to work with individual blocks of content and content sets to mix and remix regional or channel-specific experiences in a fraction of the time it would traditionally take.
What's more, is that content then ceases to become the sales enabler and accelerator it's supposed to be. Quoting Forrester again
70% of sales reps spend between one and 14 hours every week customizing content for their buyers … [while] 77% of B2B marketers also report significant challenges driving the right content consumption with external audiences.

Forrester
No one is happy. As for the upside:
If a large enterprise spends about 10% of revenue on marketing, content costs are 20% to 40% of marketing, and reuse impacts only 10% of content per year, there's already a multimillion-dollar savings.
For CMOs, the biggest content concerns are:
Speed to market – how can we capitalize on market opportunities, tune into what's going on right now but also pivot when unforeseen events arise.
Mitigate risk – does creative have all the pre-approved content they need ready to go to cut down on reviews and approvals and get on-brand, compliant content to market on time? What's the cost of a bad brand reputation? It only takes one experience to change the minds of millions (dove).
Reduce waste – Are you a digital polluter? What's your waste profile look in terms of unused content? Are you still following a lengthy, linear content lifecycle model?
Scalable Personalization – Are our systems purpose-built to support the non-linear assembly of contextualized personal experiences across channels based on preferences, purchase history, region, or language? Are you able to strategically build content to use at the distinct moment of need – the made for you moment – but also ensure compliance, branding, and control and quality assurance across the content lifecycle without a grueling, time-consuming process?
Confidence in your martech stack – Do you have strong tech partners and business champions? And, just as important, are your data aligned between your tool sets? Have you run exercises to expose the dirty details and made space for complexity management and organizational change needed to align your marketing tech with the business?
On top of all this, the Chief Marketing Officer's (CMO) job is to move your brand from average to genius. Whether or not you succeed, how you go about it, is a direct reflection on the CMO themselves – how they've managed political capital, their place in the c-suite, their ability to cut down or eliminate failed projects and messaging, and of course waste, and how all of that is monitored and mapped to team and business success.
The agility, visibility, and transparency required in this mind shift go beyond content production and digital experience. This model drives intentional, purposeful content marketing strategies and higher quality content using fewer resources, with all the components built to support each experience, your micro-content or modularized blocks, becoming force multipliers to leverage your best content exponentially across your audience.
By leveraging modular content as a catalyst for change, for a new way of working, you are setting up what was previously impossible for large brands to accomplish. And it goes beyond pure scalability – you are also helping your teams be more future-focused, you are lifting up your creatives to reduce burnout and organizational drag. You are taking a stance on placing an emphasis on content that is just as important as the products and services you sell, and finally, you are instilling a commitment to curb waste and ensure your message, your vision, and your brand identity, don't get subsumed by the noise of digital pollution.