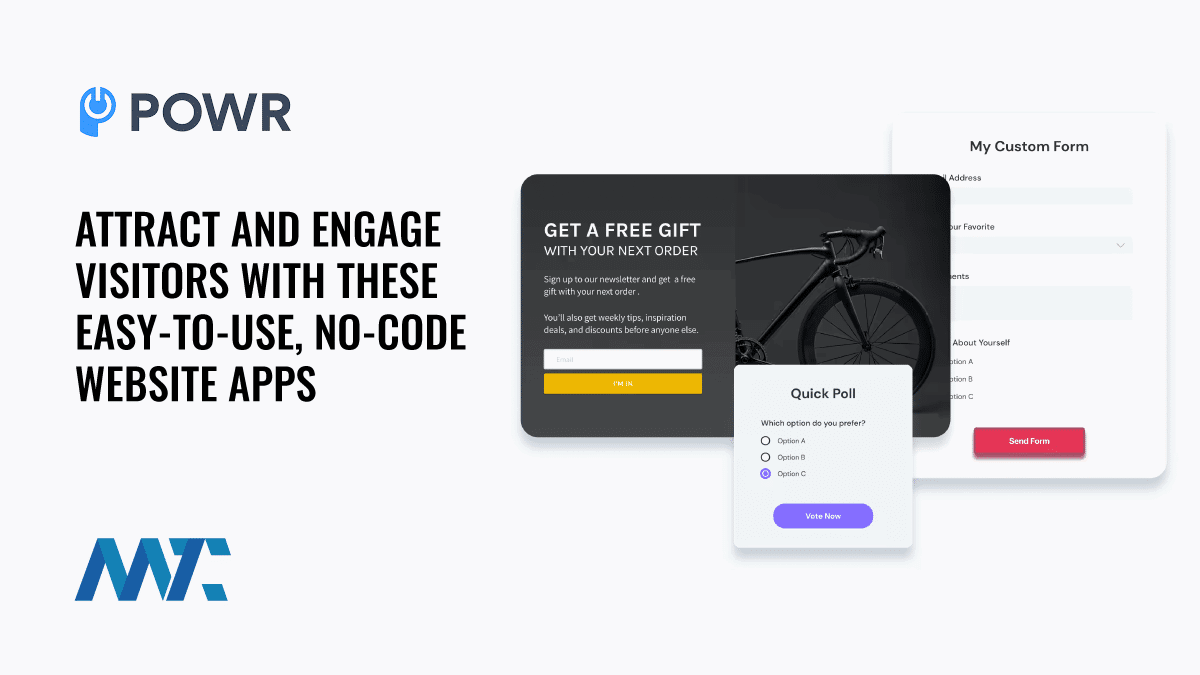 Building a comprehensive website that attracts and engages visitors requires more than content. Adding elements that attract a visitor's attention and drive them to conversion is essential to your inbound marketing strategy. No-code website apps are a great way to help companies who wish to quickly deploy these elements without needing custom development.
When it comes to website apps, POWR is the name that stands out from the crowd. Let's explore how POWR overcomes challenges, its features, and the types of apps you can build to boost your business.
What is POWR?
POWR is a leading suite of affordable, customizable, and easy-to-use website apps designed to help businesses of all sizes grow their online presence.
With over 60 different website apps available, POWR offers an extensive range of tools to cater to various business needs. The best part? No coding skills are required! Even if you're not a tech-savvy entrepreneur, you can effortlessly create and integrate powerful apps into your website.
Challenges Overcome by POWR
Time and Resources: Building website apps from scratch can be time-consuming and expensive. POWR eliminates the need for complex development, allowing you to focus on your business while empowering you with various pre-built, customizable app options.
Integration Complexity: With so many different platforms and tools used in the digital landscape, ensuring smooth integration can be daunting. POWR simplifies this by seamlessly integrating with over 70 platforms, including Shopify, Wix, BigCommerce, Squarespace, Joomla, and more.
Design and Customization: Maintaining brand consistency is crucial for businesses. POWR's intuitive Editor enables complete customization of app appearance, from colors and fonts to layout and buttons. Your website apps will seamlessly blend with your brand's unique style.
Features of POWR Website Apps
POWR provides a diverse range of apps designed to help businesses achieve different goals and objectives. Whether you want to boost conversions, get more followers, collect information, support customers, or engage visitors, POWR has the perfect app for each purpose.
Boost Conversions: Use apps like Countdown Timer to create a sense of urgency and highlight your best products, or implement Popup to capture contacts and promote offers.
Get More Followers: Increase brand loyalty and keep your site content fresh and exciting by connecting to social media with apps like Social Feed and Social Media Icons.
Collect Information: Gather insights into customer preferences, pain points, and other important information using the Form Builder and Chat apps.
Lead Generation: Capture valuable information and drive more sales with lead generation apps. Gather email addresses and other data to expand your customer base.
Support Customers: Provide excellent customer service with easy communication through the Chat and FAQ apps.
Engage Visitors: Improve website traffic and keep visitors engaged with apps like Multi Slider and Hit Counter.
Integrate Easily: POWR ensures your apps play nice with other business tools you use, such as Stripe, PayPal, Gmail, Shopify, Google Sheets, and Intuit Mailchimp, among others.
Whatever your business goals may be, POWR offers a diverse selection of beautifully designed and customizable apps to enhance your website's functionality and success.
Join the POWR Success Story!
POWR has already earned the trust of over 12 million websites worldwide. The platform has received glowing reviews from satisfied users, from small businesses to large enterprises. Benefit from features like easy customization, time saved on development, and increased lead conversion rates.
Ready to take your online business to the next level? Sign up for free and explore the incredible world of POWR's website apps. Design, customize, and integrate powerful tools without writing a single line of code. With POWR, you can create a beautiful website app experience that will captivate your audience and drive your business toward success.
Don't miss out on this opportunity to transform your online presence. Embrace the power of POWR and witness the difference it can make for your business. Get started today and build a brighter future for your brand with POWR's suite of website apps.