We shared some statistics on reasons why people unsubscribe from your marketing emails or newsletters. Some of it may not even be your fault, as subscribers are inundated with so many emails that they just need some relief. When a subscriber finds and clicks on that unsubscribe link in your email, what are you doing to try to save them?
I recently did just that with Sweetwater, an audio equipment site that's been fantastic to work with. I almost felt bad clicking the unsubscribe link, but I just don't buy frequently enough with email deals arriving every few days. When I clicked the unsubscribe link, here's what I was brought to: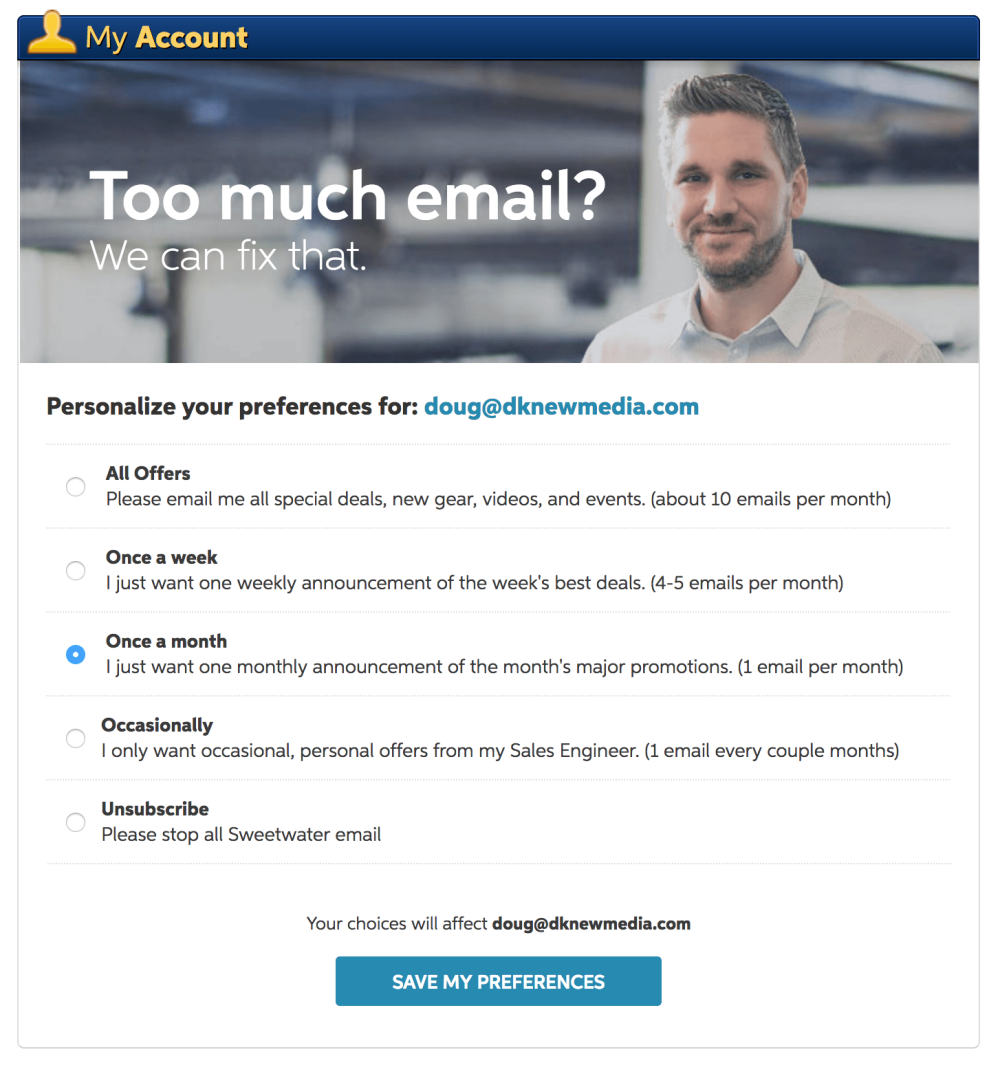 How cool is that? Rather than unsubscribing from everything, I just reduced the frequency to once a month.
If I were to score this page, I'd have to give it an A+! Not only do they offer options for frequency, they still do a great job of letting me know what I could be missing as well as setting expectations with each. This is on par with an infographic Epsilon released, Navigating the Inbox Unsubscribe, identifying 6 best practices that every email sender should be following when dealing with unsubscribes:
Communication Options – stop with the "all or nothing" unsubscribe page and provide a tiered approach that offers different levels of involvement.
One-Click Unsubscribe – don't make it difficult to unsubscribe. The last impression you make on someone who provided you the opportunity to speak to them isn't to irritate them by not letting them leave.
Clear Unsubscribe –  a tiny font-size, hiding behind logins, verifying email addresses… quit making it difficult to find and unsubcribe. If people wish to leave, let them.
Purge Subscribers – if you want to maintain good inbox placement and solid engagement metrics, purge your list of subscribers who haven't engaged in over a year (or more if you're seasonal).
Last Chance – before you purge unengaged subscribers, make them a last chance offer to see if they'd like to stay.
Get Feedback – as with the example above, I wasn't leaving Sweetwater… I just didn't want their emails as frequently. Don't take it personal when a subscriber leaves. Today's inbox is cluttered and difficult to manage, your customers may just want to keep things a bit more tidy. If you're curious why left, ask them on your unsubscribe page.
Navigating the Inbox: Unsubscribe