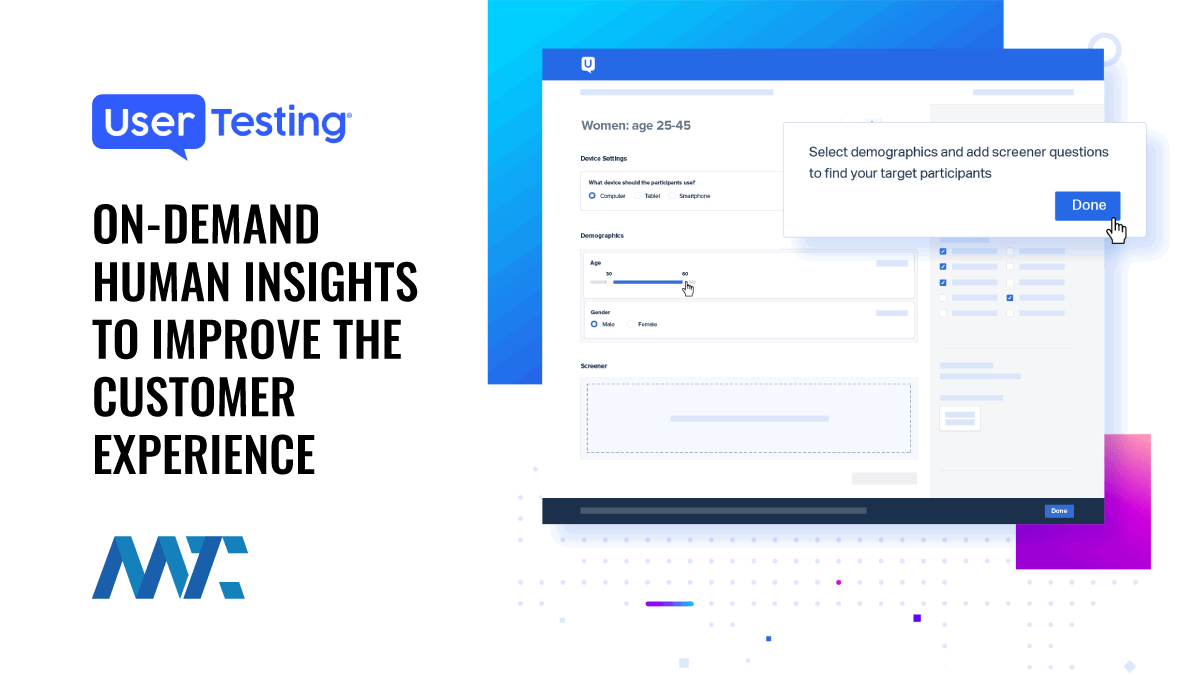 Modern marketing is all about the customer. In order to succeed in a customer-centric market, companies must focus on the experience; they must empathize with and listen to customer feedback to continually improve the experiences they create and deliver. Companies that embrace human insights and get qualitative feedback from their customers (and not just survey data) are able to better relate to and connect with their buyers and customers in more meaningful ways.
Collecting human insights is like putting yourself in the shoes of your customers to learn, understand and evolve with their needs. With human insights, companies are able to capture the necessary intelligence required to reach the customer in new, innovative, and effective ways that can positively influence revenue, retention, and loyalty.
UserTesting: Product Overview
Bad experiences on websites and apps, and in the real world, aren't just frustrating for customers, they're costing companies millions of dollars a year. UserTesting makes it easy for organizations to get on-demand feedback from their target market—wherever they are. With UserTesting's on-demand platform, organizations can uncover 'the why' behind customer interactions. By understanding intent, businesses can improve and provide amazing experiences, protect the brand, and drive greater customer satisfaction. With the UserTesting platform, businesses can:
Target– Find and connect with the exact audiences needed, without the effort, long cycles or costs associated with manually recruiting people to provide feedback.
Access consumers and business professionals from across the globe on-demand with the largest, most diverse verified panel of study participants.
Tap into customers, employees, and partners via email, social media or other channels.
Hone in on specific personas, using filtering capabilities, such as geographic, demographic, and socioeconomic criteria.
Connect with specialty audiences and difficult to reach panelists with the help of our team of experts.
Ensure you receive the highest quality feedback to inform your CX efforts with UserTesting's verified and vetted 1st party consumer and business professional panel.
Engage– Select the type of tests that will yield the most useful, actionable insights without the administrative hassles or the need for research expertise.
Get responses in as little as 1-2 hours using templates, automatic recruiting, and features to test any experience.
Get feedback on anything, such as desktop, mobile app, or on-premise experiences, and products at any development stage.
Easy setup so anyone on your team can create live or recorded studies for every project, at any time.
Results within hours mean you can test anything you need customer insight into, removing the guesswork behind your business investments – whether that be product prototypes, design iterations, marketing messages, campaign images, web copy.
Work with our experts when you need help in designing more complex studies.
Understand– Capture and spotlight meaningful reactions and responses, then amplify throughout the organization to increase collaboration and consensus.
With all customer insights in one place, speedy analysis is possible by drawing from the full universe of data.
Extract and highlight critical customer intelligence to drive consensus on the right decisions and next steps.
Sharing capabilities make it easy to socialize findings throughout the entire organization.
Get buy-in from stakeholders by presenting clear, indisputable evidence about what customers want, need and expect.
UserTesting: How It Works
UserTesting: Key Features
UserTesting continues to enhance its human insights platform and have added a new template gallery, approval flow features, tree testing, an integration with the Qualtrics XM Platform, and smart tags.
Pair analytics and video feedback to understand the "why" behind customer expectations
Integrate their Qualtrics XM platform to augment survey data with qualitative insights, bringing greater context to the "why" behind survey results.
Leverage machine learning to quickly surface the most important customer moments
Use smart tags to find and understand the most important moments within a video feedback session
Take advantage of a machine learning model to evaluate video feedback and analysis in real-time.
UserTesting My Recruit – MyRecruit empowers companies to tap into their own customer, employee and partner database to gather insights and feedback. In surveying the experiences of pre-existing audiences, companies can ensure that they are identifying specific business needs that aren't currently being met.
With My Recruit, you can:
Gather on-demand, actionable, feedback from existing customers, industry experts, and more.
Get insights even faster with completely self-service testing with highly-targeted audiences.
Engage employees and generate excitement about your brand and products.
UserTesting Live Conversation – Live Conversation provides a live, moderated interview that is automatically recorded and transcribed to ensure all learnings are captured and shareable across the organization. Live Conversation enables same-day, 1:1 interactive customer discussions and supports the voice of the customer initiatives. Interviewers are able to consider non-verbal cues, such as facial expression and tone of voice to better empathize with the end-user – and can quickly pivot or direct the discussion to drill into specific topics or further understand the customer's perspective. With Live Conversation, participants are given the opportunity to provide more context to questions, share where challenges were met, and provide the company with ideas for improvement.
Third-party research shows that in-person focus groups can have many challenges. Among these are time engagement, trouble recruiting relevant testers, groupthink, and high cost and sampling bias. UserTesting alleviates these obstacles by making conducting user research (moderated or unmoderated), soliciting customer feedback, and/or administering 1:1 interviews simple, inexpensive, on-demand, and real-time.
The Business Value of a Great Customer Experience
According to Forrester, 73 percent of companies consider customer experience a top priority, yet only one percent of companies deliver an excellent experience — but if you want your customers to stay loyal you have to commit to building on the experience. To positively impact bottom-line revenue, you must manage and invest in the customer experience and embrace continuous learning and discovery to always be iterating and improving on the experience you deliver to the end-user. Today, market leadership and competitive differentiation are increasingly decided on who provides the best customer experience. Companies that invest in CX benefit from improved customer retention, customer satisfaction, and increased cross-sell and upsell opportunities.
We are now at a time where the customer experience is imperative to a company's bottom line. Customers base a good experience off of what they imagine a good experience to be; it's not based on experiences they've had in the past. Because of this, it's crucial to provide companies with the insights they need to continually improve to meet customer expectations.

Andy MacMillan, CEO of UserTesting
UserTesting is compliant with the Health Insurance Portability and Accountability Act (HIPAA), the U.S. law, and associated regulations that set national standards for health information security and privacy. UserTesting's HIPAA compliance meets the data security and protection needs of healthcare organizations looking to use real human insight to build patient-first digital experiences. 
Sign Up for a UserTesting Free Trial