A reader in attendance at Blog World Expo told me that the day was a loss without the exception of one speaker: Scott Stratten. Scott recently published UnMarketing, a book that I was, ironically, reading on the way into Las Vegas. This is my first Blog World Expo, so I can't say how great it is – other than I've already made some incredible network connections and had a great conversation with Scott the first (and second time) I ran into him.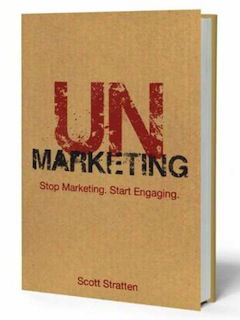 Scott lives up to his book… in his speaking, his presentation and the book itself. Scott calls it the Unbook. The chapters are short and easy to digest. There's a conversational approach to the book. And once you read the first footnote, you'll be chuckling… reading every footnote thereafter. It's a must read.
Although I'm not finished with the book, I already appreciate Scott's ability to not overcomplicate the tasks at hand for marketers – especially when it comes to leveraging social media. I find that many of the top speakers, writers and consultants are able to do that, Scott may be one of the best. They are able to focus away from all the noise and concentrate on the real issues.
One topic in the book was the simple overview of how companies implement social media… three simple phases. I'm going to add my 2 cents on each – they aren't the words of Scott.
Adopt – Taking on something as powerful as social media can be both terrifying as well as labor-intensive. Measuring the results can be very painful. As a result, many companies have abandoned social media altogether instead of fully realizing its potential for building word of mouth, authority, reputation and subsequent business… either direct or via referrals.
Momentum – Once you figure out what's actually working (this is where it is a great idea to utilize a social media consultant… and hold their feet to the fire on results), the next step may be the most time-consuming. Social media is not a sprint… it's a marathon. It takes time for the ebbs and flows of the social networks and blogosphere to take note of you and for you to grow. Abandonment is also common here. A highly competitive landscape in social media may take months or even a year or two to break through with great content. Don't lose site of your goals and stay on track!
Expansion – this is when it gets fun. You've knocked down a few dominoes with your strategy and now you simply need to come up with new mediums, new audiences and new ideas to execute. You are already getting results… your boss is happy… the organization has bought into social media and you're reaping the benefits. The culture of your organization is even changing from the inside-out as you find transparency exhilarating. Your employees are in the spotlight, are contributing and are happy. And your fan base and following are now growing at a rapid rate.
Pick up a copy of UnMarketing as soon as you can. It's not your average marketing book full of the obvious. Scott encourages companies to take (smart) risks instead of getting terrible results with terribly safe and typical marketing efforts. Stop Marketing. Start Engaging.