There are many in the social media world out there that judge a blog's success by metrics of engagement such as comments. I don't. There is no correlation between this blog's success and the number of comments on it. I do believe that comments can impact a blog – but because it's not something you can directly control I don't pay attention to it.
If I wanted comments, I'd write link-baiting headlines, controversial content, and snarky blog posts. This, in turn, would lose my core audience and target the wrong people.
Three business blogging conversion metrics I pay attention to:
Search Engine Results Page Conversions – Many experts focus on how much search engine traffic you received… but not how much traffic you lost. If you write flat post titles and your meta data isn't compelling, you may make the top of the search engine rankings but people may not be clicking your link. Write post titles that convert traffic and ensure your meta descriptions are packed with keywords and a great reason to click through! Utilize Google Search Console to analyze these results.
Call To Action Conversions – First-time visitors are landing on your blog and either leaving or looking to do business with you. Are you providing a path for them to engage with your company? Do you have a prominent contact form and link? Are your address and phone number clearly identified? Do you have compelling Calls To Action that visitors are clicking on?
Landing Page Conversions – After your visitors are clicking on your Call To Action, are they landing on a page that makes them convert? Is your landing page clean and void of unnecessary navigation, links, and other content that aren't driving the sale?
Your prospects have to convert at each step of the way in order for you to acquire them as a customer. You must attract their click on the search engine results page (SERP), you must provide them with relevant content to gain their trust and compel them to dig deeper, and you must provide them a path to engagement – like a compelling call to action (CTA) and you must provide them with a means of contacting you – like a well-designed, optimized landing page.
Compendium Executes on these Best Practices!
First: The search engine result for Calculating Business Blogging ROI, Compendium has the second spot and is well written – sure to attract some traffic!

Note: You'll notice that Compendium has the second result for the search and not the first result. If the page title had Compendium Blogware at the end of the title rather than the beginning, the date, and author info were dropped, and the meta description had more compelling language, they might even be able to squeeze out the top ranking result. (It is great that the meta description starts with the keyword, though!) Those changes could double or triple their conversions from this search engine results page.
Second: It's a nice concise post that directs attention to two additional resources to calculate the Return On Investment. This is a solid, relevant post, though!

Note: One way of improving this may have been to actually provide a third resource – the actual call to action to the ROI Toolkit.
Third: The call to action is absolutely beautiful and relevant to the copy on the page, and is a clear path to find additional information!

Fourth: The landing page is absolutely flawless – providing supportive, compelling content, a short form to collect contact information for the sales team, and even some prequalifying questions to get a feeling for the prospect's budget and sense of urgency.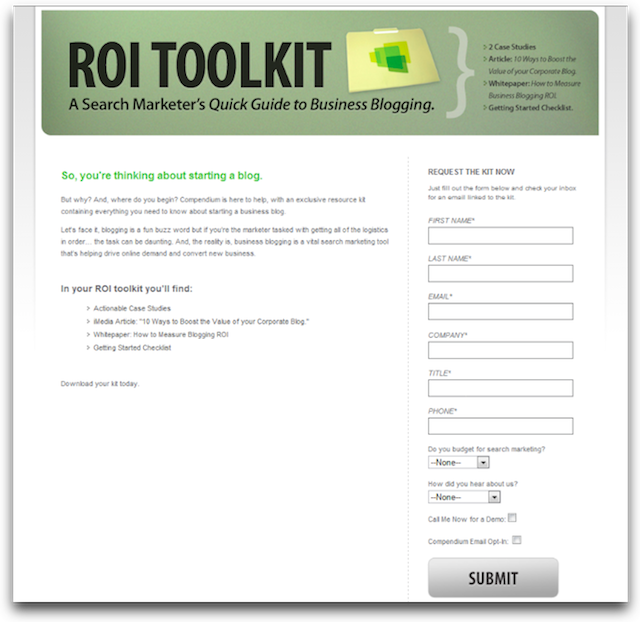 The marketing team at Compendium is incredible at fully leveraging their own tool. I know for a fact that Compendium gathers more leads via search results and their own blog than any other source. No doubt it's because of the fantastic work they do at testing, retesting and optimizing their conversion path. Well done!
Full Disclosure… I own shares and helped start Compendium (thank goodness they didn't go with my logo!)