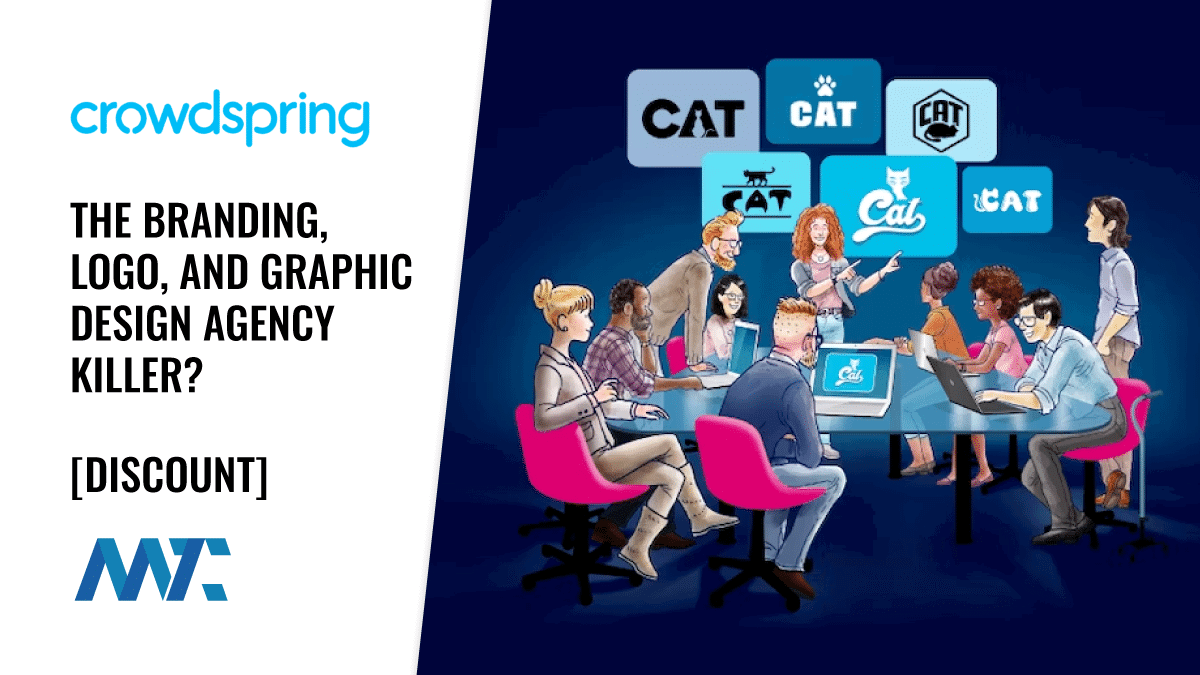 Your brand's visual identity is a critical component of success. Whether you're launching a startup, rebranding, or simply looking to refresh your image, Crowdspring offers a design solution that blends speed, expertise, and affordability to help your brand stand out.
Why Use Crowdspring?
Crowdspring operates on a crowdsourced model, harnessing the collective creativity and expertise of a global community of over 220,000 professional designers. Crowdsourcing involves outsourcing tasks to a distributed group, and in this case, it means multiple designers contribute their ideas and designs to fulfill clients' creative needs.
Why should you choose Crowdspring for your design needs? Let's explore the key benefits:
Simplicity and Speed: Crowdspring has reimagined the design process, making accessing designs that captivate your audience easier than ever. The three-step approach – Brief, Collaborate, Wrap-up – ensures a streamlined experience. Begin by outlining your project's requirements in a creative brief. This brief is tailored to your project category, offering designers valuable insights into your preferences. With this efficient process, you'll save precious time without compromising on quality.
Access to Diverse Talent: Crowdspring boasts a global community of over 60,000 creative professionals. These skilled designers specialize in a wide array of categories, including logo design, business names, website design, and more. Unlike limiting yourself to a single graphic designer or agency, Crowdspring offers a diverse pool of expertise. This diversity translates into a broader range of creative options for your project, ensuring you find the perfect fit for your vision.
Affordable Excellence: Cost-effectiveness is a priority for businesses of all sizes. Crowdspring understands this, offering flexible pricing options to accommodate your budget. Whether you're a startup or an established enterprise, transparent pricing plans provide clarity without hidden costs. You'll find a pricing structure that aligns with your financial considerations.
No Spec: One significant advantage of Crowdspring's approach is that clients do not pay for spec work, a practice known as No Spec. This means clients receive numerous design concepts without incurring any upfront costs. They only pay for the final selected design, ensuring cost-effectiveness and a wide range of options during the creative process. This unique model empowers clients to find the perfect design that aligns with their vision and brand identity.
How Crowdspring Works
Martech Zone readers embarking on their logo design journey with Crowdspring will encounter a user-friendly process that ensures a unique, tailor-made logo:
Briefing: The adventure begins by outlining project requirements in a creative brief, tailored to specific project categories. This brief provides crucial insights for designers.
Collaboration: Clients will witness the magic unfold as designers craft a multitude of design concepts. The collaborative element shines through as feedback and ideas flow seamlessly.
Selection and Purchase: With dozens of concepts at their fingertips, clients choose the perfect logo that resonates with their brand identity. Purchasing the selected logo is a breeze, and clients can rest assured knowing they have full legal copyright ownership.
At Crowdspring, every logo is a unique masterpiece, a testament to the skill of expert designers. Clients receive more than just a logo; they obtain professional vector files, PNG or JPG formats, and full legal copyright ownership, protected by a customized legal agreement. With over 60,000 businesses and agencies trusting Crowdspring for their design needs, the platform is primed to make logo discovery an enjoyable experience for Martech Zone readers.
Additional Branding Design Services
In addition to logo design, Crowdspring offers a comprehensive suite of design services, including:
Business names
Business card design
Website design
Package graphics
Packaging design
Product design
Whether you require a captivating logo, a professional website, or eye-catching packaging, Crowdspring has you covered. Their versatility ensures you discover the ideal design solution tailored to your business's needs.
With a 4.9/5 rating from 6,237 customer reviews, Crowdspring consistently delivers exceptional results. Our clients praise us for our excellent service, creative designs, and hassle-free experience.
This is the second project we used with you. Great job all.

John U., Space Age Credit Union
Martech Zone Discount
Ready to elevate your brand with a unique logo? It's in the bag! Martech Zone readers can enjoy a $35 discount when you post your project with Crowdspring. Don't miss this opportunity to access top-notch logo design services at an even more affordable price.
Get started today and let Crowdspring help you unlock your brand's potential with a custom logo that embodies your business. Your $35 discount will be applied when you post your project.
Launch Your Logo Design with Crowdspring