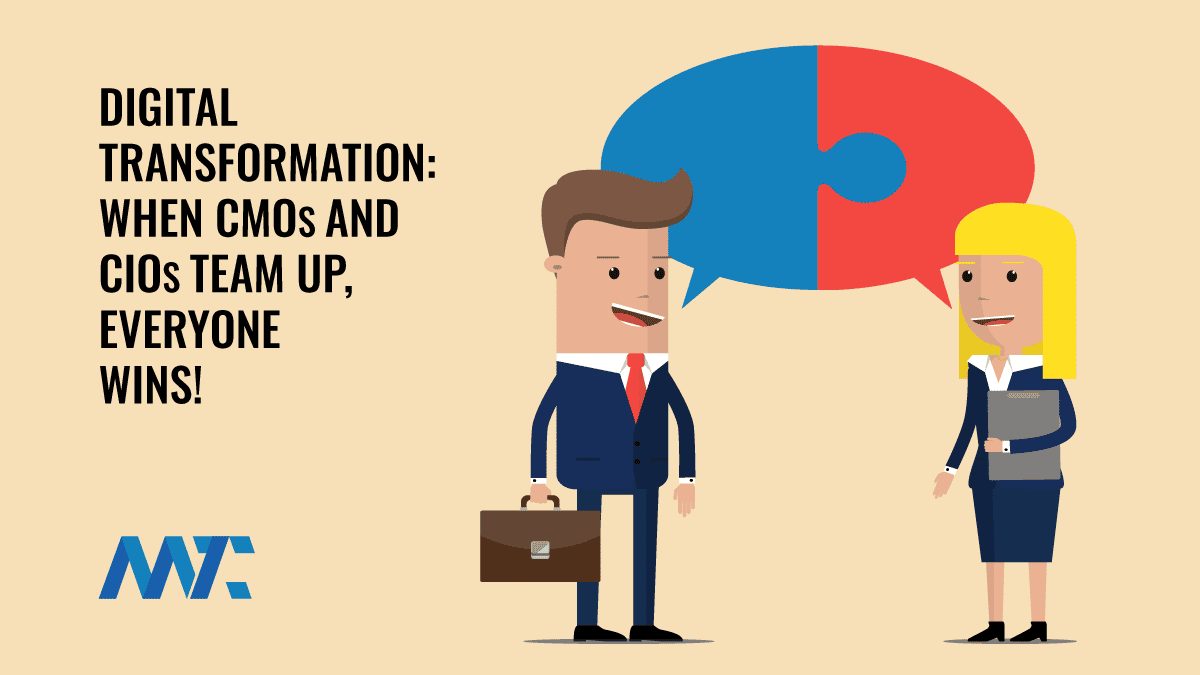 Digital transformation accelerated in 2020 because it had to. The pandemic made social distancing protocols necessary and revved up online product research and buying for businesses and consumers alike.
Companies that didn't already have a robust digital presence were forced to develop one quickly, and business leaders moved to capitalize on the torrent of data digital interactions created. This was true in the B2B and B2C space:
The pandemic may have fast-forwarded digital transformation roadmaps by up to six years.

Twilio COVID-19 Digital Engagement Report
Many marketing departments have taken a budget hit, but spending on martech products remains strong:
Nearly 70% intend to increase martech spending in the next 12 months. 

Gartner 2020 CMO Spend Survey
If we were in the digital age before COVID-19, we're now in the hyper-digital age. That's why it's so important that CMOs and CIOs work together closely moving into 2021. CMOs and CIOs will need to team up to deliver a better customer experience, drive martech innovation through integration, and improve efficiency. 
Teamwork to Deliver a Better Customer Experience
CIOs and CMOs don't always collaborate on deployments — shadow IT is a real issue. But both department leaders are focused on customers. CIOs create the infrastructure that marketing and other lines of business use to reach out to and serve customers efficiently and effectively. CMOs use the infrastructure to generate customer profiles and execute marketing campaigns.  
If CMOs work with the CIO to make decisions about martech deployments and cloud solution purchases, they can improve the customer experience through improved data and application integration, which is in everyone's best interest. As more people engage companies through digital channels, the business's need to deliver personalized, relevant experiences is more critical than ever, and CMO-CIO collaboration is the key. 
There's also a monetary component to the case for greater CMO-CIO cooperation.
44% of companies believe better teamwork between the CMO and CIO can boost profits.

Infosys Survey
The leaders of the marketing and IT departments are at the forefront of the hyper-digital revolution, so success in the post-pandemic world hinges in part on their ability to work together.
Integration for MarTech Innovation 
Many CMOs who are on a martech buying spree to support expanded digital outreach decide not to consult with their CIO before making a technology purchase. It may be because they're worried about delays when they need a point solution deployed quickly to complete an initiative. Or maybe they don't think it's important to coordinate and don't want a second opinion on the choices they've made. 
But looking at CIO input as outsider meddling is a mistake. The truth is, CIOs are experts at integrating data, the expertise that CMOs need when deploying new solutions. CMOs can start to build a positive, productive relationship with the CIO by reaching out before a finalizing a martech purchase, treating the consultation as a partnership.
Integration is driving the next phase of martech innovation, so this is the right time to strengthen the CMO-CIO relationship. The basic integration functions many martech solutions include usually aren't capable of handling more advanced configuration, so CMOs will need integration expertise that they probably don't have in-house, and CIOs can help.
Proof Point: How Data Integration Inside the CRM Drives Efficiency Now
Most B2B marketers already have a proof point on the importance of data integration and its capacity to improve efficiency and drive innovation. B2B marketers who have added their company's CRM to the marketing solution stack can create reports using data that is credible with everyone, from sales colleagues to the board of directors and CEO. 
Marketers who use funnel metrics, tracking and monitoring leads inside the CRM, can improve efficiency by identifying and correcting process issues. Marketers who have the tools to accurately attribute revenue to campaigns using CRM data can invest more efficiently by consistently allocating budget dollars to campaigns that generate the best returns.
With integration support from IT, CMOs can oversee projects to produce even more efficient operations, including automation and other technology-driven marketing innovations. By working closely with the CIO, CMOs can get the support and expertise they need to maximize automation's possibilities. 
CMOs Can Take the First Step
If you're ready to build a closer relationship with your company's CIO, you can take the first step by creating a sense of empathy and trust, just as you'd start any other business relationship. Invite the CIO to have a cup of coffee and informal chat. There's much to discuss since martech solutions are evolving and becoming increasingly sophisticated. 
You can talk about ways to work together to improve the customer experience, drive innovation and improve efficiency. You can explore new channels of cooperation, all based on working together for the benefit of the company and its customers. When CMOs and CIOs team up, everyone wins.