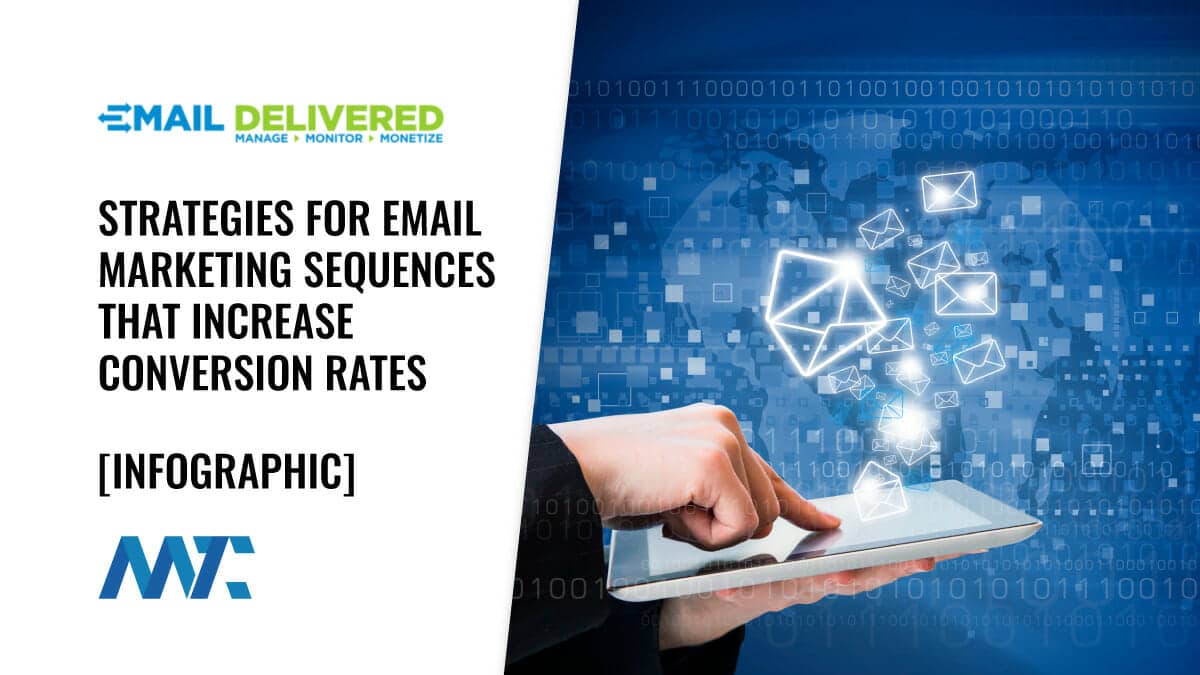 If your inbound marketing were described as a funnel, I'd describe your email marketing as a container to capture the leads that fall through. Many people will visit your site and even engage with you, but perhaps it's not time to actually convert.
It's only anecdotal, but I'll describe my own patterns when researching a platform or shopping online:
Pre-purchase – I'll review websites and social media to find as much information I can about the product or service.
Research – I'll then scour the site of the company to ensure they appear legitimate and I'll seek answers to specific questions that I may have prior to making the purchase.
Opt-In – If provided the opportunity to opt-in for more information, I typically do. For a software product, this may be a white paper or case study. For e-commerce, that may be an actual discount code.
Budget – I don't typically make the purchase at that time. More often than not, if it's my business I discuss the purchase with my partners and wait until it's an optimal time to invest from a cashflow perspective. If it's a personal purchase, I may wait until payday or even when I have some points ready to swap the purchase for.
Purchase – From research to purchase, I'll stay opted into to abandoned shopping cart emails or product information series emails. And when the timing is right, I'll go ahead and make the purchase.
I don't believe my buying behavior is very different from most consumers or businesses in the sales cycle. Email marketing provides the best opportunity to reach those folks who have left, abandoned, or not visited in a while so you can pull them back into your sales funnel.
While older, unsophisticated batch and blast systems simply nagged consumers or businesses to close the deal, newer automation processes provide infinite capabilities for optimizing communication sequences to improve overall conversion rates.
This infographic from Email Delivered, How to Use Multi-Part Email Sequences to Increase Conversions, provides three strategies to increase the odds of your email promotions driving more conversions:
Article or Topic Series – Set up a series of valuable emails to educate your potential client or customer on the product or service you're hoping to convert them on. Set the expectation directly in your opt-in offering and subject line. Example:
Method 1 of 3: Increasing Conversion Rates with Email Marketing
Problem + Agitate + Solve – Present the pain of the problem followed by a series of emails that both educate the potential customer on the problem and the solution. We often do this by finding third-party supporting data like analyst reports, or first-party customer testimonials. While your customer may have an issue they're resolving, letting them know other businesses or consumers have the same issue and how you resolved it will drive them to a purchase decision. Getting a sequence of emails that continue to remind them of their frustration is a great way to drive them through to a conversion! Example:
Two-Thirds of Businesses Report A Failed Digital Transformation Implementation
Opportunity Sequence – Rather than focusing on the problem and your solution, this strategy incorporates an optimistic look at the future. In enterprise software, this is often done with a series of use cases that describe the possibilities of what could be attained through an investment in the platform. Example:
Benefits of Implenting a Customer Data Platform For Healthcare Service Providers
Don't Forget to Optimize Each Email
Designing the sequence isn't the entire story… you also need to optimize the content, personalize the emails, send targeted content to each market segment, and optimize the landing page that your potential customer is going to arrive at.
Here are some great statistics on the impact of optimizing email content from SoftwarePundit:
Content with relevant images get 94% more views, so be sure to incorporate relevant images to express data, processes, or customer stories to increase engagement. Animated GIFs are also a great opportunity.
Improving the attention ratio on emails and landing pages can increase conversions by 31%. Attention Ratio is the ratio of links on a landing page to the number of campaign conversion goals. In an optimized campaign, your Attention Ratio should be 1:1.
Segmented email campaigns produce 30% more opens and 50% more click-throughs
Removing a navigation menu on your landing pages can increase conversions by 100%
Read A/B Tests & Case Studies with Actionable Insights