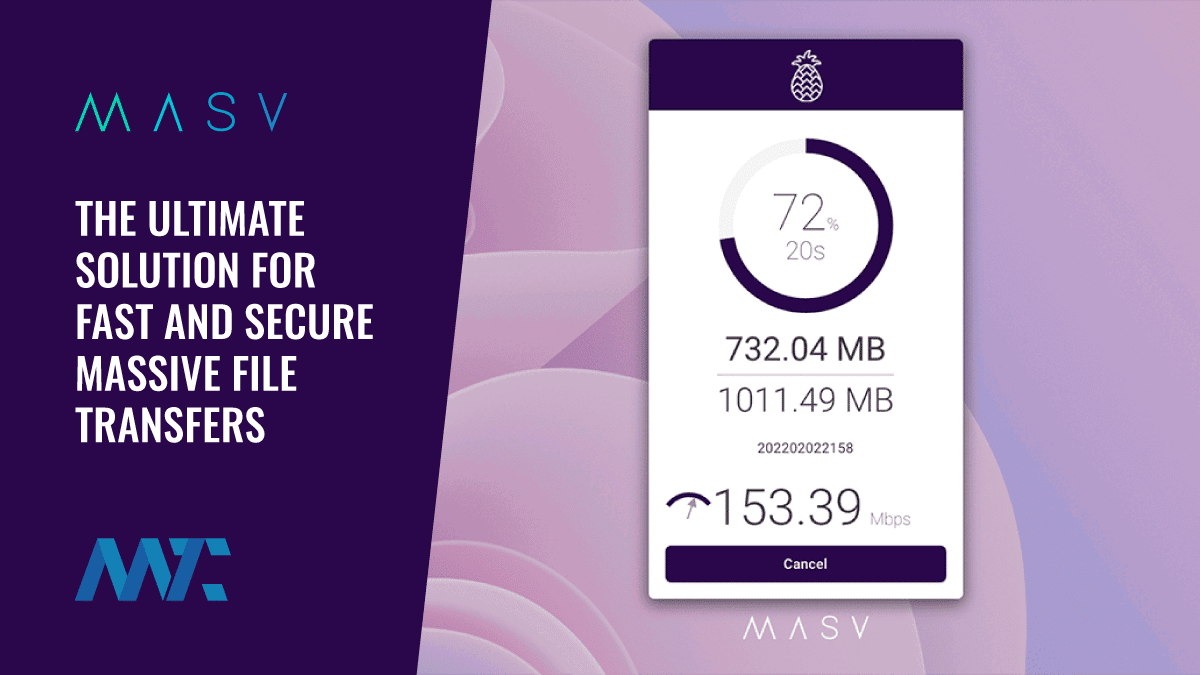 MASV is the perfect solution for media professionals requiring exceptional speed and efficiency for handling massive file transfers of up to 15 terabytes. Users can enjoy unlimited file transfers, join a trusted partner network, and start transferring files within seconds of signing up through a browser or their desktop application.
With remarkable features, integrations, resources, and flexible pricing options, MASV is the top choice for creative individuals and teams. Features include:
Lightning-Fast Transfers: Boost speeds with TCP acceleration, channel bonding, and optimizations for 10Gbps bandwidth.
Secure File Sharing: Utilize the MASV Portal for secure file requests and receipts from multiple parties.
Cloud Storage Integration: Seamlessly back up files from MASV to preferred cloud storage solutions.
Collaboration: Create teams, invite unlimited members, and stay updated on deliveries.
Automation: Save time with upload and download automation for swift transfers.
Integration: Integrate MASV effortlessly with NAS and on-premises storage through the flexible file transfer API.
MASV Use Cases
MASV caters to a diverse range of industries and use cases, making it a versatile choice:
Post-Production: Facilitate rapid file sharing between teams, including raw, proxy, and mastered assets.
Live Broadcast: Seamlessly transmit live footage from the field to production.
Creative Agencies: Efficiently manage files by project and simplify client billing.
Film Festivals & Cinemas: Collect submissions and DCPs for the big screen.
Conferences & Events: Share media files from both in-person and virtual events.
Content Creators & YouTubers: Collaborate effortlessly with remote editors for streamlined content production.
Healthcare: Ensure secure file sharing for imaging files and patient records.
MASV is file transfer without all the stuff that makes file transfer painful.

Alan Saunders, Director of Post-Production at Curiosity Stream
Flexible Pricing Options
MASV recognizes the diverse needs of its users and offers three distinct pricing options:
Pay As You Go (PAYG): This option suits individuals and teams, occasionally sending large files. Users pay a competitive rate of only $0.25 per gigabyte per download.
Monthly Subscription: Designed for teams with regular large file transfer needs, MASV's monthly plans can be customized to provide predictable monthly invoices.
Custom Pricing: Organizations with advanced security requirements, such as Single Sign-On (SSO), can directly explore tailored pricing options by contacting MASV.
Don't let sluggish file transfers hinder your progress. Sign up for MASV today and unleash the power of lightning-fast, secure file transfers. Join thousands of media professionals worldwide who have embraced MASV for its speed, security, and unparalleled efficiency. Sign up now and experience a new era of rapid and reliable file transfers.