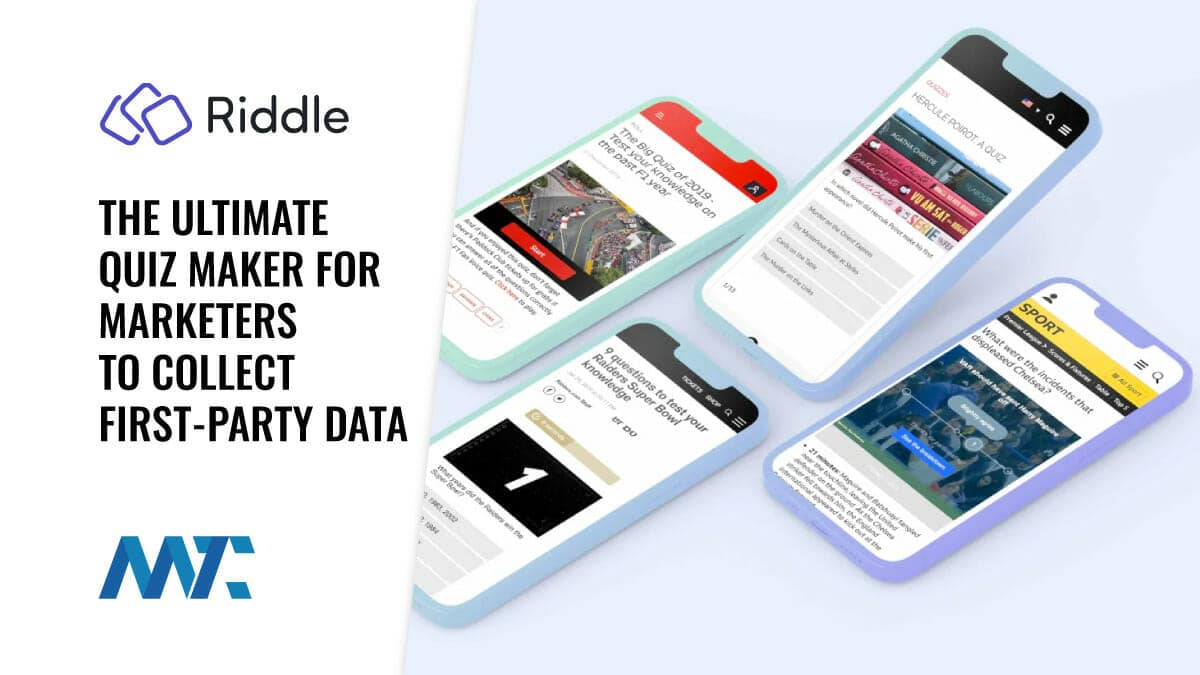 In today's competitive digital landscape, marketers are constantly searching for effective strategies to cut through the noise and engage their audience. Riddle, an online quiz-maker platform, has emerged as a popular solution for marketers to create engaging quizzes with integrated lead-generation features. One significant differentiator for Riddle.com is its use of first-party cookies (1P), ensuring accurate data collection while respecting user privacy.
Riddle
Riddle enables marketers to create white-labeled quizzes quickly, automate marketing funnels, gather emails, and qualify leads. The platform's flexibility allows the creation of various types of interactive content, such as timed quizzes, personality quizzes, contests, polls, surveys, and more. With no setup fees or long-term contracts, Riddle offers an accessible and customizable solution for businesses of all sizes.
First-Party Cookies: A Differentiator
Riddle's use of first-party cookies for data collection sets it apart from other platforms. First-party cookies are set by the website the user is visiting, offering more accurate tracking of user behavior and improved user privacy. This approach provides several advantages for marketers:
Enhanced data accuracy: First-party cookies enable marketers to better understand and target their audience through accurate tracking of user behavior on their website.
Improved data reliability: First-party cookies are less likely to be blocked by web browsers and privacy tools, ensuring more reliable data collection.
User trust and privacy: By using first-party cookies, Riddle.com helps maintain user trust and privacy, as these cookies are generally perceived as less invasive than third-party cookies.
Riddle offers a comprehensive suite of features designed to meet the diverse needs of marketers:
Customizable branding: Create 100% white-labeled quizzes with customizable branding, styling, and CSS editing.
Seamless software integration: Connect the platform to CRM and data warehouse software such as Hubspot, Salesforce, ActiveCampaign, and Intuit Mailchimp.
High engagement and opt-in rates: Drive user engagement with quizzes, polls, and surveys, which have been shown to increase dwell time and lead generation opt-in rates.
Social media sharing: Leverage the power of social media by sharing quizzes on platforms like Facebook, Twitter, WhatsApp, Messenger, and LinkedIn.
Multi-user collaboration: Work together with teammates using Riddle's powerful multi-user features to create, edit, and manage quizzes.
Flexible pricing: Choose from monthly or annual plans with no setup fees, cancellation fees, or long-term contracts.
Riddle offers marketers a powerful, customizable tool for creating engaging quizzes, growing their audience, and driving intelligence to their marketing efforts. With its use of first-party cookies, the platform sets itself apart by ensuring accurate data collection and respecting user privacy.
Give Riddle a try and experience the benefits of a robust quiz maker platform tailored for marketers.
Build Your First Riddle Quiz Today!