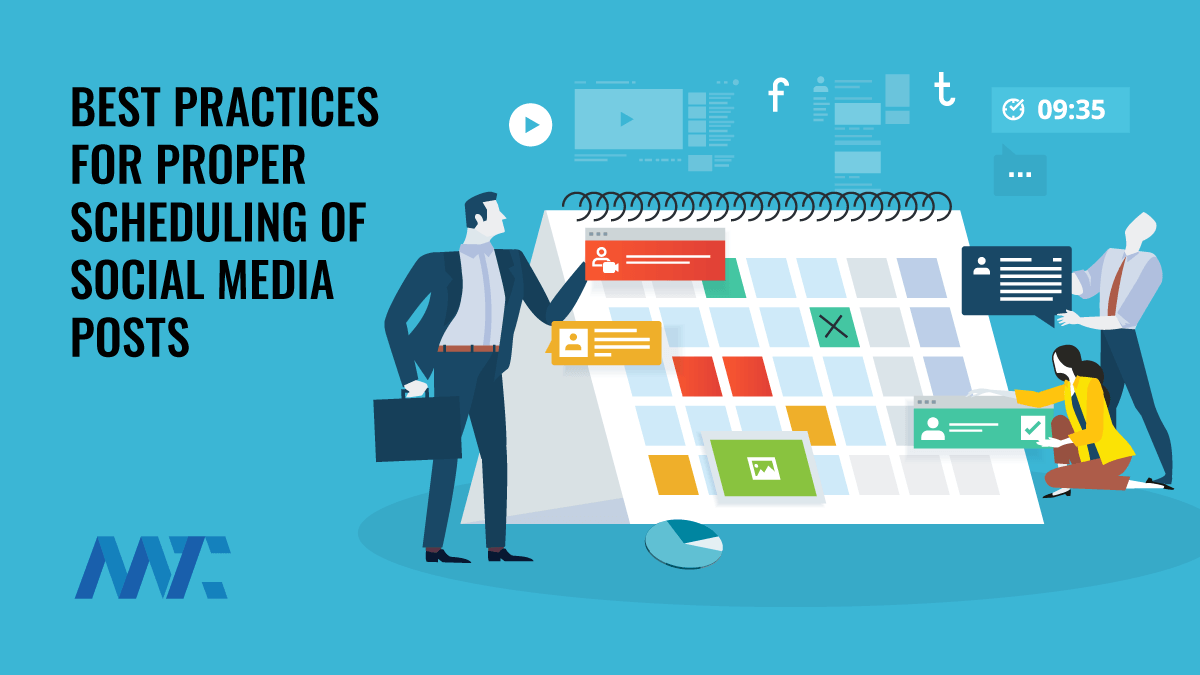 Scheduling your social media posts should be an important part of your social media marketing strategy, and needless to say, it has many benefits. Apart from not having to think about posting on several social media platforms numerous times a day, you'll also maintain a consistent schedule, plan time-sensitive content, and have a healthy sharing-ratio since you can plan beforehand.
Instead of being on social media platforms all the time on a daily basis, scheduling saves you valuable time that you can use for growing your business. If you don't know where to start, we'll give you the best practices for proper scheduling of your social media posts.
Post at the Perfect Times
Due to the ever-changing algorithms on different social media platforms, posting at the perfect times on your social media accounts is essential if you want your posts to get noticed by as many people as possible. With the number of social media users increasing on a daily basis, social media platforms' news feeds have never moved faster.
The insights and analytics are one way for you to figure out which times are the best. Simply watch when your audience is most active online and post at those times. That being said, if you want to have even more precise insight, you can use a social media scheduling tool. These kinds of tools will give you the perfect posting times each time since they use an algorithm in order to determine the best times.
Struggling to keep up with managing more than one social media account? Check out this extensive guide on how to manage multiple social media accounts and see what the best practices are.
Optimize Your Posting Frequency – Know How Often to Post
"How often should I post on my Facebook/Twitter/Instagram account?" is one of the most often asked questions when it comes to social media content strategy. Unfortunately, there is no golden number that applies to any social media platform. After all, each platform works differently, but every audience is also different, so they'll have different requirements and expectations.
One thing is for sure – posting too often will not increase your reach or grow your audience any faster. On the contrary, your account may come across as spammy, so you actually might lose potential followers.
One way to figure out how many times you should post on each social media platform is through experimenting. On Monday, let's say, you can post one post. Then on Tuesday increase the number to two posts, on Wednesday to three, and so on. The next week check your insights or analytics and compare.
There is a much easier way to figure out what is the right number, and that can also be done through a social media scheduling tool. This being said, let's give you some recommendations when it comes to your posting frequency.
Facebook, 1 – 2 times per day.
Twitter, 3 – 5+ times per day.
Instagram, 1 – 2 times per day.
LinkedIn, 2 times per day.
Pinterest – 5+ times per day.
Google+, 1- 3 times per day.
Set Up Posting Schedule for Evergreen Posts
Being constantly present on social media is no easy feat; after all, you should continuously provide content to your followers on various platforms. However, this does not mean that each post should only be published one time. On the contrary, some posts stay relevant over long periods of time while always being of interest to your audience. Re-posting evergreen content is a great way to give your audience what they want while giving value to your content marketing strategy. So, how do you know which posts are evergreen and how often you should repost them?
Evergreen posts are considered to be those posts which are not time-sensitive and provide value over a long period of time. One way to find out which of your posts are evergreen is to manually search for them on your feed according to the content and the number of likes and comments. Then manually schedule each and every one while searching for the best posting times.
Another way is, you've guessed it, by using a scheduling tool. Some of these tools can not only help you find those posts which have the most likes, comments, and shares, but also schedule them at the perfect posting times on multiple social media accounts.
Use Social Media Scheduling Tools
When we talked about posting at the perfect times, optimizing your posting frequency, as well as scheduling your evergreen content, we mentioned that by using social media scheduling tools you would not only be more efficient, but you'll save valuable time as well. There are many different social media scheduling tools to choose from, however, most offer the same two features. The first one is, obviously scheduling your posts not only on one but on multiple social media accounts. The second one is the much-needed analytics that can serve you to get to know your audience and improve your content strategy.
Final Words
In this day and age, almost no modern business can function without being present on at least one, if not more social media platforms. This is why scheduling is super-important if you want to have time to do other things in order to grow your business instead of being on your phone posting all the time. Therefore, choose a scheduling tool like Amplifr and watch how your life gets so much easier while your business grows!