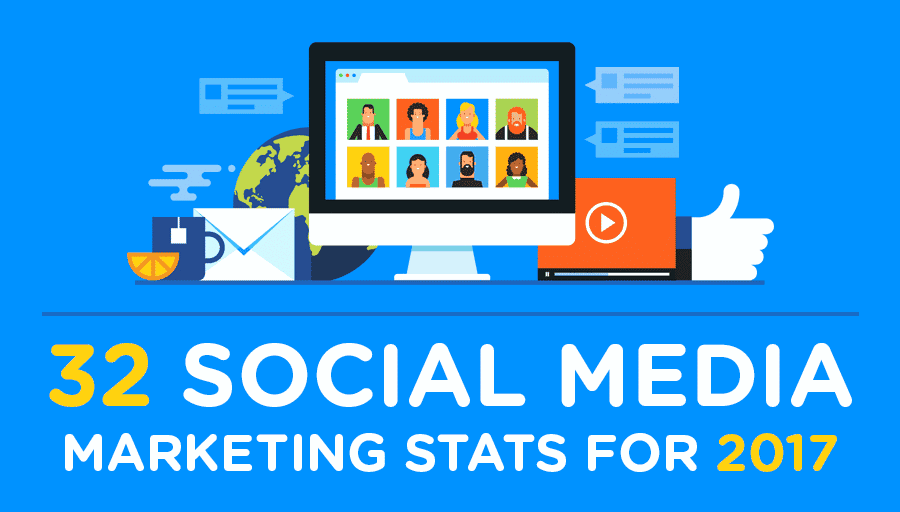 At some point many decades ago, we just began taking for granted that the average household had a radio, then a telephone, and finally a television. I believe we're reached that saturation with social media… do we really need to quantify the impact or try to convince a business that social media is here to stay? Yeesh, I hope not.
That doesn't mean that it's time for marketers to drop everything and bet it all on Snapchat, though. There are still traditional industries that use pen and paper, still companies that drive revenue with direct mail, still an ROI for many companies doing traditional media. In fact, traditional marketing is growing in its ability to segment and target members of the population. I digress… let's get back to social media marketing. It's big.
Are you considering using social media to promote your business in 2017? Need some facts and figures to help you form and execute your strategy? Wordstream shared some fantastic social media marketing stats in this recent post, and we gave it the infographic treatment below. Mark Walker-Ford, Founder and Managing Director of Red Website Design
Here are both intriguing and wacky facts and statistics about social media you'll want to take a look at, according to Wordstream.
Social Media Demographic Statistics
Social Media Usage Statistics
Facebook continues to be the most widely used social media platform, with 79% of American internet users Based on total population, (not just internet users) 68% of U.S. adults are on Facebook.
Instagram receives the silver medal with 32% of users Pinterest coming in a close third with 31%, and LinkedIn and Twitter at 29% and 24% respectively.
76% of Facebook users visited the site daily during 2016, with over 1.6 billion daily visitors, compared to 70% of daily usage in 2015.
The average LinkedIn user spends 17 minutes on the site per month
51% of Instagram users access the platform daily, and 35% say they look at the platform several times per day
Almost 80% of time spent on social media platforms happens on mobile
Katy Perry has the most worldwide twitter followers, at 94.65 million
Over 400 million snaps are shared on Snapchat per day, and almost 9,000 photos are shared every second
Just 10 thousand YouTube videos have generated more than 1 billion views
More than half of all YouTube views are on mobile devices
Social Media Business Statistics
Instagram earns $595 million in mobile ad revenue per year, a rapidly increasing number
Despite news of layoffs and executives leaving the company, Twitter's revenue is up 8% YOY
59% of Americans with social media accounts think that customer service through social media has made it easier to get questions answered and issues resolved
Over 50 million businesses use Facebook Business Pages
2 million business use to Facebook for advertising
Facebook's total revenue grew 56% in 2016, and advertising revenue grew 59%
93% of Pinterest users use the platform to plan or make purchases
39% of LinkedIn users pay for monthly premium accounts
Pinterest drives 25% of all retail website referral traffic
More than 56% of online adults use more than one social media platform
Social Media Content Statistics
Tweets with images receive 18% more clicks than tweets without images
100 million food and 146 fashion boards exist on Pinterest
On LinkedIn, 98% of posts with images receive more comments and posts with links have a 200% higher engagement rate
There are about 81 million fake Facebook accounts and about 5% of twitter accounts are bogus
100 million hours of video content are watched on Facebook daily
More than 1 million LinkedIn users have published long-form content, with 160,000 long-form posts being published weekly and over 19.7 million SlideShare presentations have been uploaded to the platform.
88% of businesses with more than 100 employees use twitter for marketing purposes
The user-submitted YouTube video with the most views is Charlie bit my finger with over 845 million views
Pizza is the most widely instagrammed food, directly ahead of steak and sushi
Blogging continues to grow, with over 409 million people viewing more than 23.6 billion pages each month on WordPress alone
Check out this infographic from Red Website Design which compiles the pertinent statistics relating to social media marketing.