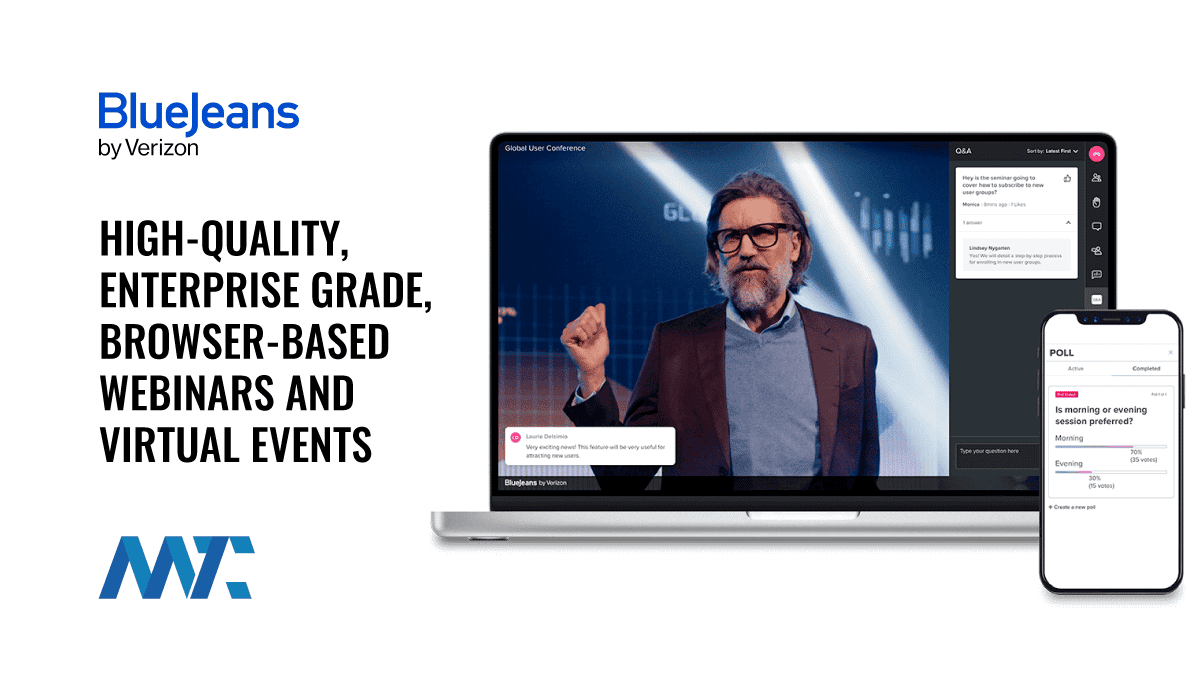 Salesforce, Dell, Webtrends, and Angi are just a few of the enterprise companies that I've assisted with webinars and virtual events. While my focus was always on the distribution of content, the technology was often the make or break of the event. In fact, I was speaking at one event when the platform simply hiccuped and thousands of attendees were dropped instantaneously. The loss of time, effort, and associated sales for the event was catastrophic.
Aside from the corporate side of the equation, the user side can be just as challenging. There's nothing quite as frustrating to click your invite for an event and the downloads and installations start… making you late for the event.
BlueJeans Event Platform
BlueJeans Virtual Events Platform is used by industry leaders to host engaging fan experiences, conferences, product announcements, webinars, live streams, town halls, and other virtual and hybrid experiences.
BlueJeans enables enterprise companies with large audiences to host and manage production-grade virtual events and webinars. Produce TV-quality broadcasts with 1080p video, Dolby Voice audio, and BlueJeans Studio's powerful production tools that will wow audiences and elevate any event experience.
Features of the BlueJeans Event Platform include:
Simple Broadcast Management – Operate from an easy-to-use producer's dashboard that will engage audiences and elevate the event experience.
Easy Join & Event Setup – Join from any in-room video system, computer, mobile device, or telephone connection making it flexible and easily accessible. No download is needed.
Event Security – Require attendee registration to secure event content and gather audience data or restrict entry to only those in your organization.
Global Accessibility and Translations – Translate your event in over 70 languages with automated closed captions and simultaneous interpretation features.
Command Center Analytics – Reduce risk and help manage events with insight into live event network performance, platform utilization, and post-event reporting.
Bandwidth Savings – Minimize buffering, improve video quality, and remove network strain with BlueJeans Accelerator by caching multiple video streams to a single stream. 
Maximize Audience Engagement – Create interactive experiences using Q&A, chat, polling, and hand-raising tools or reach millions by live streaming your event to social platforms, any RTMP destination, or your website.
Advanced Event Services – Receive a dedicated account manager to assist in setup and training before the event, help moderate during the event, and provide post-event reports.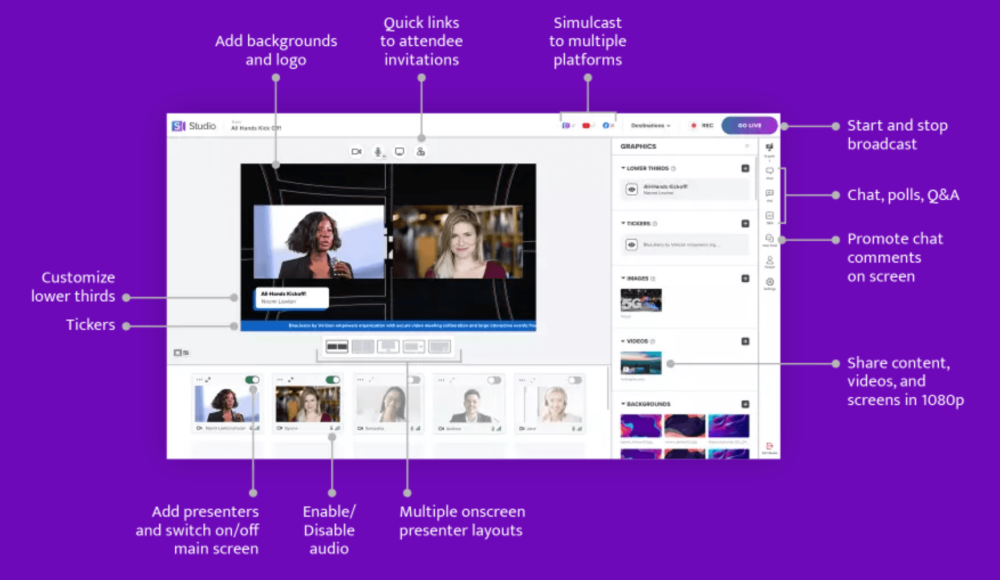 Reach massive scale with secure, browser-based event production for up to 150,000 registered attendees that's easy to manage and join from any device.
Schedule a Demo Or Buy BlueJeans Now!
Disclosure: Martech Zone is an affiliate of BlueJeans and is using its affiliate links throughout this article.