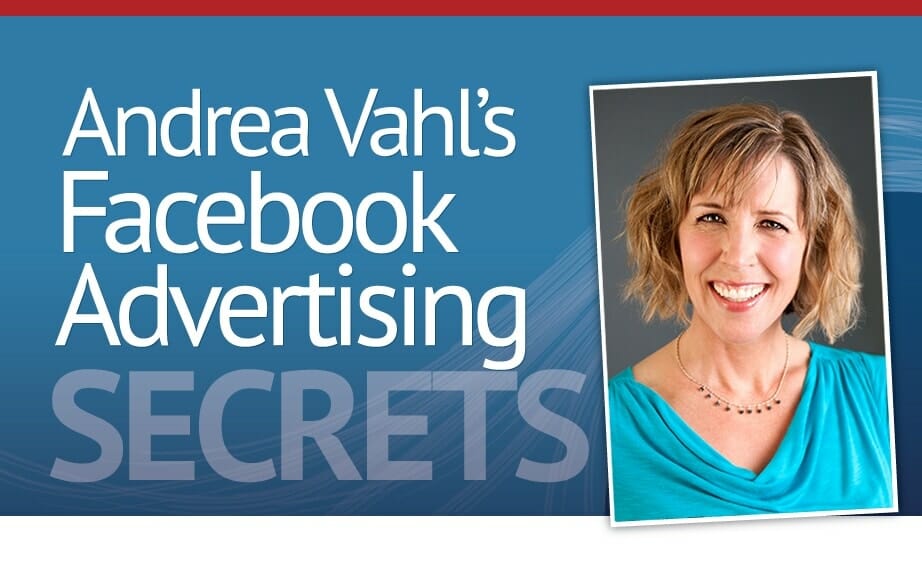 The first time I met Andrea Vahl and heard her speak was years ago at Social Media Marketing World. Years later, I was blessed to have our paths cross again when we were both speakers at Concept ONE, an incredible digital marketing expo put on in the beautiful Black Hill Mountains of South Dakota.
And wow, am I glad that I had the pleasure to hear Andrea speak again! First, she's incredibly funny – it's not often you see a speaker who is also a successful stand-up comedian! Second, and most importantly, Andrea walked through Facebook Advertising so thoroughly and logically that it made more sense than I'd ever seen before. It actually made me want to go back to the office and spend some money!
One knowledge bomb that Andrea dropped on us was speaking about Facebook Audience Network. By default, every Facebook ad campaign has this option enabled… and the ads aren't even running on Facebook! I searched back through the thousands of dollars I wasted by paying for ads to this irrelevant audience. I can't believe that this isn't better documented and defaulted off on campaigns. In my opinion, it's just a way for Facebook to sell off ad inventory and make a few more bucks on you… without you seeing the results. Grrr.
Since I've been back in town, I've had no less than three clients ask me for assistance in getting started with Facebook Ads. I have a few subcontractors that I turn to for this that spend far more time and have much more expertise than myself – but some clients don't want to hire someone to execute the campaigns.
Yesterday, I reached out to Andrea to see if she had any type of training that could help them – and she quickly responded. In case you don't believe me, here's the evidence: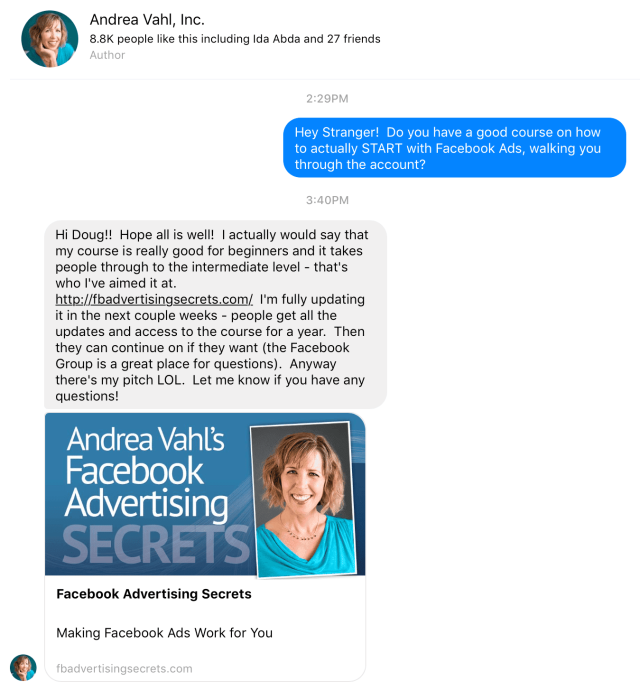 Andrea shared why Facebook advertising has such incredible potential for businesses, including:
Facebook advertising is generally inexpensive in comparison to other mediums.
Facebook advertising can be highly targeted – including demographics, geographic region, job titles, fans of another page, income, and/or only behavior.
Facebook advertising is easily trackable since it provides a Facebook Pixel to insert on your site that connects the ad to the web visitor.
Facebook Content Boosts offer an opportunity to get a better return on investment for your shared content.
Facebook Audience Builder allows you to upload your current customers and/or prospects to advertise directly to them, providing you a means to keep top of mind.
Lastly, companies are providing a ton of competing content out there. Investing in Facebook Ads could be the difference you need to get in front of the right audience instead of trying to compete in a sea of competitors.
Are You Confused About Facebook Advertising?
Running Facebook ads has become much more important but there are a lot of different types of ads to run. If you aren't careful you could waste a lot of money without getting a good return.
Andrea has a new online course, Facebook Advertising Secrets. Her courses consistently get rave reviews on the amount of valuable content she shares while making it easy to understand for all levels. Get all the details here.
Briefly, what is included in this online Facebook Ads course is:
4 Go-At-Your-Own-Pace Modules – Each Module consists of a series of videos, reference articles, and downloads. The course is geared towards beginner and intermediate Facebook advertisers.
Martech Readers Sign up and also get these bonuses:
The Facebook Ads workbook
Power Editor for Beginner's Guide
New Facebook Pixel Guide
How to Use Facebook to Get Leads for Your Business e-book
Access to Andrea's Private Facebook Group!
Disclosure: We're now a proud affiliate for Andrea.