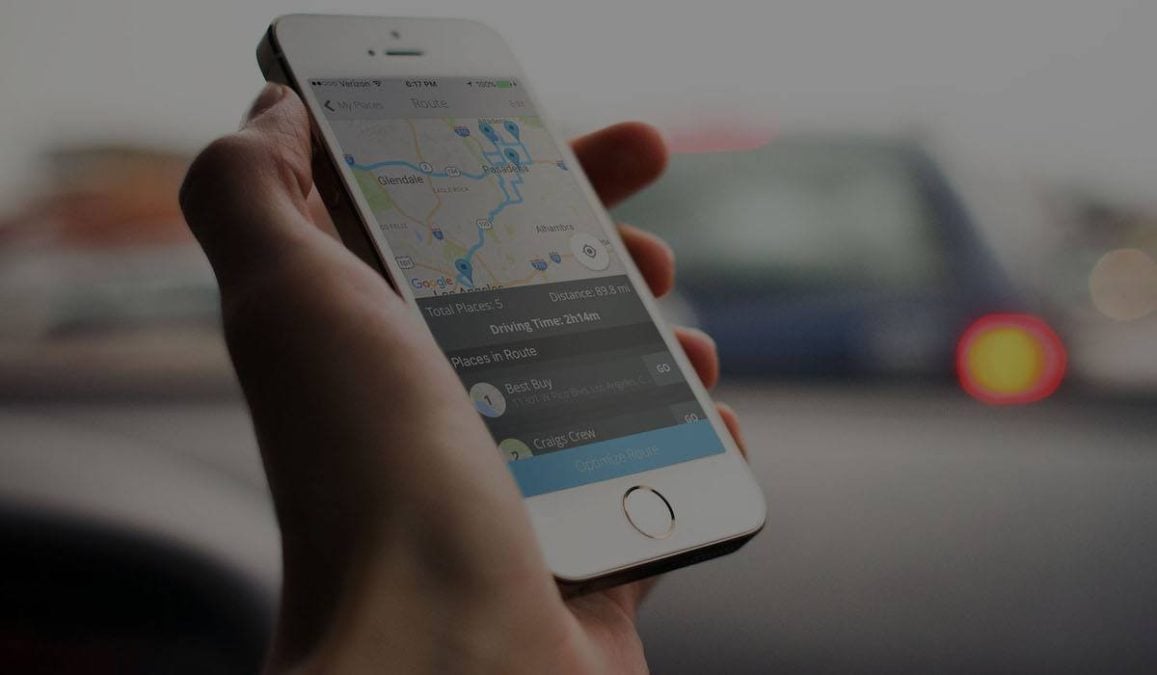 As the world becomes increasingly impersonal with the immergence of technology – social media, video chatting, etc. An opportunity has presented itself in a very real way. A concept that once came natural, intuitive and existed pretty much as an afterthought has been relegated to an inconvenient, more expensive time consuming adaptation. Physically getting in front of the people you want to build relationships with. It seems like a wildly obvious notion, but the reality is that our society has shifted away to less personal forms of communication in the name of convenience.
How we feel about this societal transition isn't the point. My purpose in this piece is to touch on how this new reality has impacted the act of selling and the utilization of sales tools. Put plainly sales professionals can really take advantage of opportunities that have opened up as a result of increased inundation from digital sales and marketing tactics along with businesses' increased reliance on inside sales activities. 
Getting from behind the desk and actually making contact with a prospect is an easy way of differentiating a sales rep from the pack. It also affords them the chance of connecting with and establishing relationships with the individuals who are likely to buy the product or service they are offering. If this is true, then what is also true is the idea that they need the proper support and information in order execute properly while out in the field. Sales enablement tools and technology are a great example are ways to increase support.
I've worked extensively in both inside and outside sales roles. The workflow of each function is completely different with unique variables impacting performance output. As an inside sales rep, I sat in my cubicle, or office, and made phone calls all day in between sending and responding to emails. Business proposals, filling out reports and documenting my customer touchpoints into the company CRM was also a part of the day to day. As an outside rep, I would have to do these things before and after in-person visits often times while sitting in my vehicle. I was very lucky if I made it through traffic swiftly (which doesn't happen often in Houston). Factors like timing of the day along with weather conditions definitely determined if a commute would be stressful or not. If I was putting on an event at one of my client accounts I was responsible for capturing the results (quantitatively and qualitatively) while on location. Long story short – there were more factors involved in my day-to-day role as an outside sales person, and therefore more variables impacting the possibilities for success.
From the managerial side, I've managed upwards of 80 sales reps at a time who were actively executing on sales operations throughout their various markets at random times each day. With these reps working remotely in various parts of the country, there was complexity in terms of gaining, understanding, and utilizing valuable insights about the individuality of the markets we were trying to compete within. Without this information, it was a lot more difficult to drive tailored field strategy field strategy. 
Problems with a Traditional CRM 
The sales tools available are primarily built for the inside sales role. The traditional CRM has an interface that better aligns with the day-to-day of making phone calls and sending emails. They are inefficient for the outside sales rep who is on the go and doesn't always have access to a desktop or WiFi.
Outside sales and field marketing teams need tools that are built to support their unique everyday workflow. A mobile field sales app dedicated to on-the-go sales activity can help businesses acquire and centralize data, standardize field operations, encourage collaboration, hold reps accountable and increase productivity.
How Outside Reps Can Leverage Technology 
As mentioned, an outside rep regularly travels, has face-to-face meetings and is confronted with random occurrences throughout their day. For example, poor weather conditions, traffic jams, and timing of activities can impact the day for a field rep, and by extension his or her performance. This is why a traditional CRM won't properly address the needs of companies who are competing through outside sales activities. Reps require a tech solution built to address the nuances that make their workflow unique.
There are many ways field reps can look to improve performance by leveraging technology, here are four examples.
1. Planning 
Planning out the day is fundamental to a field rep's success. In the past, too many have simply jumped out of bed in the morning and on a whim decide which locations they will travel to that day. Obviously, it's better to be more thought out when it comes to visiting prospective or current accounts. However, it's not always feasible based on the tools that are provided to the reps – simple, intuitive tech interfaces are essential here. They will allow reps the ability to take time to easily plan their calendars for a couple of weeks to a month in advance if they desire.
This helps them to stop and think about each customer in their territory and causes them to think more strategically. Furthermore, you can view your territory on a live map through a field sales app and cut windshield time and travel time. The less time they are traveling, the more time reps can be closing deals and caring for customers.
2. Account Data
Reps have a plethora of data they need to access and organize. When you work inside sales, you have the luxury of pulling up a CRM dashboard during a call to look back at notes. A field rep does not have that benefit all the time. They need to be able to access key information regarding account history on the go. They also need to be able to update account information following a stop in an efficient manner. Providing mobile access to account data will help reps tremendously.
3. Analyze Data
Now that you have the data, you need to do something with it. You are going to fall behind competition if you do not analyze data around operations, target markets, and customers. This is more than looking over sales numbers. It means truly examining whether what you are doing is working or not. With today's technology, a rep shouldn't have to rely on someone else within the company to look at their data and communicate it back. With today's available technology, many analytical processes are now being automated, allowing sales personnel to invest in data analysis themselves.
4. Communication 
A big challenge for outside sales teams is that they work apart from one another. This limits the knowledge transfer that can happen from teams working together. Without that knowledge transfer, reps are more likely to repeat the mistakes of their colleagues. There are so many benefits to interacting with colleagues regularly such as sharing best practices, developing comradery and friendly competition. Utilizing tools to communicate and collaborate with other reps is a great way to boost performance.
How Sales Managers Can Use Technology 
A high quality field sales app is not just for the reps. In some instances, it can be of more value to sales managers. According to our findings, atleast 60% of sales managers have concerns over too little insight into their rep's activities. They have the difficult task of having to know what each rep is doing in each territory, keeping up with different market trends and the various variables impacting a rep's workday. They have so much data they need to capture in order to best allocate time and resources for the biggest ROI. Here are a few key ways a sales manager can leverage technology.
Maintain a Database – Having a record of each historical touchpoint with a client is crucial for any sort of sales. This can prove difficult in field sales because it is happening away from the office at random places. Having a tool for reps to record how long they are at a stop and what is done there allows managers to have a better understanding of where each account is status-wise. 
Quality Checks – Managers and reps are always looking for a compromise between freedom and accountability. In field sales, managers can have concerns about a rep's activity because they don't get to see them in action all the time. A web and mobile based field sales app can provide forms and questionnaires for reps to complete while at a stop to track their activity in a non-intrusively helping to alleviate concerns managers might have. 
Standardize Operations – A sales rep is often the face of the company. You want to ensure they are representing the brand well. Additionally, if you are organizing and tracking a whole remote team, you want to be sure they are all following the same procedures. The forms and questionnaires reps fill out for accountability and reporting, also provide managers a way to standardize operations across their team.
Pipeline View –  A manager needs to know where different accounts are within the pipeline. They need the ability to structure, record and monitor the different phases of the sales cycle. With a high quality field sales app, reps can record updates on accounts and managers can see those updates and organize visually where prospective clients are in the pipeline. 
Outfield – A Tool Built for Field Sales
Outfield is a web and mobile based-CRM and field sales app offering apps for iPhone, Android and web. The platform serves outside sales and marketing teams in over 70s countries. Outfield helps sales managers and field reps alike. For field managers, it allows them to discover insights about their market, track and verify team activity, and communicate across devices. They supply the reporting and analytics companies need to run their field sales and marketing programs. For field reps, Outfield helps increase productivity, drive revenue and manage their activities. The mobile app provides an intuitive interface to manage their territory and accounts while on the go. A rep can quickly create visit activity, assign notes, as well as maintain and access critical information about buyers. Outfield gives reps the ability to stay in contact with fellow field reps, management or other personnel.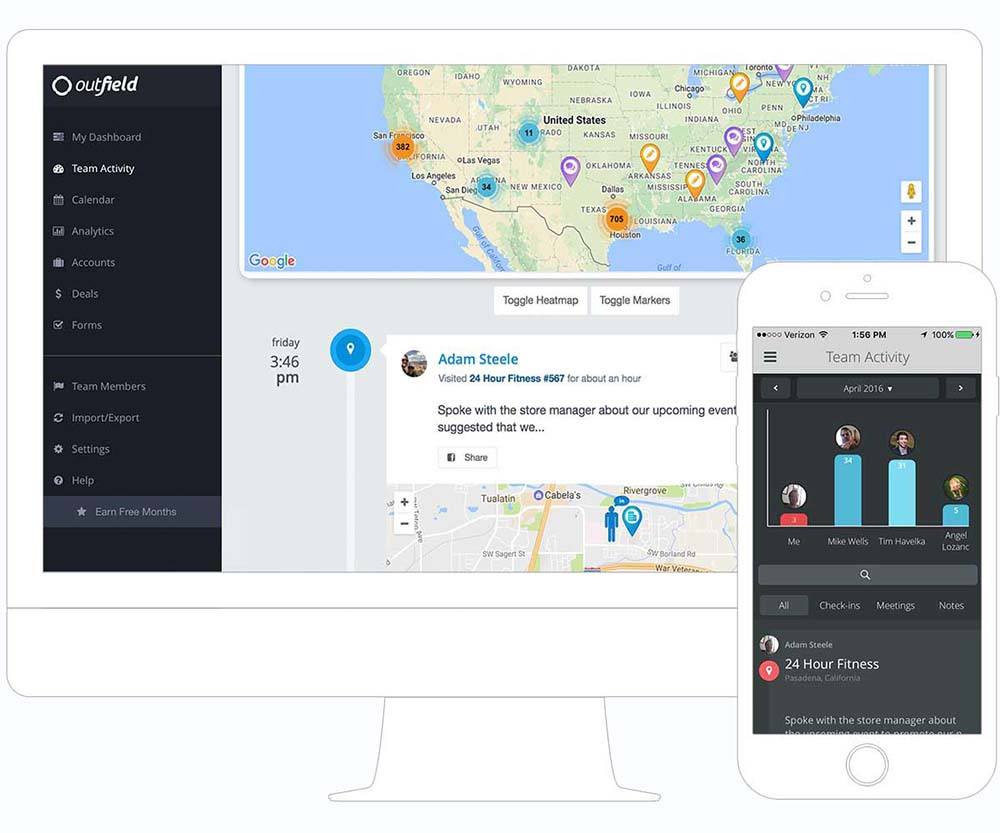 Outfield is designed with the field sales team in mind. They provide solutions for field marketing, territory management, route planning, merchandising, sales and account mapping and field sales.
Here are a few of the tools Outfield provides to help increase production from reps.
Planning Calendar – Outfield provides reps a web and mobile calendar to help them plan their visits ahead of time to keep them organized. They can set up reminders in the calendar to do things like stop by certain customers. It also allows supervisors to stay in the loop on what reps are doing.  
Route Optimization – Optimizing a commute is incredibly valuable. Any rep knows that cutting windshield time is a game-changer. Outfield map your visits and help you schedule your multi-stop routes accordingly. Outfield can predict and optimize your commute based on both historical data and real-time events.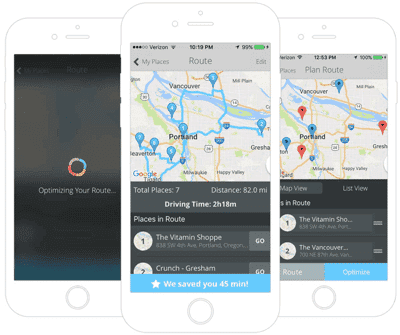 Team Activity – Through Outfield, you can keep track of reps in real-time, communicate with one another and managers can coach reps. The app will send notifications to ensure teammates get information in a timely manner.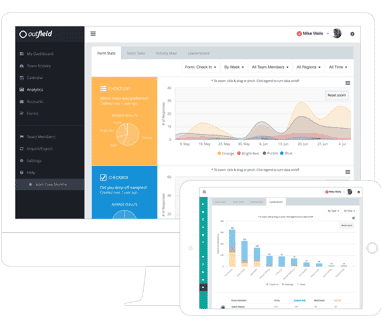 Gamification – Gamifying sales is simply a method of employing gamified principles and experiences within your sales operations to provide incentive and drive friendly competition. Outfield's platform allows users to gamify their sales operations and thereby boost employee performance. 
Outfield in Action 
Palladium, a hospice and palliative care provider, uses Outfield for their outside sales and marketing efforts. They find it helpful both in the day-to-day and the long term. Raymond Lewis, VP of Business Development at Palladium cites the greatest benefit of Outfield is it helps them be prepared. For an industry like healthcare, it can take six months to a year before you are in front of an actual decision-maker.
Through Outfield, Palladium is able to track all the touchpoints their reps make – who they are with, what was said, what questions were asked and more. This allows them to be better prepared when it comes time to meet with the final decision-maker. In the day-to-day, Palladium takes advantage of route optimization. They are able to identify new referral sources close by, plan a route and connect it with the navigation system of their choice. This allows their reps to work efficiently.
A field rep is constantly on the go and they need a tool that is quick, simple to use and can easily go with them. Having to get out a computer, connect to wifi and log information is not as efficient as pulling out your smartphone and inputting information within an intuitive interface. An organization ultimately needs both desktop access and mobile access. The mobile solutions are meant to support the workflow of a rep while they are on the go. Outfield currently serves hundreds of customers around the world. Their top verticals include CPG, CE and insurance.