Pressure on CMOs is quickly mounting as they're given more direct responsibility for revenue growth, including more budget and systems resources to make it happen. "Great," you say! Finally some respect for marketers. But the challenge is now they're being held more accountable for delivering measurable results – and fast.
A major barrier to success is marketing teams lack key capabilities needed to measure their impact on the organization's revenue growth (e.g. information to drive real-time planning, execution, and management of their go-to-market strategy).  This information gap leaves marketing leaders unable to answer the most important growth questions, such as: Which segments should we target? What adjacent markets should we expand into? How efficient are we at acquiring customers that match our ideal customer profile?
Furthermore, the broader C-suite has no quick and reliable way to see how the the company is performing against its go-to-market strategy so they can make course corrections. What results is missed opportunities that would otherwise accelerate top-line growth.
InsideView Targeting Intelligence Solutions
InsideView helps companies redefine their go-to-market strategies from a volume-based to a more targeted approach. Its Targeting Intelligence platform helps sales and marketing teams quickly identify and qualify the best targets, engage with more relevancy, close more deals, and retain and expand accounts.
Targeting Intelligence is the foundation
It's insufficient for B2B companies to rely on target lists defined by basic firmographics. Targeting Intelligence answers the questions of who, why, when, and how to target by providing industry-leading account and contact data, real-time news and social insights, and a comprehensive connections graph that shows how you and your colleagues are connected to your prospects and customers. InsideView's Targeting Intelligence Platform uses machine learning and artificial intelligence to harness millions of individual signals and data points and triangulate each piece of information to ensure accuracy and completeness.
InsideView powers sales and marketing execution
InsideView's SaaS-based business applications put the power of Targeting Intelligence directly into sales and marketing workflows and seamlessly integrate into Marketing Automation and CRM systems.
InsideView Target – Build highly-customized prospect lists to engage the right customers with the right message.
InsideView Enrich – Supplement leads with additional data to get a better view of your prospects.
InsideView Sales – Find, understand, and connect with the right accounts and decision-makers to close more deals faster.
InsideView Refresh – Automatically clean and enrich your CRM data to fuel greater sales and marketing success.
InsideView APIs – Use InsideView Targeting Intelligence your way, by integrating it into your applications.

InsideView Expert Services to Guide You
InsideView is a trusted partner for B2B customers looking for help with their data-driven go-to-market initiatives. Many companies underestimate the complexities around their data. InsideView Expert Services range from helping with data quality projects such as cleaning, email validation, and contact appending, to more consultative services like Target Market Analytics, which helps customers define their total addressable market (TAM).
This service provides a data visualization console that enables customers to run "what-if" scenarios in real-time and make decisions on account-based marketing (ABM) account selection, territory planning, and target market expansion.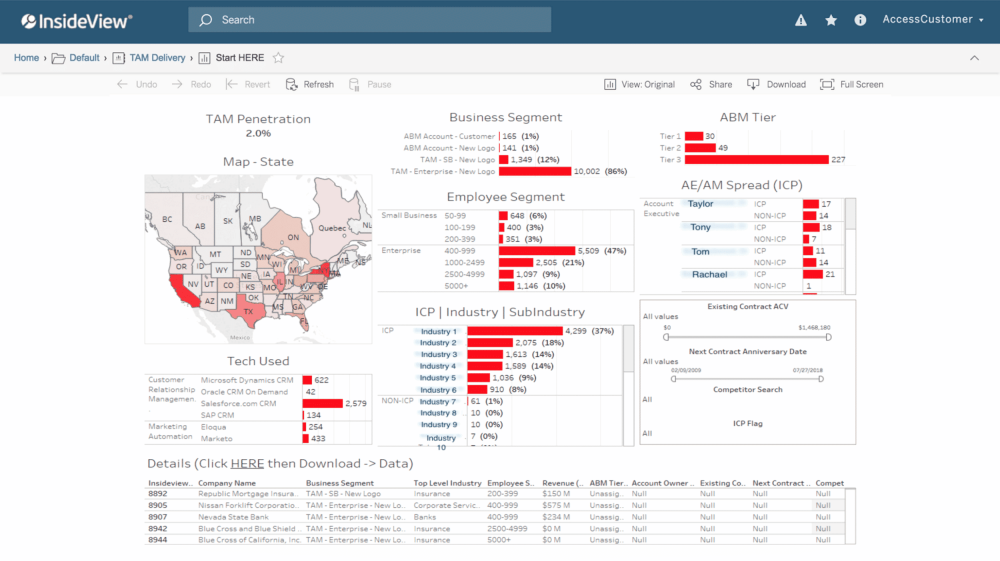 Targeting Intelligence Best Practices
What's the best way to execute targeted go-to-market strategies like ABM? We've learned that the leading B2B marketers follow a three-step process to ensure they're contributing to measurable revenue growth.
Know your targets with certainty – and have the data to reach them. You could have your sales team select your accounts (and this is often where companies start), but the process should ultimately be driven by marketing. Marketing is trained to execute target market selection across industry, persona,, and role segments. Defining your ideal customer profile (ICP) is the first step toward building a targeted go-to-market strategy. ICP is the qualification criteria you use to gauge whether a prospect is the best fit for your company. Typical criteria includes firmographic data (e.g. industry, size, geography), target titles and roles, and even qualitative measures, like whether the company is innovative or an industry laggard.


Once you know your ICP, you can use those attributes to identify your total addressable market (TAM) and determine the size of your target market. TAM lets you know how many companies fit your ICP and estimate how big of a market opportunity is in front of you. InsideView has found that many of our customers have captured less than 10% of their TAM in their marketing database. That missing gap is called whitespace. Once you identify your whitespace, you can begin importing net new targets and correcting, cleaning, and adding missing data to targets already in your database.

Defining your ICP and TAM is absolutely critical and foundational for targeted go-to-market strategies and ABM success. SiriusDecisions recently added a new "Target Demand" layer to the top of their famous Demand Waterfall, validating this need. Furthermore, they did a survey that showed that more than half of companies today have zero to limited measurement of their TAM.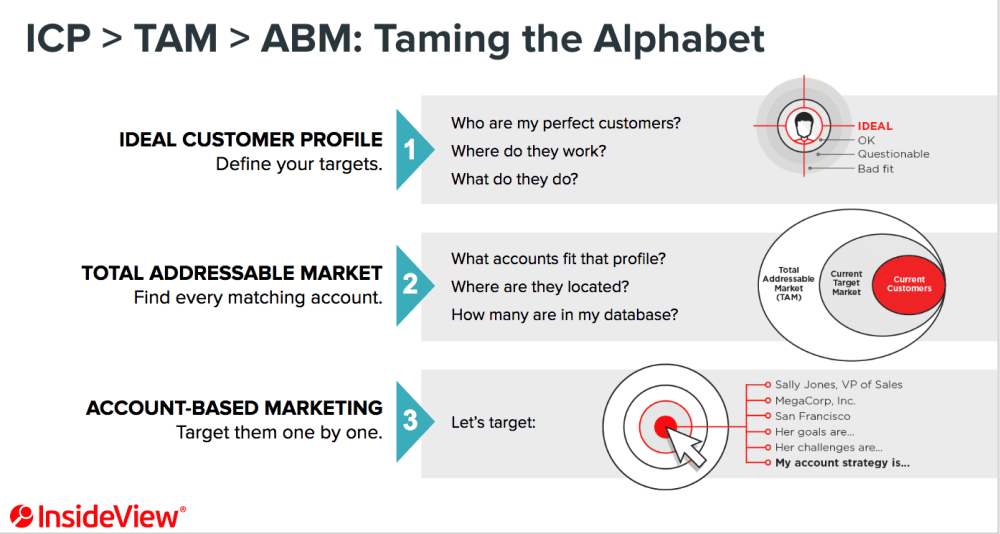 Keep your target data current. B2B account and contact decays at an alarmingly fast pace. According to several studies it's between 30-70% per year. Therefore, maintaining database quality needs to be a priority for all companies. This problem is exacerbated with ABM, which places a premium on keeping your target accounts dynamic to accommodate the fact that your account priorities may change, markets may shift, and you may uncover new information that helps you hone the ideal customers, roles, or events that signal a need. You'll also run into instances where people quit or move roles, or where companies reorganize and change responsibilities. Keeping your data fresh is the only way to ensure consistently accurate targeting.Say your "tier 1" targets all have revenue above $500 million. As you learn more, you find that sales cycles are significantly shorter for companies under $1 billion in revenue. You might then shift tier 1 targets to $500 million to $1 billion in revenue, then consider those with revenue exceeding $1 billion as tier 2. Having recent and accurate revenue data on every target is the only way you can quickly realign your efforts and target the best accounts with an even more tailored message.
Use ABM to align sales and marketing for maximum success. Organizations with tightly aligned marketing and sales teams achieved 24% faster revenue growth and 27% faster profit over a three-year period, according to SiriusDecisions. We learned in a survey of over 1,000 sales and marketing leaders that high-performing organizations demonstrate strength in four key focus areas that are foundational to alignment: communication skills, common pipeline measurement, adherence to lead quality, and data enrichment to drive successful prospecting.Account-based marketing naturally forces organizations to focus on these principles to be better aligned. As mentioned above in #1, ABM target selection should be driven by marketing, but that certainly doesn't mean marketing should do it alone. In addition to their core jobs of selling, engaging with prospects, navigating hierarchies, and closing deals, sales reps also have a huge amount of market, industry, and other knowledge that must be included as marketing develops the ICP and targets individual accounts.The early stages of ABM can be significantly improved by working with and listening to the experiences of sales. For example, maybe marketing has been targeting the VP-level, but sales has found that, if they ever get to talk with the VP, they are usually kicked down to the director-level. And as ABM progresses, marketing will be working more closely with sales teams on individual accounts. When both sides have a stake in developing the ABM strategy, they're sure to collaborate on all the core elements that bring key deals across the finish line.
Make decisions
As you look to drive revenue growth, total addressable market (TAM) is also used to gauge the size of new markets to enter, to justify or expand investments in a current market, or to research new product innovation opportunities. In every case, having an accurate view of the TAM is critical to making the best business decisions. Visualizing your market helps with defining sales territories, allocating field marketing resources and program investments, and focusing overall marketing efforts for maximum ROI.
Closing thoughts
Marketing leaders who want to be accountable for driving growth should have a strong pulse on their target market and leverage targeting intelligence to fuel their go-to-market execution. Stay on track with these concluding tips:
Defining your ICP and TAM is foundational to starting an account-based marketing program and is critical to its success.
TAM is not a one-time initiative. It's an ongoing process and evolves as your business grows. Reevaluate your ICP and your target accounts at least annually.
Use TAM to get sales and marketing aligned around the market segments and customers you're pursuing. An easy way to get your teams engaged is through visualizing your TAM to collaboratively run what-if scenarios and make quick decisions.
Keep your data current and don't skimp on data hygiene. Remember that B2B data on target accounts changes frequently as people transition roles, organizations adjust strategies, and overall markets shift.
Additional resources:
Infographic: Find, Target and Engage Your Total Addressable Market in 4 Simple Steps

Download our eBook: Do You Know Your Total Addressable Market? 3 Steps to Modernize Your Go-to-Market Approach