One cool way of finding sites is geographically. I actually found that a friend of mine at work had a blog by locating him on a map. There are a number of web sites out there where you can post your blog's location or site's location by it's geographic coordinates. However, you'll need to actually add some meta tags to your site to be found.
I've been wanting to do this for a while, but there really wasn't a simple tool out there to build the tags for me… until now! Tonight I've launched Address Fix.
The site can be used to clean up addresses, find your latitude and longitude, and automatically generate geotags for your website, blog and/or their RSS feeds.
Here's a preview: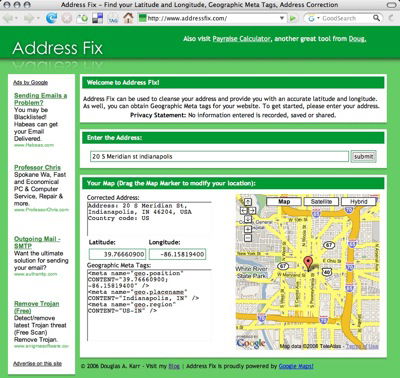 Just copy and paste the meta tags in the header of your website or blog with your other meta tags. Hope you like it!
FeedPress also allows you to Geotag your RSS feed. You can copy and paste your latitude and longitude into Feedburner under Optimize – Geotag your feed.