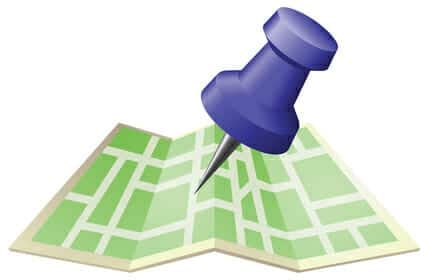 You may not know this, but Google will actually index your site's geographic location along with your other pages. This can be done best by supplying a KML file with your coordinates in an XML format – a format that's easy to read by programming interfaces.
Don't let this intimidate you! It's quite easy to build a KML file and add it to your site. In fact, I have a website that will build your KML file so you can download it, Address Fix. I added the features for downloading today!
Build a KML File the easy way:
Enter your address in Address Fix and submit. If the location on the map isn't accurate, you can drag your marker to the exact location (pretty cool, huh?). Now you'll see a "Download" link in the title of the KML section. When you click this, you can download the file to upload to your site later.

I would also edit the file (just use any text editor) and add your blog's name between the description tags. Example:
The name of my site>/description>
Add the KML to your Sitemap:
If you're running WordPress, you have to be running the XML Sitemap Generator Plugin by Arne Brachhold – you won't find a better or more essential plugin anywhere! One of the many great features of this plugin is that you can add a KML file to it. Just enter the full URL of the sitemap in the Additional Pages section: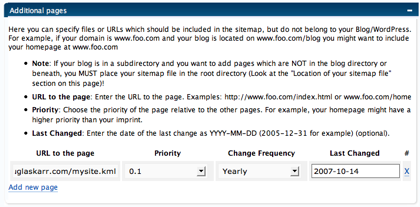 If you don't have WordPress, you'll find instructions at Google on how to add your KML reference to your sitemap.
That's it! Build the KML file, upload the file to your site, and add it to your Sitemap.