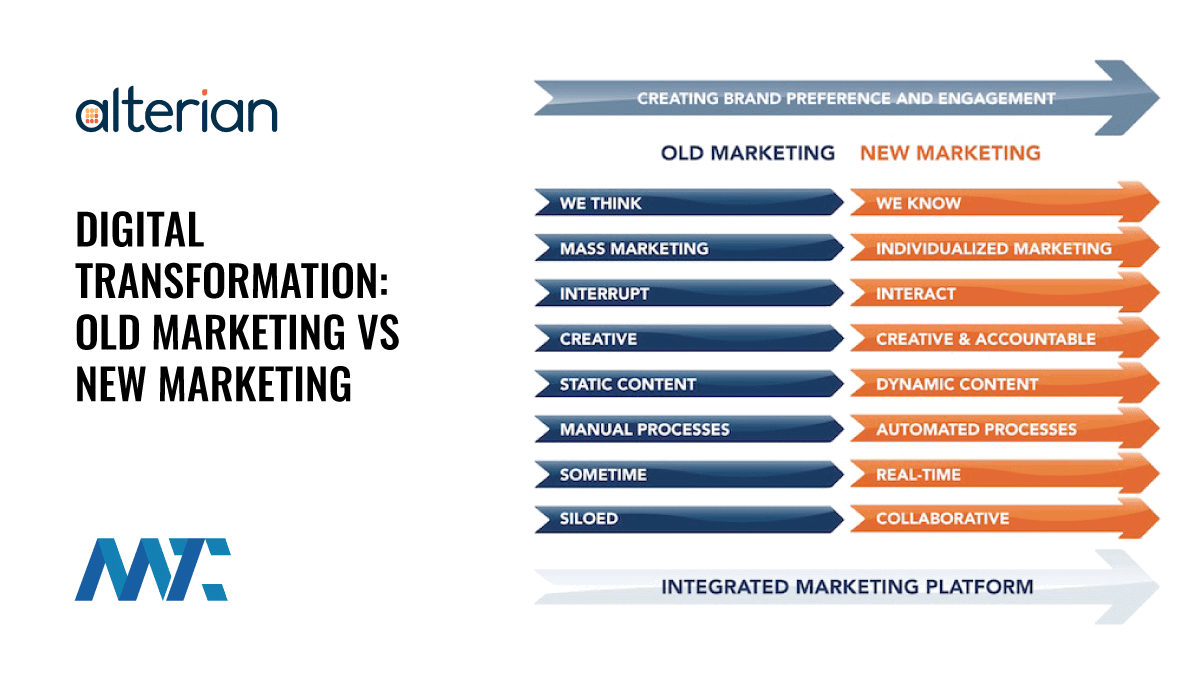 As I researched the Alterian site, I found this excellent diagram on their customer engagement page. The diagram effectively portrays how marketing has changed. It truly makes it clear as to whether or not your marketing has evolved.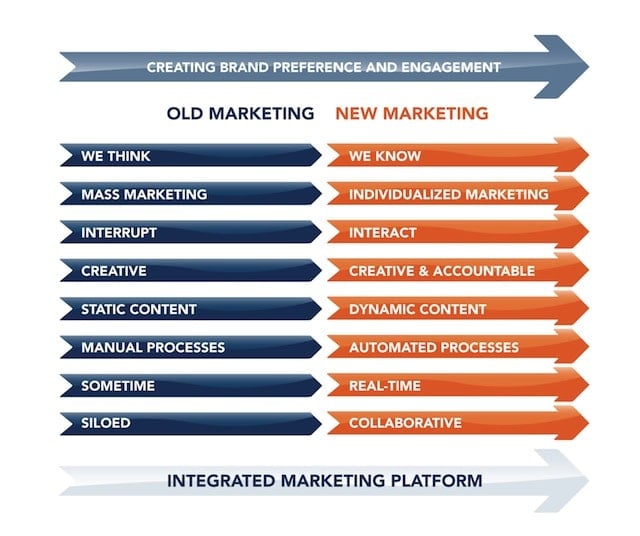 The strategies and tools marketers employ have dramatically transformed over the years. Technological advancements and data analytics have driven the shift from traditional mass marketing to a more personalized and integrated approach. Let's delve into the critical aspects of this evolution:
We Think Evolved to We Know – Using Data and Analytics: In the past, marketing decisions were often based on educated guesses and assumptions. However, data analytics has empowered marketers to transition from we think to we know. Through the analysis of consumer data, marketers can now make informed decisions, understanding their audience's preferences, behaviors, and needs with precision.
Mass Marketing Evolved to Individualized Marketing Using Personalization and Segmentation The era of generic, one-size-fits-all advertising has given way to individualized marketing. Marketers leverage personalization and segmentation techniques to tailor messages and offers to specific audience segments. This ensures that consumers receive content that resonates with them, fostering a deeper connection with the brand.
Interruption Evolved to Interaction: Traditional advertising often interrupted consumers' experiences with intrusive commercials and pop-up ads. Today, marketers aim for interaction rather than interruption. They engage with customers through social media, interactive content, and two-way communication, making the brand experience more engaging and less disruptive.
Static Content Evolved to Dynamic Content Experiences: Static content has become outdated. Marketers now focus on creating dynamic content experiences that captivate and engage audiences. This includes interactive videos, immersive storytelling, and user-generated content, allowing consumers to participate in the brand's narrative actively.
Manual Processes to Automated Processes: The manual execution of marketing campaigns has given way to automation. Marketing automation platforms streamline repetitive tasks like email marketing and lead nurturing. This saves time and ensures consistency and efficiency in reaching the target audience.
Sometimes to Real-Time Monitoring, Actions, Automation, and Reporting: Real-time monitoring and analytics have become indispensable tools for marketers. They can track the performance of campaigns as they happen, allowing for immediate adjustments and optimizations. Real-time insights enable marketers to seize opportunities and address challenges promptly.
Siloed vs. Collaborative Omnichannel Marketing: Collaborative omnichannel strategies have replaced siloed marketing efforts. Marketers recognize the importance of a seamless customer experience across various channels, such as social media, websites, and mobile apps. This integration ensures a cohesive brand message and enhances customer loyalty.
The evolution of marketers from relying on instincts to harnessing data-driven insights has revolutionized the way brands build preference and engagement. By embracing personalization, interactivity, automation, and a holistic approach to omnichannel marketing, today's marketers are better equipped to connect with their target audiences and create lasting brand relationships.
Have you evolved as a marketer? Has your company digitally transformed?
I've spent time with several prospects, and common reasons why they hadn't digitally transformed (DX) their businesses were fear, resources, and expertise. I think this points to why it's so important to retain the assistance of a digital transformation expert. They can provide your firm with measurable results and effective ways of reducing the resources needed… all while dispelling the fear.