There's a temptation by those of us in the inbound marketing industry to discount outbound marketing. I've even read where some inbound marketers have said that there's no need anymore for outbound marketing. Frankly, that's bunk. It's terrible advice for any business looking to expand into new markets and connect with prospects they know will make great clients.
If you have a well-known brand (as many bloggers and social media agencies do), it may not be necessary to pick up the phone and make cold calls. Word of mouth and a referrals may be enough to help you grow your business. That's not a luxury that too many companies have, though. In order to both grow and overcome attrition, the majority of companies must incorporate an outbound marketing strategy. Even then, there are many so-called sales professionals that advice a random number of contacts with a prospect before abandoning them.
Most outbound marketing strategies fail because they're not persistent in calling on the clients who are within their key firmographic. We discussed this will Bill Johnson – co-founder of Jesubi, a sales prospecting automation tool and a sponsor of Martech.
The Power of Persistency
Part of the reason why Bill became a big believer in professional persistency and why they built Jesubi goes back to their early days at Aprimo. The decision was made to call marketers up to 12 times over a 10 to 12 week period trying to get them on the phone to drive a conversation. Because Aprimo was targeting the Fortune 500 marketing teams they had numerous people to target.
It was also very, very difficult to get the prospects to pick up the phone or return a voicemail. Merrill Lynch was on their target list they had 21 marketing names to target… from CMO, to the VP of Marketing to the Director of Internet Marketing, etc. The Director of Private Client Marketing finally answered his phone on the 9th attempt. He was the 18th person targeted. He accepted an offer to have a meeting, turned into a solid prospect, and drove a multi-million dollar contract. Had they quit calling after 6 attempts or only called 4 people we would have never had a conversation with him.
Jesubi recently closed a deal with Xerox. Bill's rep called a VP of Sales 10 times over a 7 week period. She actually hung up on him on the 2nd attempt :). He continued to call and on his 10th attempt she actually said I am not the right person please call the SVP of Sales. My rep called him and on the 8th attempt he picked up his phone said, "I am a tough guy to get a hold of how did you do it?" Bill's rep explained his process and how Jesubi helped. Xerox requested a demo there on the spot and a few weeks later Jesubi had a 50 user deal.
Neither one of the above examples would have closed via inbound marketing because the prospects were not looking for the solution. Neither one would have responded to voicemail. Neither one would have done business with the respective companies had the reps called only 6 times or across 4 contacts. The power is knowing that it takes persistence and knowing what that persistence should be.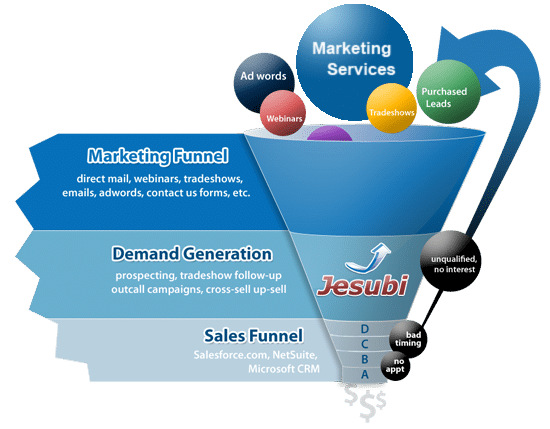 Jesubi maximizes sales productivity with insightful reports and actionable conversation tracking. Save time and sell more with one-click call screens, automated follow-ups, and powerful reporting tools.