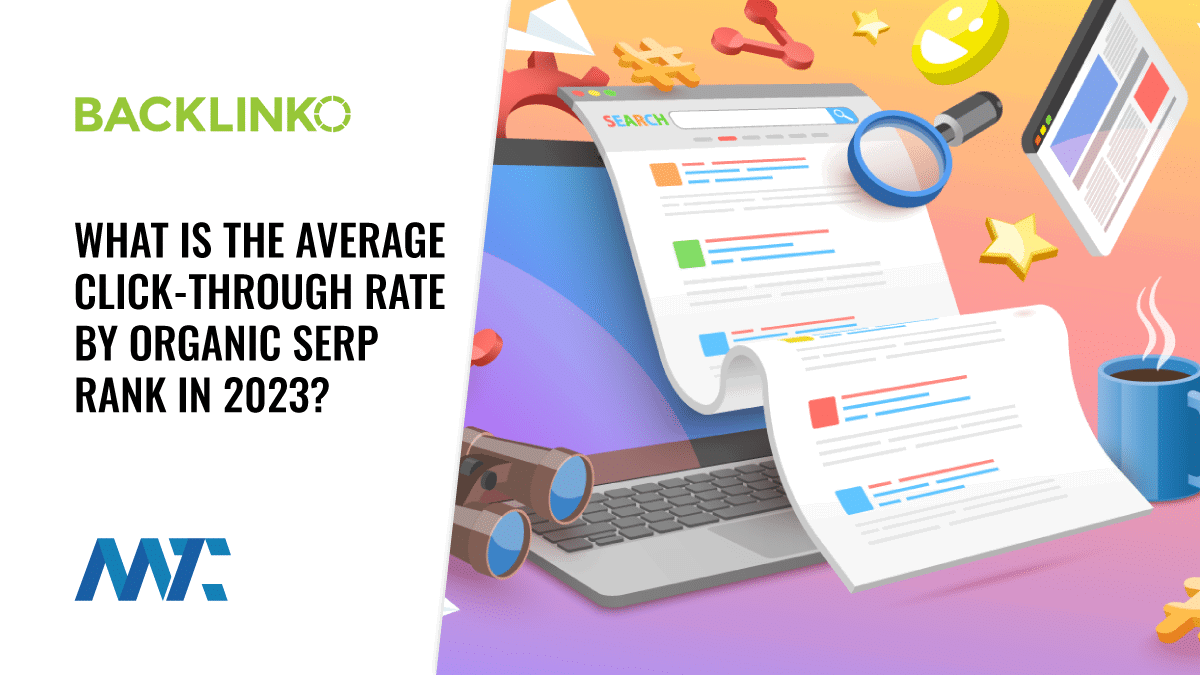 Search Engine Results Pages (SERPs) are the dynamic output of a search engine's query or search term input. In a dynamic shift from traditional pagination, search engines have now adopted an infinite scroll format where users no longer browse through multiple numbered pages. Instead, they encounter a seamless flow of results loading as they scroll down. Before the change, heatmaps and click-through rates often showed an increase in the bottom results of the page and the top results of the next page. With infinite scroll, we see that this is still true but doesn't have quite the dramatic impact it once did.
Sections of the SERP
The anatomy of SERPs is complex, with multiple sections, each playing a crucial role in driving click-through rates (CTR) and guiding the user journey. These sections include organic listings, paid listings, knowledge graphs, local packs, and shopping results. The sections a user sees and their order depends on the user's query and search context.
Implementing infinite scrolling on SERPs has nuanced implications for user behavior and click-through rates. The primary principle – that higher-ranked listings attract more clicks – still stands. However, the seamless scrolling experience may encourage users to explore more results than they would on a paginated SERP, impacting CTRs lower down the list.
Organic Listings: Organic listings are the unpaid results that appear in response to a user's search query. They're generated from the search engine's natural ranking process. Organic listings generally have the highest CTRs, especially if they appear near the top of the results, just as in the pre-infinite scroll era.
Paid Listings: Known as Pay-Per-Click (PPC) ads, these are typically found at the top of SERPs, above organic listings. The shift to infinite scroll does not affect them and still occupy prime real estate on the SERP.
Knowledge Graphs: These SERP features offer quick, concise answers or information related to the search query, typically presented in a box. They might not directly increase website traffic, but they reinforce the source's authority and indirectly influence clicks.
Shopping Results: These are product ads appearing when a user searches for a product. The introduction of infinite scrolling has allowed for more consistent integration of these results throughout the SERP, improving the browsing experience for users and potentially increasing engagement with these results. Now interspersed more consistently throughout the SERP, shopping results may see increased attention as users encounter them more naturally during their search experience.
Local Packs: Known as the Map Pack, these are localized results, presented with a map and business listings, that appear when a user performs a local-intent search. They remain crucial for attracting clicks and driving local business traffic in the infinite scroll model. With their targeted relevance and immediate information like ratings, addresses, and hours of operation, local pack results significantly impact CTRs for locally focused searches. A SERP for local searches is generally broken up as follows: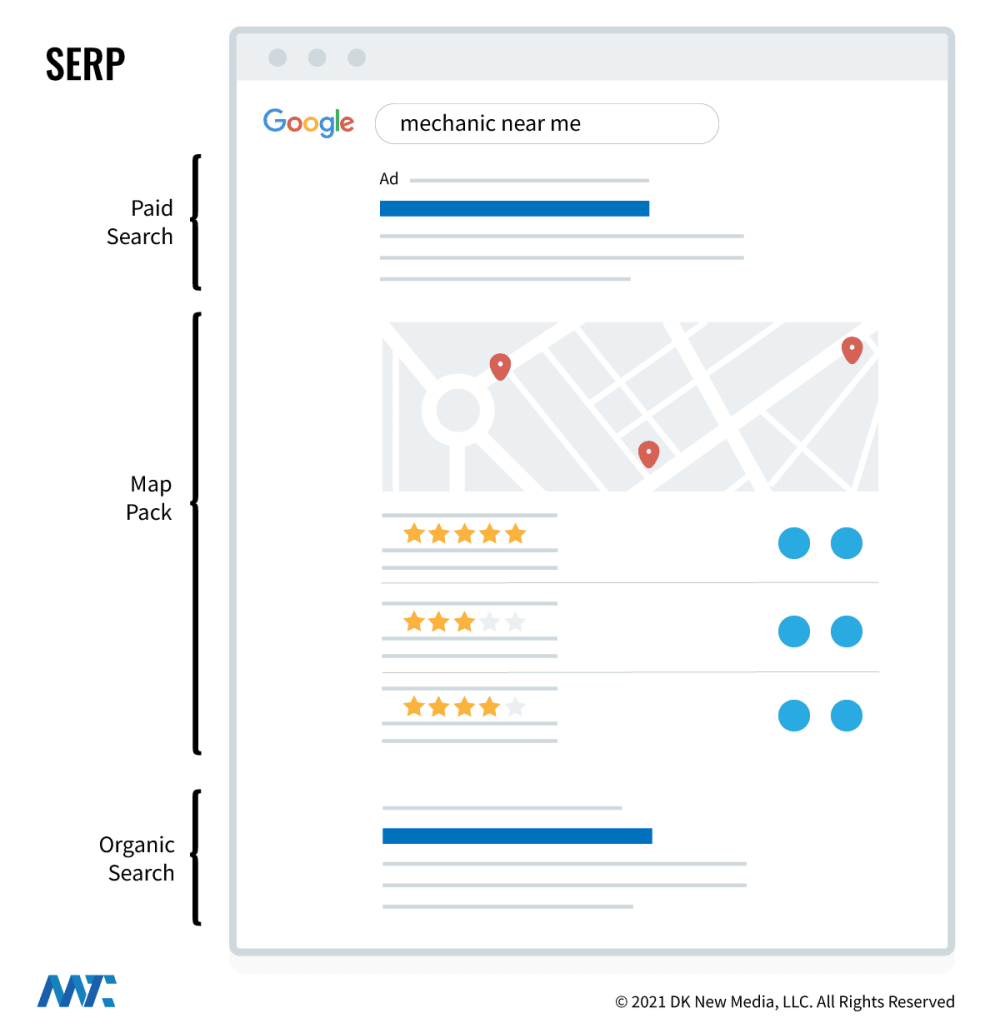 SERP Organic Listing CTRs
In any search, the first few results, mainly the top three, still capture the lion's share of clicks. High-ranking results also project authority and reliability to users, which can positively impact the perceived credibility of a site. Therefore, the objective of appearing near the top of the SERP remains as crucial as ever in the era of infinite scrolling.
Backlinko continues to provide amazing analysis of SERPs and CTRs that you won't find anywhere else.
Position 1
The #1 result in Google's organic search results has an average CTR of 27.6%.
Position 2
The #2 result in Google's organic search results has an average CTR of 15% – 20%.
Position 3
The #3 result in Google's organic search results has an average CTR of 10% – 15%.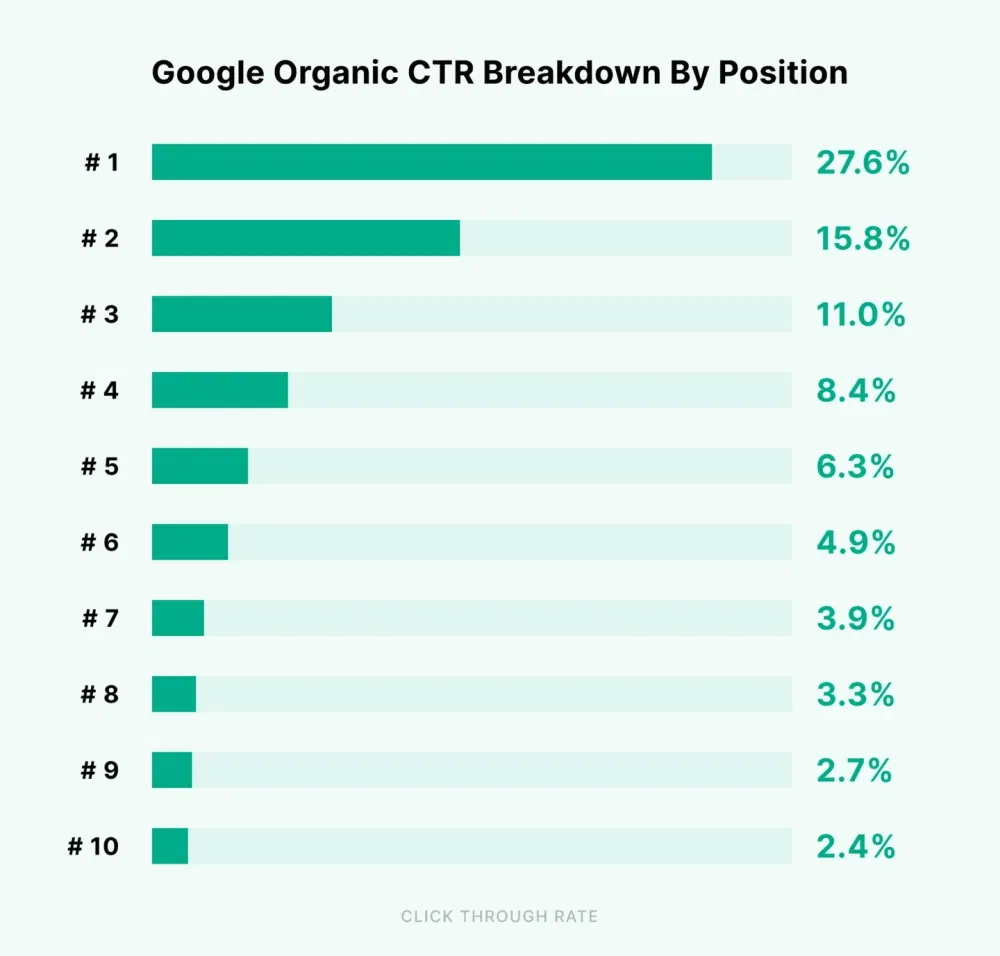 Here are some rules of thumb from the analysis:
The #1 organic result is 10x more likely to receive a click than a page in the #10 spot.
Moving from position #2 to #1 results in 74.5% more clicks.
The top 3 results get over half of all SERP clicks.
On average, moving up one spot in the search results will increase CTR by 2.8%.
Moving from position #3 to #2 boosts the CTR significantly.
However, moving from #10 to #9 doesn't make a statistically significant difference.
Organic CTR for positions 8-10 is virtually the same.
The majority of queries a site ranks for in Google get very few impressions, with 90.3% of all queries having only 10 impressions or less.
How Do Page Titles Impact SERP CTRs?
Titles with or without questions have similar CTRs.
Title tags between 40 to 60 characters have the highest CTR.
Longer keywords (10-15 words) get 1.76 times more clicks than single-word terms.
Positive titles have a 4.1% higher absolute CTR compared to negative ones.
Keywords between 10-15 words get 2.62x more clicks than single-word terms for the #1 position.
Emotional titles can lead to a higher click-through rate in organic results.
How Do Page URLs Impact SERP CTRs?
URLs containing terms similar to a keyword have a 45% higher CTR than those without.
Remember that while a keyword in a meta description may not impact rank, it can impact the CTR because it's highlighted on the search result.
How Can Businesses Use This Information?
Unfortunately, the SEO industry is rife with poor actors, many of which charge a lot of money and do very little to change the overall business results of a company. I'm always amazed at the meaningless solicitations I receive from consultants and agencies regarding SEO. Here are a few examples:
I reviewed your site and noticed you weren't ranking well. My response? Really… on what terms and how would they impact my business? Without due diligence and analysis or your business, competitors, and current rankings, an SEO consultant or agency can't possibly know whether or not you're ranking poorly or well… when it comes to actual business results.
We can get you on page 1! My response? Page 1 for what? And how high on page 1? It's virtually impossible NOT to get on page 1 or even rank #1 for some keyword or phrase. Branded terms, for example, are often so unique that you'll rank without any effort. At issue is if that ranking is generating any business results. Regardless, no SEO consultant or agency can guarantee you a #1 ranking on a highly competitive keyword… they can only try!
We can generate the backlinks that get you ranked! Buying backlinks is rampant in the industry. Martech Zone is solicited daily by blackhat SEO companies wishing to buy backlinks. Selling or buying backlinks to manipulate search engine ranking violates Google's policies and is known as Link Spam. You may see a bump… but you'll likely get buried. And by the time you figure out that your site is deindexed or not ranking, your backlink partner is long gone, leaving you with quite the mess to clean up.
SEO is no longer a siloed initiative. I've argued repeatedly that pure SEO consulting needs to go away altogether. You'd be better off hiring a great marketing consultant or agency that understands your business AND then works to help develop the content strategies (on-site), promotional strategies (off-site), and the technical SEO strategies that search engines desire to help grow your visibility in search engines and drive relevant clicks to your site.