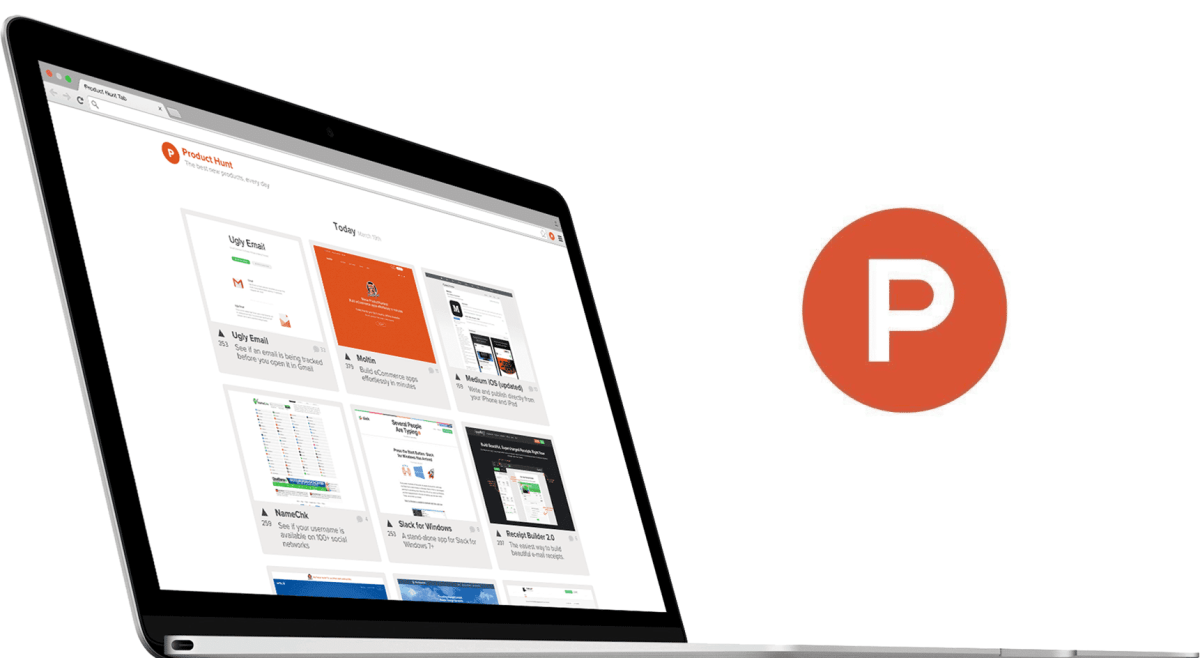 The launch process for a startup in any industry is universal: come up with a great idea, make a demo version of it to show off, attract some investors and then profit once you hit the market with a finished product. Of course, as industries have evolved, so have the tools. It's every generation's aim to uncover a new way to get startups into the public eye.
Previous eras relied on door- to-door salesmen, mailings and TV and radio ads to launch a product. While some of those tools are still around today, a modern twist is absolutely needed so that today's startups can carve out a place in a busy market.
In a 2016 interview with Groove's Alex Turnbull, Product Hunt founder and CEO Ryan Hoover outlined his philosophy, passed down from his father: Find a hole, and fill it
Hoover found a big hole and came up with a way to fill it. A meeting place for those with prospective startups, the site relies on word of mouth to strengthen or weaken individual cases through up or downvotes from users. If you can get enough upvotes to move off the Upcoming feed, where all startups begin, you'll move on to the site's front page and the Featured feed.
The range of products on offer are all over the place. Techies will enjoy the phone and mobile apps, while books and other items are available for consideration. It's even where Ship Your Enemies Glitter began as well. Within 24 hours of the website's launch hitting social media, the interest forced the creator to put the website up for sale.
The site prefers to feature startups that are 'new' – not only efforts from first-time developers, but items that have been significantly updated from well-known companies. They also allow creators with items that aren't well-known to post their startup, even though the item isn't technically new.
Apps that have rebranded can also qualify to get listed. If you're more of a writer, then Product Hunt may not be for you, as the site doesn't accept articles and blog posts. Contract services also aren't accepted on the site.
It's proven to be pretty successful, with almost 170,000 fans on Facebook and Twitter as of last May and a staggering eight Twitter profiles.
Still feel overwhelmed? We've got some tips to make sure your Product Hunt experience is a great one:
Search Out Similar Products
This is the can't-skip first step before planning any launch on Product Hunt, especially if you're a rookie poster. Taking the time to research and find how other companies and individuals marketed their work, right down to the taglines, is an essential starting point. Notice those catchphrases, but don't forget how they created their landing pages. Every element should be considered before taking the leap, as just flinging yourself out there is going to end in disaster. Be smart.
When my company attempted to launch on Product Hunt we were about 4-years old and established. We tried our best to educate users that our DIY mobile app builder was a great service but the novelty of it not being something entirely new lead to us not having a successful launch. So, the key point here, is make sure that you're launching something new and not something that has already been placed on Product Hunt before that did not have great results.
It's good to learn from your mistakes. It's better to learn from other people's mistakes. Warren Buffett
Find Your Influencers
Another path to success on the website is finding influencers – people who can get out interest in a new startup that was just posted on the site. It's standard for those connected with a company pushing a startup to shoot emails to their employees getting them excited with the aim of upvoting a new product. For individuals, it's completely fine to do the same with family members and friends. (Even if your aunt hasn't mastered email. Every vote counts, remember.)
There are limits, however. Product Hunt doesn't allow companies to simply buy a spot on the site's home page. Doesn't matter how awesome the track record, they still must earn a high ranking through upvotes like everyone else.
Keep Speed in Mind When Creating Something for The Site
Unlike similar websites, Product Hunt's algorithm depends on speed. As soon as the site's clock hits midnight PST, the new day begins and the daily top vote-getters from the previous day are cleared. So, it's vital for those developers to make sure everything is set and ready once the product is posted and you're at the mercy of users. Since Product Hunt doesn't allow reposts unless in certain cases (noted above), that one day decides whether your startup succeeds or fails.
User Reviews Can Be Used to Your Advantage
Smart developers and designers use reviews to strengthen a product. Designers have told stories about how the beta version of their phone app was improved by reading comments on the site and fixing the bugs. Product Hunt's FAQ page insists that an app can only be relisted if the updates are 'substantial' – essentially significant new features instead of a tweak here or there. Community managers will reject minor updates, so keep that in mind.
Examples of accepted features run the gamut from expanded interfaces to increased availability on multiple platforms, maybe a new mobile version of a website. Even a new logo counts!
Just look at Minibox. The file-sharing app is currently two years into its third iteration, with multiple versions for various platforms after launching as a Mac-only platform.
Time Your Launch Correctly
Smart webmasters will make sure to prepare the item's launch correctly. Horror stories of startups being unprepared for the spike in traffic due to posting on Product Hunt are common, like Ship Your Enemies Glitter's developer being swamped by public interest.
Make sure that when you're planning to launch, everything's set the way you like it. If you're not prepared and would-be users have trouble with the app, be prepared for plenty of downvotes pointing out bugs and griping left and right. Then the fate of the app will be in the hands of the site's community managers when you email them with an improved version.
Managers need to know just about everything you've planned in Version 2.0 to give the okay to relist. Make sure you've got examples ready.
Don't Go It Alone Without Media Contacts
Veteran Product Hunt users are familiar with launching a startup, and they've got contacts in the media who help with publicity. That doesn't mean you can't emulate them. Know any bloggers or journalists who covered an earlier product of yours with positive reviews? Draft an email to get their attention about the new launch and send them along on launch day.
The messages can even be automated to save some time on what should be a busy day. It's an easy way to get your new startup in front of more eyeballs with great coverage, and get more upvotes thus.
Final Thoughts & Advice
Keeping all of this in mind is a lot to consider for anyone, let alone the Product Hunt rookie. If you're prepared, dealing with anything the users throw at you is a snap. Forced to relist after a big launch went haywire? No problem, let's pass along the updates to our community manager. Unprepared for bigger than expected interest? Lesson learned for next time. After all, smart users learn from hiccups and mistakes to be better the next time around. It's worth the effort.
These examples, good and bad, show how powerful Product Hunt can be. Any developer wanting to launch a startup would do well to look at the value offered by the site. A simple product launch can be the springboard for a company's success. If you're prepared and ready to go, the benefits of Product Hunt are yours to enjoy. Good luck!