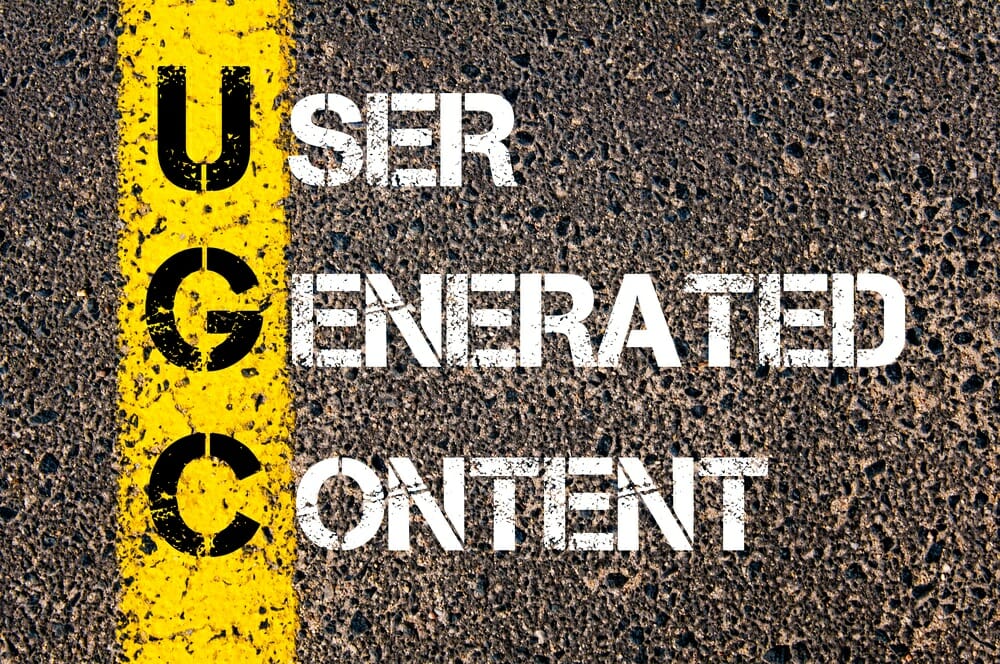 It's pretty amazing to see how technology has evolved in such a short period of time. Long gone are the days of Napster, MySpace, and AOL dial-up dominating the online market.
Today, social media platforms reign supreme in the digital universe. From Facebook to Instagram to Pinterest, these social mediums have become integral components of our everyday lives. Look no further than how much time we spend on social media each day. According to Stastista, the average person spends 118 minutes per day browsing social media networks. It has become how we communicate, express emotion, and even sell products to customers around the world.
Let's take a closer look into how businesses are leveraging social media to grow their brand, turning passive browsers into loyal customers.
eCommerce, Social, and UGC: Forever Connected
The eCommerce world has quickly become one the most competitive arenas for businesses to succeed in. With companies both online and offline looking to monetize and capitalize off the power of social media, differentiating your brand from the competition has become more difficult than ever.
So how do the successful eCommerce retailers do it? The answer is user-generated content.
In this article, we will go in-depth on why user generated content (UGC) is the most important tool you can leverage in the age of social media. We will touch on each major social media platform, covering tips and best practices to utilize UGC and help your business dominate across social.
They say content is king. Well, we believe user-generated content is now king. Come find out why:
Turn your Instagram business page into a shoppable wonderland
We live in a world where our attention span is limited. On social media specifically, users are more interested in scanning and scrolling than reading big chunks of text. This is why Instagram has become such a force to be reckoned with, carving out a huge portion of loyal users with their photo-centric platform.
The data backs up their success. In fact, of all social channels, traffic to eCommerce stores from Instagram stay longest onsite at a whopping 192.4 seconds. The chart below shows how Instagram stacks up to the competition: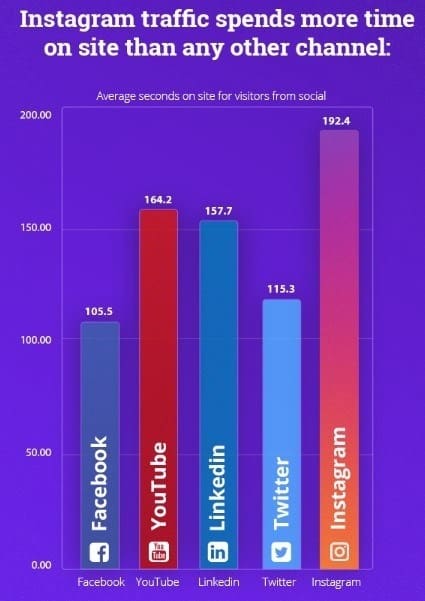 So how do you leverage the power of Instagram and utilize the platform to start selling? User-generated content, of course.
People intrinsically trust photos and content from real, authentic customers more than from retailers themselves. It allows customers to see that the products you sell are being enjoyed by shoppers around the world.
Try pairing user-generated photos on Instagram with an exciting new feature recently released by Yotpo called Shoppable Instagram. Shoppable Instagram allows eCommerce brands to turn their Instagram galleries shoppable. The process is really quite simple.
A parallel site linked in your Instagram bio, the shoppable Instagram layout is a mirror image of your original Instagram page. This ensures that customers are getting the same easy-to-scroll experience that they expect, but with the addition of making the content they see buyable. Making that content they see user-generated is an incredibly powerful tool.
A great example of an eCommerce retailer taking full advantage of pairing UGC and Shoppable Instagram is Hamboards. A popular Landsurfing retailer, they realized the power of turning user-generated photos on Instagram into buyable links at the click of a button. As you can see below, the result is a clean, customer-inspired shop that looks like the user never left Instagram: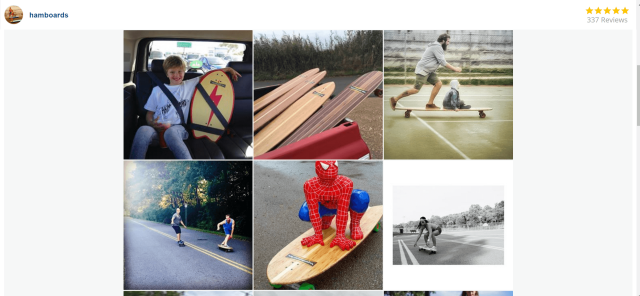 Follow the lead of Hamboards, and pair Shoppable Instagram and user-generated content for ultimate eCommerce success on Instagram.
Use UGC reviews to make your Facebook ads stand out from the crowd
We all know Facebook's story to social stardom. From an idea in a Harvard dorm room to a multi-billion dollar enterprise, Facebook is the pinnacle of social media success in the 21st century. The platform continues to evolve, constantly revolutionizing how we interact and communicate with one another.
For any business, there may be no better place to advertise your products than on Facebook. Not only do they make the process as simple as possible, but the potential reach of your ads to potential shoppers can be endless.
A great way to have your ads attract Facebook users is utilizing user-generated content from past customers. By simply showing off a positive review from a happy customer in your Facebook ad, ROI for that product goes up substantially.
Take MYJS, an online jewelry store, as an example. A successful Jewelry company for over 3 generations, they quickly realized the power of social media and the need to have an online presence.
With Facebook being such a social media giant, MYJS understood advertising on Facebook was a necessity. When they started using Yotpo and UGC in their Facebook ads by using reviews from previous customers, their metrics significantly improved. UGC resulted in a cost-per-acquisition decrease of 80%, while simultaneously creating a 200% increase in click-through rate as well.
The Facebook advertising space is cluttered with hundreds of thousands of businesses. Using UGC within your Facebook ads may just be the answer to having yours stand out.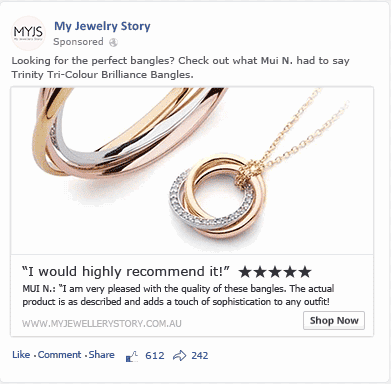 Pinterest: Your secret social media weapon that craves user-generated content
Often overlooked when mentioning the big social media platforms, Pinterest flies under the radar to many brands selling online. This misconception that Pinterest isn't as important as the others is an oversight by any company who falls under this line of thinking. Pinterest is one of the fastest-growing social media platforms with an incredibly engaged, eager to purchase user base.
UGC plays a different, yet equally as important of a role on Pinterest. With businesses utilizing "boards" and "pins", Pinterest is the perfect platform for allowing customers to express gratitude by curating user-generated content to these boards.
One of the most successful eCommerce brands, Warby Parker, implements UGC on Pinterest perfectly. They created a board entitled Our Friends in Our Frames, where they showcase prominent online influencers wearing their glasses in a variety of settings. With over 35 thousand followers on this board alone, Warby Parker realized and capitalized on the opportunity of using user-generated content as a core part of their Pinterest marketing strategy.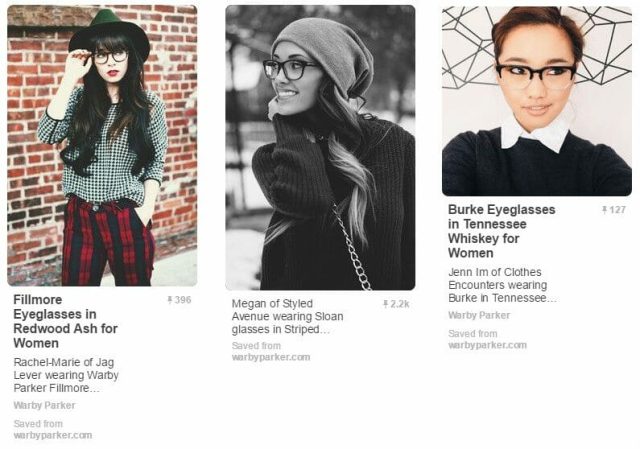 We live in a world dominated by social media
We get our information from news feeds instead of newspapers. We look up information on search engines instead of libraries; everything is now available at the tips of our digital fingertips. Whether this is a good or bad thing for society is up for public debate and opinion. What is not up for debate, however, is the importance of UGC within the social media universe. User-generated content creates a sense of trust and authenticity between company and consumer, which on social media is a rare feat to accomplish. Whether it be Facebook, Instagram, or Pinterest, user-generated content and social media will be tied together for years and decades to come.