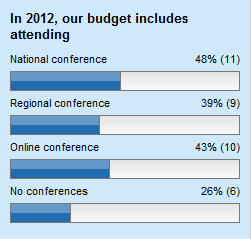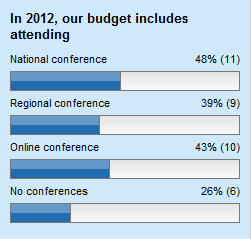 The first conference I went to was a regional industrial technology show. I was an industrial electrician at a Newspaper and my boss wouldn't pay for it. So I paid my own way in. We had a conveyor system with electronic magnetic proximity switches that had to have such a close margin to the equipment that they would get tore up year round. We went through hundreds of them and each was hundreds of dollars. At the show, I found a company who made an array of them with all shapes, sizes and proximity distance settings. We tested a new, less expensive sensor that had a wider gap… and never had to replace one again.
The conference saved our company tens of thousands of dollars, but my boss wouldn't spend the $20 or so to enter. It was a life lesson for me that conferences are worth their weight in gold. So it alarms me that there are so many companies that don't even have a budget to attend a regional, national or virtual conference! Our SurveyMonkey weekly poll showed that over 25% don't have any budget for any conference! Conferences are ideation machines. They not only excite you because you're surrounded by peers, they recharge your thought process and make you think outside the fog of your company.
National conferences – to be honest, I rarely go to a session at a national conference! I spend my time in the vendor hall and walking back and forth connecting with industry leaders. At night, you can find me at every hotel bar that's housing the guests. The conversations with industry leaders is amazing. If you let your employee go to a national conference, give them a bar budget so they can buy a prospect, a vendor, or an industry leader a drink or two. That's where the magic happens!
Regional conferences – if you want to look big nationally, you've got to be big regionally. I love leading sessions at regional conferences. It provides me with an opportunity to test new presentations out with a familiar audience and meet local talent. I attend sessions at regional conferences and often skip the drinks after. Sometimes the sessions are a bit sketchy or salesy… but typically I walk away with information I can use. These conferences are pretty inexpensive, so the ROI is easier to make.
Virtual conferences – if you're a vendor or speaker, there's no better return on investment than a virtual conference. People attend these events to learn and buy. If they cared about meeting the speaker, they would have traveled to the conference. The business we get out of virtual conferences (for the last 2 companies I've worked with) has been incredible. If you are an attendee, it's fantastic – you can leave, return, see every demo you ever wanted to, and do it from your desk (or couch).
No conference? I'm being honest and telling you that your brain (or if you're the boss… the brain of your employees) is turning to mush. Get out of the office and go get recharged! If you're a boss, challenge your employees to come back with 3 key strategies that will overcome the travel expense and cost of the ticket. If you're an employee, promise your boss that you'll come back with 3 key strategies that will overcome the expense!
To find conferences, I like Plancast and Lanyrd. My favorite 3 large conferences have been BlogWorld Expo, Webtrends Engage, and ExactTarget Connections. Locally here in Indiana, BlogIndiana is a favorite. And virtual conferences – I love all the Social Media Examiner events and a ton of others!
Please comment with your favorite conferences and whether they're national, regional or virtual!