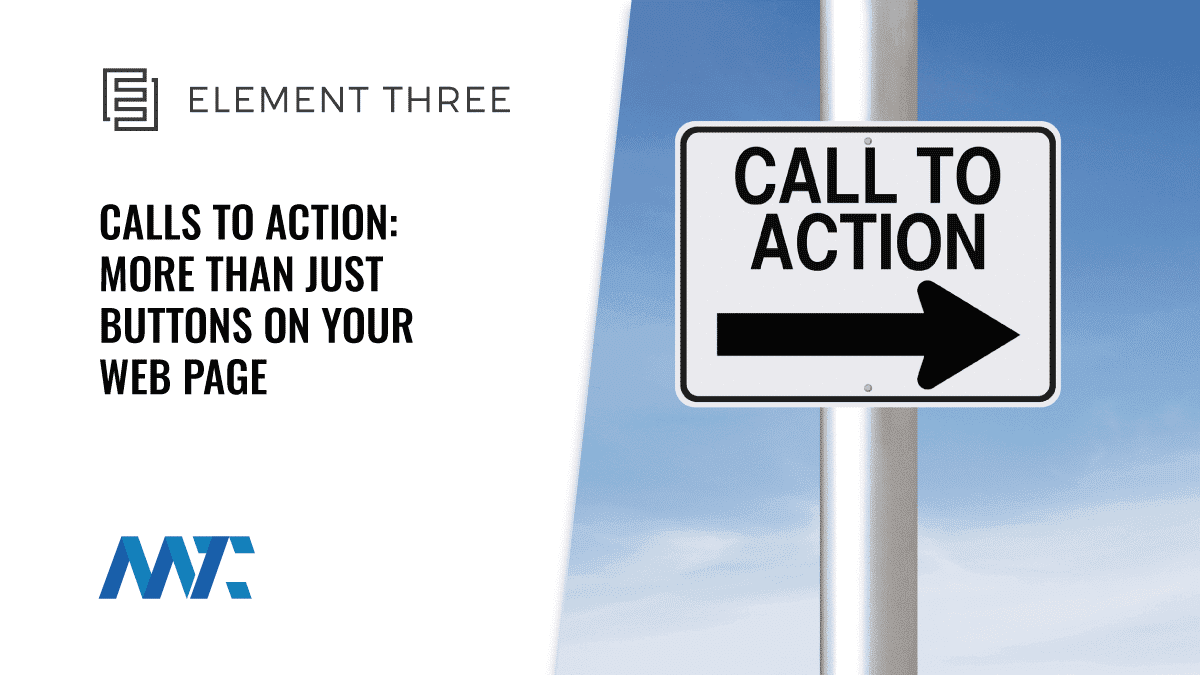 You've heard the mantras, slogans, and mottos of inbound marketers everywhere: Content is king! In the age of consumer-driven, mobile-friendly, content-centric digital marketing, content is almost everything. Almost as popular as HubSpot's Inbound Marketing philosophy is another of their champion causes: the call-to-action (CTA).
But in your hurry to make things simple and get it up on the website! don't neglect the breadth of what a call-to-action really is. It's more than just a handy button – smart or otherwise – that sits in your emails, blogs, and landing pages and takes users to your destination of choice.
In a recent publication, A Marketer's Guide to Content Promotion, Element Three (my employer) detailed how a converged media approach – that is, using owned, earned, and paid media – to promote content is vital to that content's success. In the eBook, we detail how CTA banners and buttons are a critical owned media element for promotion.
But there's more to CTAs than just buttons and banners. Read on to learn three more secret examples of where you can craft killer calls to action to promote your content.
Pay To Play
It's no surprise that paid media is an effective method to get new eyes on your content – in one control test with a health insurance company, E3 saw an increase in traffic of nearly 800% due to paid promotion alone! But as marketers continue to adopt paid channels – PPC, display, remarketing, and social – one element that commonly gets unscrutinized is the message.
Your ad text is one of the most crucial aspects of your paid efforts – be they text-only search ads or display ad messaging. Including specific action language – the read mores and click to sees – in your ad copy is essential to elicit the click-through. After all, you have to get the ad click before you can get the offer conversion.
That's So Meta
We're in an era of ignoring common user-controlled website signals, such as meta descriptions, page titles, and headline tags. It's not enough that Google has explicitly spelled out how it uses these signals to rank our websites, but these-oft neglected signals are also sneakily effective in improving your user experience – and your click-throughs.
Secret: The proper use doesn't really boost your SEO signal, but the absence of them is a clear sign that your website does not care for and should be ignored by search engines.
Nearly every client and prospect that comes through your door has this one common problem: their meta data is screwed up. Screwed up = missing, too long, duplicate content or just plain wrong. Why does this matter? Because it has a critical effect on your rankings, traffic, and conversions.
I know what you're saying. Come on, dude. Google has already said they don't use meta descriptions for search rankings. And you'd be correct. But what Google does consider is the click through rate from their search engine to your page – and the one and only control you have over this is your meta titles and descriptions. These signals are clear calls to action to your prospects, potential site visitors and your next sale.
Still not convinced? Try this on for size – in the case of a software client, Element Three increased click-through rate (CTR) from Google to their web pages by 15% – only by updating meta titles and descriptions. That's not all – here's a list of 5 total key metrics that were improved with only these
updates:
Clicks – improved 7.2%
CTR – improved 15.4%
Number of Visitors – improved 10.4%
Number of New Visitors – improved 8.1%
Bounce Rate – improved 10.9%
The Lesson: stop neglecting the website signals in your control – even the hidden "meta" ones. They matter to Google. They matter to their users. They should matter to you.
The Social Event of the Millennium
The secret is out on social – posts with photos get more likes and more retweets than ones without.
And the latest social platforms are nearly entirely photo driven, from Instagram to Tinder.
But how much time do you spend after picking the perfect picture to craft a message just as, well, crafty? Creating urgency and action in your social media posts is essential, and a well-crafted CTA should be the beginning, not the end.
Consider what you want users to do, how you want them to do it, and when. Make sure these fit in somehow – no matter the character count of your post.
Of course, you can create action in your images and videos, too. Photos of new products, people opening packages, shiny new features – the list goes on and on for effective visuals.
Video offers even more opportunities to sell yourself to your prospects. Include clear calls-to-action in your video signoffs and goodbyes. Let users know you care, you're there and ready to respond.
Keep It High And Tight
Lastly, remember you're in a mobile world. Simple does not mean less content – but it means less noise between your users and the ultimate goal. Use your calls to action early and often. Too often, we bury our buttons, words of actions and the big pay-off at the bottom of the page.
Instead, make sure the quid pro quo is front and center – or at least above the fold. Keep your messaging to the point. Use action verbs like learn, read, and call, and get to the meat of your offers sooner than later. You can and should use these guidelines in all of the above CTA examples – banners, buttons, paid search (bid higher on less things – if you're not winning, it's not worth bidding on…), display and paid social ads, video, social messaging, and your meta info.
Take your copywriter out for a drink, give him or her that well-deserved promotion, and get to work – use your words nicely. Your calls-to-action and your customers will love you back.