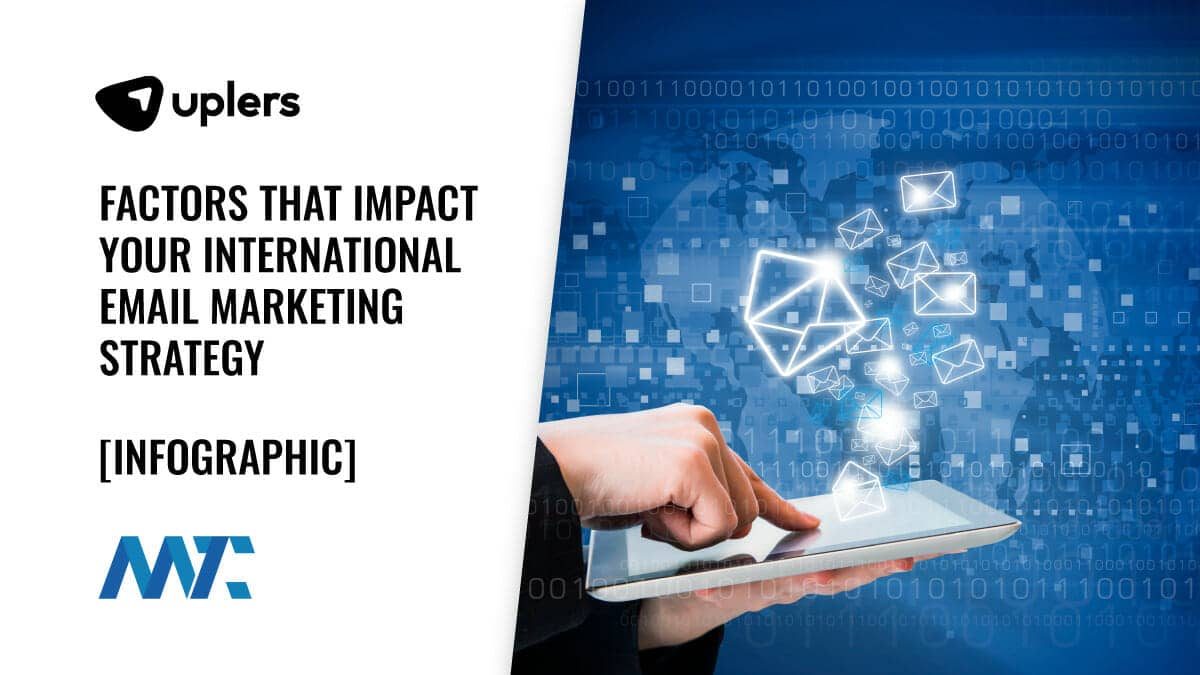 We've assisted clients with internationalization (I18N); it's not fun. The nuances of encoding, translation, and localization make it a complex process.
If internationalization is done wrong, it can be incredibly embarrassing… not to mention ineffective. But 70% of the world's 2.3 billion online users aren't native English speakers. Every $1 spent on localization has been found to have an ROI of $25, so the incentive is for your business to go international if possible.
Uplers developed an infographic on going global with your email marketing strategy that provides 12 factors that impact the success of your email marketing.
Language and Copy Considerations – do your multi-lingual research to avoid words impacting deliverability. Ensure that your email service provider (ESP) can support Unicode in subject lines and content.
Selecting Translators – it's not enough to understand how to translate, your translation resources must understand the content as well.
Email Aesthetics – your email design should be culturally acceptable to your target audience.
Process Management – from design and translation to reporting, you should easily measure your efforts' impact regionally.
Message Formatting and Layout – Right-To-Left (RTL) or center-justified languages may require optimized layouts with each group.
Mobile First Strategy – if you're international, you're most likely mobile! You better be optimized for smaller windows and viewports.
Legitimate Frameworks – be sure you're compliant with the laws of each country to ensure you're not violating any laws and can maximize deliverability with local Internet Service Providers (ISPs).
Personalization – tacking on international emails exponentially expands the variety of personalization you can do to increase opens, clicks, and conversions.
Calls-To-Action – Don't go overboard on your claims as you try to get subscribers to click, some countries have much stricter laws on advertising and promotion.
Timing – Seasonality, regional holidays, and work schedules can all impact your open and click-through rates.
Data and List Management – Keep your lists active and fresh, ensuring the segmentation and filtering capability by region is detailed.
PESTLE – stands for political, economic, social, technological, legal, and environmental. Be sensitive to the local impact of your messaging with each of these perspectives.
Here's the entire infographic, check out the interactive version at Uplers.