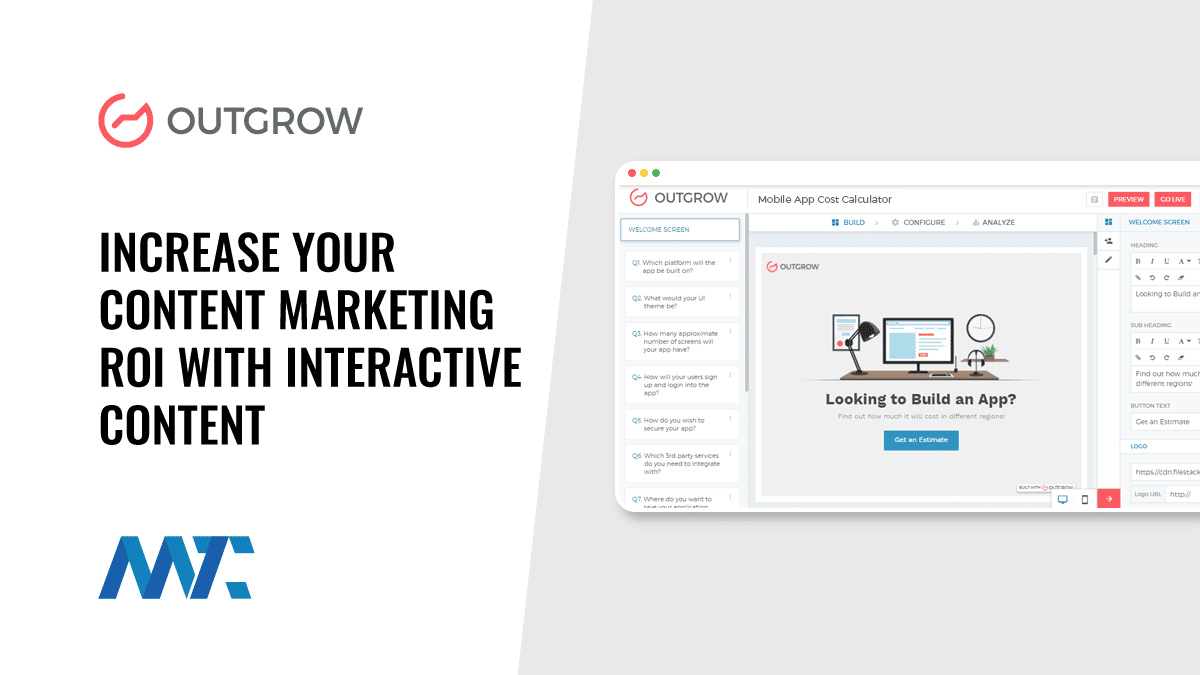 On a recent podcast with Marcus Sheridan, he spoke about the tactics that businesses are missing the mark on when they're developing their digital marketing efforts. You can listen to the entire episode here:
One key that he spoke to as consumers and businesses continue to self-direct their customer journeys is interactive content. Marcus mentioned three types of interactive content that enable the self-direction:
Self-scheduling – the ability for a prospect to set up a date and time to interact with the brand via a demo, webinar, or discovery call.
Self-pricing – the ability for a prospect to understand better the cost of a product or service. This doesn't have to be explicitly achieved, but even providing a range is critical to the journey.
Self-assessment – the ability for a prospect to navigate through a series of questions or qualifiers that help them get recommendations on the products or services your buying.
Outgrow: An Interactive Content Platform
Unlike ads, interactive content adds value by building trust and assisting the buyer drive through to the next step in the buying journey. Interactive content is inherently viral and highly effective at engaging your users… nearly 30% more than a static landing page. Interactive content also allows you to gain much more insight into your users as they respond to questions and enter data.
Incorporating interactive content drives results by:
Increase Lead Conversion Rates – Use Outgrow's 1000+ beautiful pre-optimized templates to improve your conversion rates to over 40%!
Qualify Leads and Add Value – Give personalized answers to your customer's most pressing questions, while qualifying your leads.
Publish Within Minutes Anywhere – Embed Outgrow content on your page, as a popup, in chat, exit intent, or on your subdomain.
Intelligent Analytics and Data Integration – Get customer insights while helping them, segment your audience and integrate your data with over 1000 tools.
Outgrow's Interactive Content Development Studio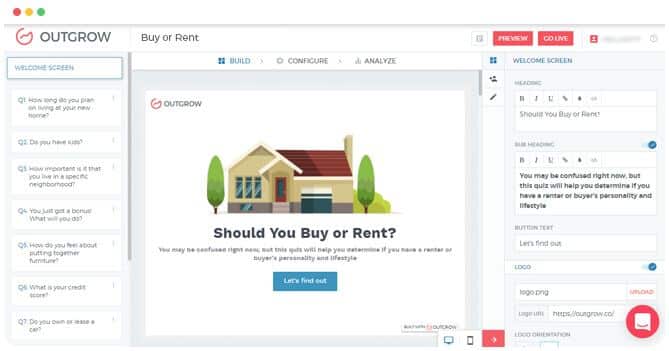 All of Outgrow's layouts have been heavily tested and optimized for conversion, engagement, screen sizes, browsers, and sharing. Their smart builder offers single select, multi-select, numeric sliders, opinion scales, ratings, date/time picker, file upload, and more. The interactive content you can build includes:
Numerical calculators
Outcome Quizzes
Graded Tests / Assessments
Polls
Chatbots
Surveys
The content can be fully branded to show your brand, provide unlimited branches for each question, provide conditional messaging based on results, and can be displayed through funnel analytics to provide insight into your interactive content's performance. Real-time outputs can include dynamic line charts, pie charts, tables, bar charts, radar charts, or polar charts.
Outgrow performs better for us than blogs and ebooks because of the personalization it offers. It's not just about reading or watching content anymore, each prospect gets personalized and relevant information in real time whether it be through a calculator, quiz, recommendation, or chatbot.

Leonard Kim, Top Marketing Influencer, Forbes
Outgrow includes over 1,000 integrations with common data, sales, and marketing tools including Google Sheets, Aweber, Intuit Mailchimp, Marketo, HubSpot, GetResponse, Emma, MailerLite, Salesforce Pardot, Salesforce CRM, ActiveCampaign, Drip, and more!
Build Your First Interactive Content With Outgrow For Free
Disclosure: I'm using my Outgrow affiliate link and other affiliate links in this article.