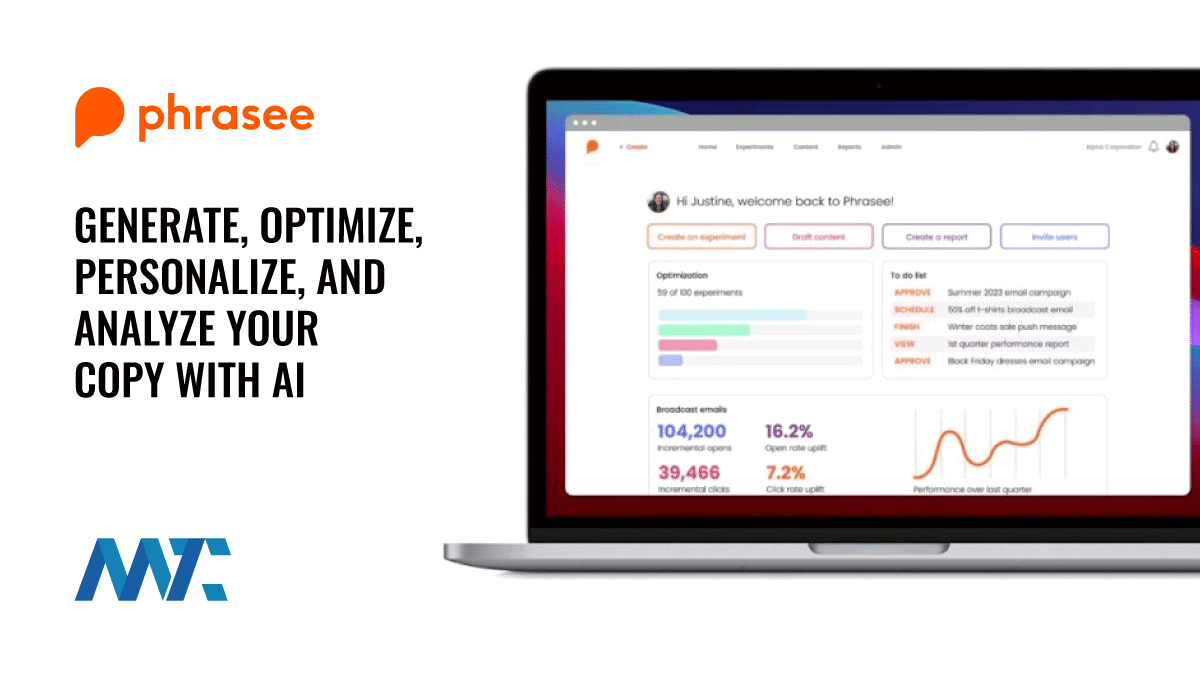 Brands are increasingly turning to AI-based tools to streamline their content creation process. However, many tools are failing to deliver unique, on-brand content that effectively drives campaign results. Phrasee's AI-powered platform generates the best-performing content at scale and with enterprise-grade controls across digital channels. 
Phrasee believes in a future where enterprise marketers drive unprecedented results using AI. It's the only platform that creates, optimizes, and analyzes on-brand marketing content in real-time. It drives more clicks, conversions, and revenue across email marketing, push notifications, SMS marketing, and more.
Before Phrasee, you had to rely on human instinct and deceiving cognitive bias. But quick-to-adopt marketers will come out on top with the generative AI boom. On average, Phrasee delivers on-brand, AI-optimized messages in 5 seconds – increasing content output by 60x and increasing overall engagement by an average of 24%. 
In a world where anyone can use AI to generate content on demand, the challenge for enterprise marketers has shifted to understanding whether all of this AI generated content is actually good. In this context, good means content that's engaging, on brand, and performs. If it's not good content, then marketers are missing the opportunity to maximize engagement and find monetization opportunities for their brand.

Matt Simmonds, Chief Product and Technology Officer at Phrasee
Phrasee's approach to these challenges is innovative. Instead of churning out indistinguishable content like many AI generators, their platform uses generative AI to ensure the produced content is on-brand, safe and performs well across various digital platforms. This means brands can create engaging content that resonates with their target audiences, ranging from captivating emails and blog posts to descriptive product summaries and social media updates.
Many marketers might ask: How does Phrasee's Content Engine stand apart from other generative AI tools? It turns out the answer lies in Phrasee's unique three-tier technology:
The Phrasee Content Engine combines large language models (LLMs) integrated with Phrasee's proprietary controlled natural language generation (NLG). This powerful blend of technologies enables the engine to produce unique and brand-aligned content.
Phrasee's Content Engine also features brand guardrails, a brand control feature refined over nearly a decade, ensuring consistent alignment with the brand's voice and message in every content piece.
The third distinguishing feature is a performance prediction technology trained on billions of data points. This tool predicts the best content, boosting marketing campaigns' impact.
With these advancements, Phrasee delivers natural-sounding, high-performing AI-generated content that is 100% on-brand, setting a new industry standard.
Phrasee AI-Powered Copywriting Uses
Phrasee's platform showcases a range of versatile use cases, including email marketing, push and SMS campaigns, web and app content, and social ads:
Email – AI-powered copy optimization that gets more opens, clicks, and conversions. Integrations include Salesforce, Braze, MovableInk, Iterable, Sailthru, Adobe, and more.
Push and SMS – use AI to generate messages and notifications to get customers' attention. 
Social Ads – acquire more customers via AI-generated content on organic and paid channels.
Web and App – use AI to generate and optimize content across key pages and elements on the website and app for maximum impact.
Promotional Campaigns – cut through the noise and share AI-generated promotional content that achieves marketing goals. 
Purchase Completion – target customers with AI content optimization 
Customer Loyalty – generate and optimize marketing messages proven to perform and connect with customers.
Customer Retention  – deliver better engagement and reactivate lapsed customers through AI-optimized messaging.
AI-Powered Content Results
With the meal kit industry booming in the past few years, Home Chef onboarded Phrasee to increase conversions and drive ROI by optimizing language for their acquisition and reactivation campaigns. As a result, Phrasee has continuously found the winning recipe for customers. Home Chef has seen:
A 29% average click rate uplift
A 21% average open rate uplift
Phrasee allows us to refine our recipe for success when it comes to engaging customers with our content. We can also see the real-time results and tweak our tactics based on how our customers are responding.

Lauren MacArtney, Sr. Lifecycle Marketing Manager, Reactivation, Home Chef
As brands search for innovative ways to connect with their audiences, Phrasee's upgraded offerings provide an opportunity to redefine their content creation strategy. The advanced Phrasee Content Engine assures unique, high-performing content that stands out in the crowded digital landscape while ensuring safety and performance. Undoubtedly, Phrasee's latest innovation could be a game-changer in digital marketing.