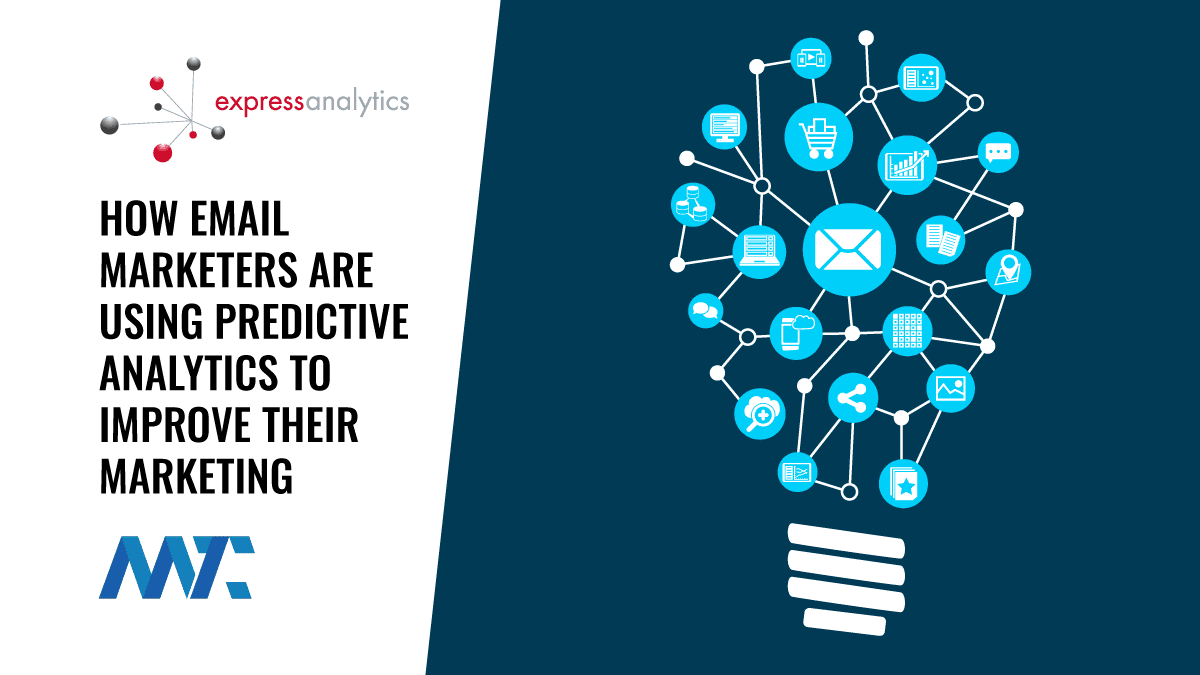 The emergence of predictive analytics in email marketing has become popular, especially in the ecommerce industry. Utilizing predictive marketing technologies has the capability to improve targeting, timing, and ultimately convert more business via email. This technology is playing a key role in identifying what products your customers are likely to purchase, when they're likely to make a purchase, and the personalized content that will drive the activity. 
What is Predictive Marketing?
Predictive marketing is a strategy that utilizes past behavioral data to statistically predict future behavior. Data, analysis, and predictive measurement techniques are used to determine which marketing actions are more likely to convert based on customer profiles and behaviors. That data plays a key role in making smart decisions. When applied to email marketing, algorithms can help you target the relevant audience, enhance engagement, yield more conversions, and generate more revenue from email campaigns. 
What is Predictive Analytics?
Predictive analytics is a data-oriented process used by marketers to understand customers interactions in past campaigns and site activity which can predict future behavior. Predictive analytics is helpful in creating more personalized and relevant marketing campaigns. For email marketing professionals, predictive data points provide insights and opportunities for customer behaviors like:
Likelihood to churn or unsubscribe
Likelihood to purchase
Optimal timing for a purchase
Relevant products or product categories 
Overall customer lifetime value (CLV)
This data can assist you to execute strategies, test scenarios, or even automating the send of the appropriate message at the optimal time. Here are predictions that can be useful to enhance the message, and measure overall email performance.
Buying intent – Understanding how likely a visitor is to buy can assist you to go ahead and deliver the right content in your message. Visitors who have a high level of interest are likely to convert, and preserving your discounts for such contacts will drive up LTV.
Predicted date of upcoming purchase – Mid-range and more sophisticated ESPs have the ability to aggregate contact purchasing habits and anticipate when they might place their upcoming order, enabling you to automatically deliver an email with recommended products at the correct time.
Favorite product or product category – Identifying the product or product category most preferred by every user lets you to better produce your emails with the product that is preferred by them.
Anticipated customer lifetime value (CLemV) – By looking at a historic value of a customer, his/her purchase frequency, and anticipated date of repurchase, a predicted lifetime value can be generated. This analysis helps you understand who among your customers is most loyal or most probably to convert at a higher average order value (AOV). 
Implementing predictive analytics in your email marketing campaign will make your campaigns look more personal, suitable, and timely – improving your revenue.
How Is Predictive Analytics Gaining Momentum?
Both the prescriptive and predictive analytics market was stood at USD 10.01 million in 2020 and is predicted to touch $35.45 billion by 2027, and grow at a compound annual growth rate (CAGR) of 21.9% between 2020 to 2027. 

Predictive Analytics Market Statistics: 2027
There are a number of factors that are propelling predictive analytics' popularity.
Storage technologies are inexpensive and scalable, enabling the ability to capture and quickly analyze terabytes of data.
Processing speed and memory allocation on servers and virtual servers (across servers) provides opportunities to harness the hardware to run virtually limitless scenarios to predict data.
Platforms are integrating these tools an a substantial rate and making the technology simple and affordable to the average business.
All of the above is providing a significant lift in marketing campaign results, resulting in a rapid return on technology investment (ROTI).
Use of Predictive Analytics in Email Marketing
When it comes to email marketing, predictive analytics supports an organization's email service provider and integrates real-time behavior recognition with past customer data to create both automated and personalized email campaigns. Its added advantage is that it is helpful from acquisition and relationship-building to customer retention and win-back email campaigns.
Here are 4 ways predictive analytics improves your email campaign strategies:
Acquiring fresh customers – Across other mediums, the opportunity to profile and identify look-alike audiences is an ideal means of marketing to prospective customers. The vast majority of advertising engines have the ability to import email addresses to profile your users demographically, geographically, and even based on their interests. Then, that profile (or profiles) can be used to advertise to prospective customers with an offer to sign-up for your email marketing.
Increasing conversions – When potential customers become the first subscribers to receive a promotional email from a company, they typically receive a welcome email series to their inbox. Its objective is to motivate them to buy a product. Similarly, all-new prospects get such emails, and sometimes a quality promotional offer. By implementing predictive analytics to both demographic, and behavioral data, you can segment potential customers – testing numerous messages, and offers – to create informative, relevant, and personalized emails improve conversions, and generate revenue.
Building relationships for customer retention – Predictive analytics can use product recommendations options for customer engagement, and retention. This data can help you target the right customers who have previously purchased your products or browsed them at your website. Adding various details like age, gender, order amount, location, etc. It is possible to identify what kind of products they would like to buy in the future. With this data, you send email content and offers to individual prospects. Predictive analytics is also useful in determining how frequently customers make purchases, you can understand the optimum frequency to send your product-related emails to them. 
Customer win-back strategy – Sending a we miss you message in an email to all customers after a particular duration of time since they last purchased a product. With the help of predictive analytics, you can create personalized win-back emails, and find out the best time interval to send emails to them, and offer some discounts or incentives to reengage them.    
Predictive marketing is a powerful weapon for marketers to understand their target audiences and help them apply a powerful strategy in their email marketing campaigns. With this, you can impress your subscribers, and convert them into loyal customers, which ultimately leads to an increase in sales.