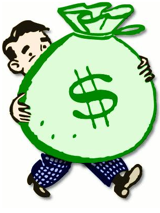 There's only one Wal-mart. Wal-mart is a company that only has one value proposition: cheap prices. It works with Wal-mart because they can sell the identical product cheaper than the next retail outlet.
You're not Wal-mart. You can't go to work to figure out how to lower prices every day. Nor should you. Your company is unique and has what no other company has to offer.
Your marketing goal should be to distinguish yourself amongst the competition. Don't compete! Find out what's different about you and how it fits into your prospect's needs. Provide your prospects with references and first-person accounts of how you've delivered for your clients.
There are Three Types of Companies:
Companies who underdeliver = overcharge
Companies who deliver
Companies who deliver = undercharge
IMHO, these are the only types of businesses. Companies that deliver can't overcharge, the price you pay is part of the delivery. The two terms are synonymous with one another.
Companies that deliver charge the right amount or below the value of what they provide. Most of them undercharge. You're probably one of them.
I've seen vendors that have cost hundreds of thousands of dollars, but delivered only a fraction of that in value. I have friends of mine who have delivered exponentially more value but they struggle to stay afloat.
You're not Wal-mart, stop pricing yourself like it. You deserve more.