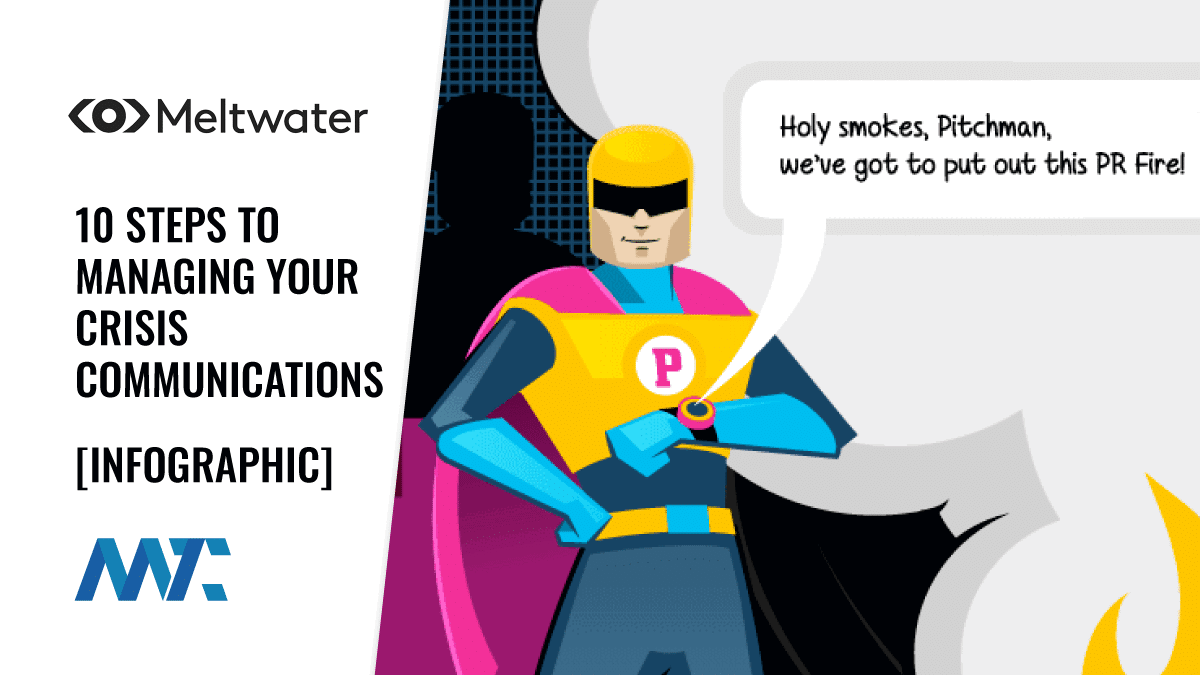 Have you ever had to deal with a crisis relating to your company? Well, you're not alone. Crisis communications can be overwhelming — from the delayed response to what you're supposed to say to all of the social mentions coming into determining whether or not it is a real crisis. But amid the chaos, it is always important to have a plan.
We worked with our social monitoring platform sponsors at Meltwater to develop this terrific infographic on the 10 Steps to Managing Crisis Communications. Their expertise and the software they've built have given the team great insights into dealing with a social or PR crisis. Most importantly, you must inhale, exhale, and repeat before you do anything. Calm down and focus on the next steps.
Inhale, Exhale, Repeat – Don't respond hastily or emotionally. Companies often dig a deeper hole when they don't plan their response.
Circle the wagons & sound the alarm – Assemble the team, brief them on what happened, and wait to respond until you have a clear action plan.
Investigate what happened – What happened? What does the public think happened? How has the public reacted? What channels need attention?
Understand the business impact – How will your decisions impact the business, revenue, and brand reputation?
Listen up – Use PR and social media monitoring tools to check the pulse of the media's reaction and your community.
Decide on Corporate Position and Messaging – Now that you know what happened and the business impact, you will have a clear idea of the position to take.
Make Decisions on Channels of Distribution – Based on positioning and messaging, determine the best delivery channels, what your team should respond to, and how they should respond.
Get the WORD OUT – Get your message out.
Monitor Reaction and React as Needed – You're not done yet. Now, you need to monitor the reaction and what steps need to be taken next based on the media's response and public sentiment.
Learn from the Process – You'll learn something new, no matter how things go.
Despite the growing emphasis companies are placing on emergency response strategies, many companies seem unable to follow the basic tenets of crisis communication: getting ahead of the story, taking decisive action, providing frequent and honest updates, and not casting blame on other parties.

Maryville University, Crisis Communication Tips for PR Professionals
Check out the infographic below for a great game plan for crisis communication, and feel free to share your experiences below!