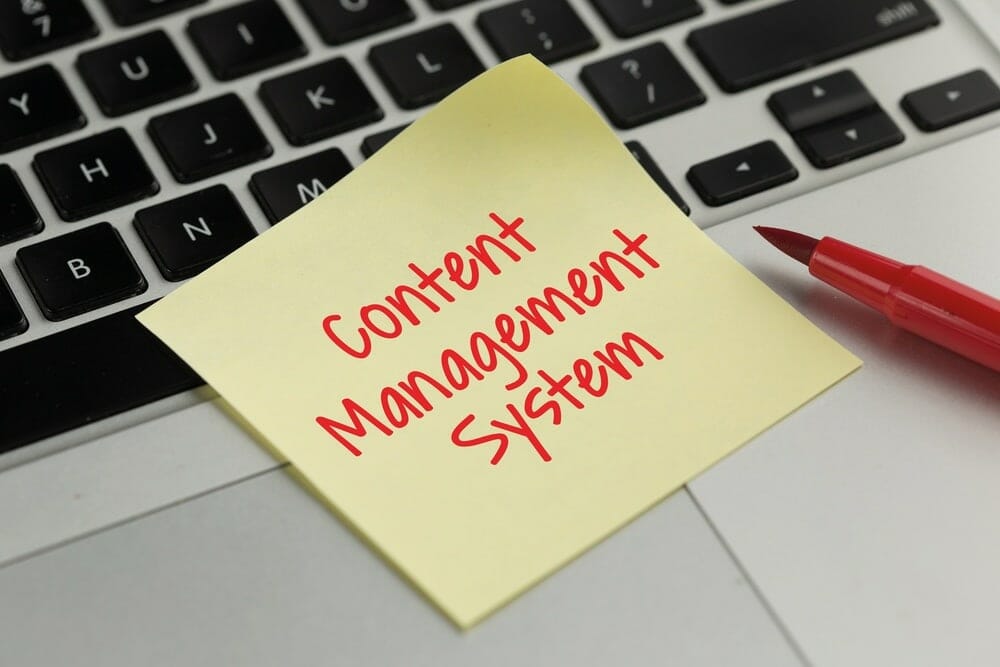 Many marketers across the country are underestimating the true benefit that a Content Marketing System (CMS) can provide them. These wonderful platforms offer a wealth of largely undiscovered value far beyond just allowing them to just create, distribute and monitor content across the business.
What is a CMS?
A content management system (CMS) is software platform that supports the creation and modification of digital content. Content management systems support the separation of content and presentation. Features vary widely but most include web-based publishing, collaboration, format management, history editing and version control, indexing, search, and retrieval. Wikipedia
In our 2016 State of Marketing Technology report we discovered that 83% of businesses are now using a CMS, placing it as their most commonly used piece of marketing software. Yet, many marketers are missing out on the true value these platforms can offer to their wider marketing strategies and ROI.
Our research also revealed that over half of marketers struggle to confidently use marketing technologies beyond the initial investment (53%). With a CMS in particular, there is much more to the platform than marketers actually realise, so it is crucial that these tools are being utilised to support creativity and encourage marketers to think outside of the box.
Cross-Channel Integration
A CMS needs to enable marketers to provide personalised content that is engaging to audiences and potential customers, whilst also responding to their users' wants and needs. As consumers are now interacting with brands across a range of different devices at varying times, cross-device and channel integration is fundamental but it can be tricky. Our 2016 report discovered that over half of marketers (51%) have difficulty reacting to new channels or devices, highlighting that it is not always simple to incorporate them into a CMS strategy.
To achieve a seamless customer journey that enables the brand to deliver whatever the customer wants, whenever they want it, marketers have to prioritise a multi-device strategy. This requires an improved level of understanding, meaning marketers have to start to hone in on and practice the skills they need to be able to confidently exploit this tool for the right reasons. This will allow brands to recognise the importance of CMS in bolstering strategies and goals.
Applying Logic to a CMS
If a brand's website does not provide this seamless, integrated experience that's integrated in nature, the opportunity presents itself for the customer to look elsewhere if dissatisfied with the service. Research by Verint and IDC discovered that the digital age has made it more difficult for brands to hold on to customers as technological innovation creates more choice and opportunity for consumers.
To ensure a seamless customer journey, it is integral for a CMS to run smoothly when used in conjunction with other platforms, such as Customer Relationship Management (CRM) systems. The customer should be at the centre of any marketing decision and this is no different when thinking about a CMS strategy. Tools have to be integrated across the organisation to engage with customers in real-time, converting visitors into returning customers and allowing the marketing team to enhance and analyse customer traits. This insight and expertise can be utilised across the business, positioning the marketing team as a highly regarded hub of knowledge across the company.
The Customer at the Centre
Being able to deliver tailored, engaging content is only possible if the customer is at the centre of the CMS strategy. By putting the customer at the forefront, marketers have to understand exactly what type of content they are looking for. This level of personalisation can be easily achieved through in-product analysis or integrations. It will break down insights across the business, allowing different teams and divisions to build content that is most relevant to their customers and stakeholders.
By taking this approach with the CMS strategy, it will allow for the longevity of content, by determining what is of interest for the foreseeable future, as well as the present. This personalised content can then be shared across the whole business and externally to prospects and customers, across a range of technology platforms. This will allow businesses to utilise all the channels they have invested in when communicating with users at all stages of the decision making journey.
­­­­­­­­­­­It is now more important than ever that marketers make sure they are constantly reacting to changes within the digital industry. They must also have a full understanding when utilising current and new tools and platforms. Customer behaviour is always in a constant state of change and by making use of the tools around then, marketers can stay two steps ahead at all times.