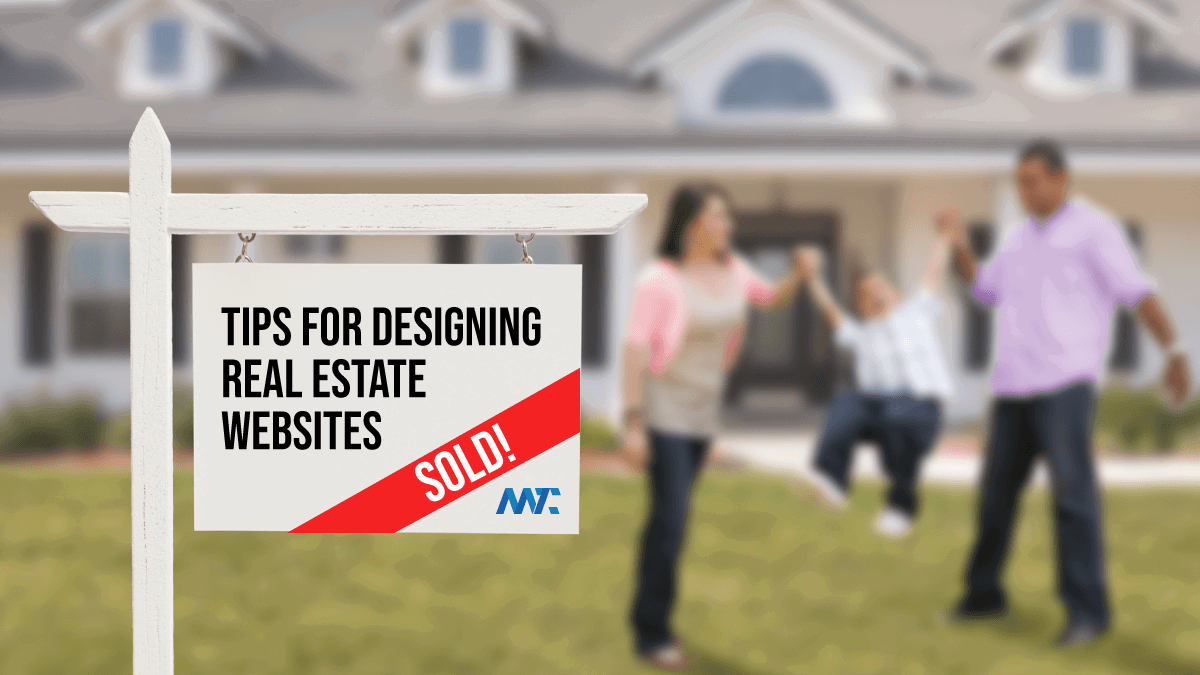 Content Marketing
10 Tips For Designing A Real Estate Website That Drives Potential Buyers and Sellers To Engage
Buying a building, home, or condo is an important investment… and often only happens once in a lifetime. Real estate buying decisions are motivated by a host of sometimes contradictory emotions – so there's a lot that needs to be considered when designing a real estate website that helps them along the purchase journey.
Your role, as an agent or real estate broker, is to understand the emotions while guiding them towards a rational and informed choice. Here are six tips to design and optimize your website that will assist you in becoming a digital leader in real estate marketing.
Tip 1: Incorporate Internal Search and Filtering Capabilities
When your prospect is shopping for real estate, they always have specific criteria in mind. As soon as the visitor arrives on your site, show them that you can target their needs and present properties that correspond to what they are looking for.
Include an obvious placement of an internal search field with filters that will allow you to segment your real estate properties. If your activities are concentrated on home purchases, for example, include price, the type of structure, the square footage, the lot size, number of bedrooms, number of bathrooms, and other characteristics (fireplace, pool, garage, etc.).
If your inventory includes multiple regions, types of land, and styles of structures, you may wish to expand the filtering capabilities so that your buyers can narrow their search to specific neighborhoods and other characteristics of the property.
Tip 2: Devote A Page To Each Region
The choice of a neighborhood is essential when it comes to buying a property. Dedicate a page to each region, neighborhood, or even school district where you offer the sale or rental of real estate. Enter practical and essential information to know about the region. And always include a map that accurately displays each of your properties along with other locations of interest:
Nearby services (schools, shops, clinics, hospitals, churches)
Recreational facilities (parks, swimming pools, golf courses)
Tourist attractions in the vicinity
Public transportation
Always communicate the lifestyle found in the neighborhood. Is it a quiet and safe environment, ideal for young families, or rather a trendy neighborhood close to the best restaurants, cinemas, and performance halls? In addition to informing your visitors about the places they would not know, these pages will improve the indexing of your page for specific searches.
Tip 3: Provide Every Detail of Each Property
Today's online buyer doesn't want to call a real estate agent or broker to obtain important information. Make sure the pages detailing your properties or units contain the following information:
The number of rooms, including bedrooms and bathrooms
The square footage, the living space, and the areas of the rooms (metric and imperial)
Floor coverings
Electrical, heating, and water systems
Outdoor living areas (porches, decks, etc.)
Common places and services offered (in the case of condominiums)
Furniture or appliances that will be included
The year of construction or improvements made over time
Opportunities for new renovations (eg. basement remodeling)
And, of course, include amazing photos of every aspect of the property, outside of the home from every angle, photos of every room, and even drone footage of the property. If a picture is worth a thousand words, imagine how huge an impact dozens of beautiful photos will have! You don't have to hire a professional photographer… modern smartphones have amazing capabilities nowadays. With the right angle and lighting, you can have superb photos that capture every detail of the property.
Tip 4: Provide A Means To Share The Property
Today's real estate buyers rarely shop alone, so offer them several options for sharing by email, social media, or via text message. You may even wish to offer a "Send to a friend or colleague" form that captures their email address and their list of interested parties – just be careful to set expectations on whether or not you'll be in contact with them.
Also be sure to make any links trackable so that you can understand which social media services are driving the most shares and visits to your property.
Tip 5: Make Contacting You Easy, Personalized, and Pressure-Free
Since buyers are often hesitant at reaching out to agents and brokers, you'll want to make them more at ease. While including the names and phone numbers of your agent, be sure to include a photo as well along with a personalized message that their inquiry will be pressure-free.
Be sure to include a form on each property page along with the property information in a hidden field. This way, when you reach out to them, you can research the property and be prepared for the conversation!
Tip 6: Capture Analytics and Track Your Visitor Data
Whether you are a small or a big player in the real estate field, you will undoubtedly benefit from gathering information about your visitors. This part of your marketing strategy may take on variable importance, depending on the budget and the human resources you have. Many lead management tools can be very useful at this stage.
Lead Capture Forms
Start collecting information about your visitors by convincing them that providing their email address will be beneficial to their real estate search. Here are a few examples of effective strategies for capturing prospect information in the real estate industry:
Open house and private tour opportunities
Contests or promotions
Information requests
A VIP list for specific real estate offers (eg. price drops)
Regional real estate tips and advice
New property announcements
Position your forms as button popups, slide-ins, or place them in the footer of each page.
In any case, stay focused on your primary objective: gathering information on potential customers. Avoid overly vague contests or promotions that are not related to the product you are selling, otherwise, you could encourage unqualified visitors to register. The challenge to capture potential buyers while discriminating against visitors who are not interested in your properties.
Trackable Landing Pages
If you're investing in advertising and marketing efforts, don't make the mistake of directing all your traffic to your site's home page. Create specific landing pages for each resource – whether it's a local newspaper advertisement, a billboard, or an email message. By creating and personalizing a landing page for each medium or channel, not only will you be able to track the effectiveness of your marketing, you can also personalize the messaging there.
Each landing page should have only one goal. The user who arrives at this page must be able to understand your offer in a few seconds and deem it interesting enough to fill out a form with his personal information.
Here are some great opportunities for landing pages:
Announcing a new real estate property
An open house day or private tour booking
Downloading a home buying guide
A questionnaire to help with the purchase of a house
A promotional offer on certain condo units
Tip 7: Design For Mobile Devices First
While a desktop provides a ton of real estate (pun intended) to beautifully display information, building a user experience on a mobile device that's intuitive and simple can be challenging. Whether it's developing a search page that's complex or a mobile real estate property tour where users can thumb through photos of a property, mobile design is going to be critical to the impact of your real estate website design.
Spend time using your own site on a mobile device and solicit feedback from friends and colleagues on how easy your site is to use. You'll also want to segment your mobile search, visitor flow, and form data that are acquired via mobile visits to ensure it's user-friendly and appealing.
If you design for mobile first, don't be surprised when you see a leap in your search engine visibility and the number of buyers increases! Mobile is critical to every website in the real estate industry!
Tip 8: Start A Real Estate Blog
A blog is a perfect opportunity to engage with your potential buyers. Sharing personal stories, home buying tips, regional businesses you appreciate, new restaurant openings, school, and local tax information… all builds your authority and relationship with your subscribers. While you may not have ever met them, a blog provides the opportunity for them to get to know you as a leader that they can trust within the community you're selling to.
Beyond sales, your role as an advisor is essential in the business relationship that you develop with your customers. Buying a property is an important one, so building authority as a real estate agent your visitor can trust is absolutely critical.
Maintaining a blog is a great way to retain a client as well. If you're providing advice on home-ownership, maintenance, remodeling, and growing the value of their asset – a buyer will keep you in mind if they're relocated and need to sell, or their family changes and they need to move into a more suitable property.
The topics you can use on your blog are endless. Here are a few examples:
Buying a house (criteria, selection, choice, financing)
Relocation and moving
Fluctuations in the real estate market
Legal remedies (legal documents, guarantees, hidden defects)
Home insurance
Residential renovation
Interior decoration
Selling a property
Celebrity residences
Seasonal advice (gardens, maintenance, etc.)
Tip 9: Start a Newsletter
We discussed some subscription ideas above for your lead capture forms, but the importance of a newsletter can not be underestimated. Imagine your newsletter as a means to push your website to your potential buyer or client… providing them with valuable advice, regional resources, and continuing to build credibility and trust with them. If it's a buyer, they may finally find the property they were looking for. If it's a client, you'll continue to maintain a relationship with them so when they are ready to sell, you'll be the agent that's top of mind!
Side note: A newsletter need not be a burden! Modern websites have syndication feeds that can automatically be formatted, scheduled, and published in an email platform without you ever needing to touch a button! Talk to your web design team on how to incorporate RSS to email capabilities.
Tip 10: Promote Your Site and Newsletter… Everywhere!
Include your site's URL on every business card, flyer, document, email signature, sign, and anything else you do. Today's buyers love to self-service and use the web to research and make purchase decisions. When you meet buyers, sellers, industry professionals, and regional business owners out in public, ask if you can sign them up for your newsletter. You may be surprised by the number of referrals and shares that your content will produce after a few months of momentum.
With these tips, you are well equipped to maximize the impact of a real estate project on the web!