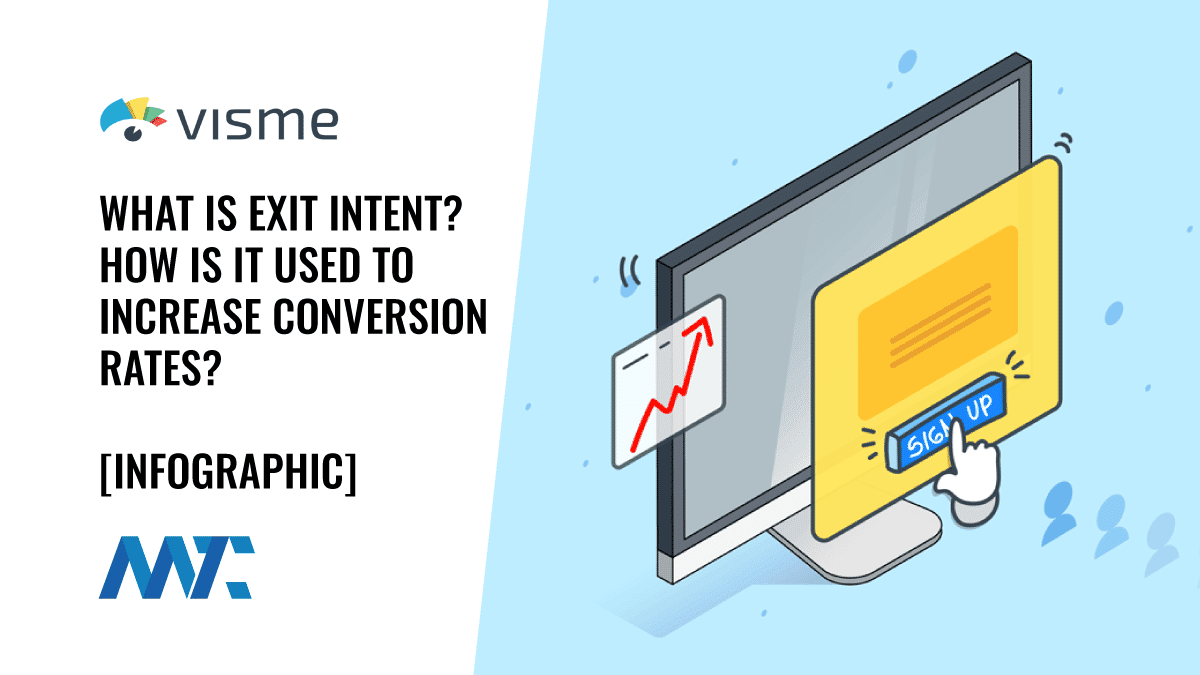 As a business, you've invested a ton of time, effort, and money into designing a fantastic website or e-commerce site. Virtually every business and marketer alike work hard to acquire new visitors to their site… they produce beautiful product pages, landing pages, content, etc. Your visitor arrived because they thought you had the answers, the products, or the services that you were looking for.
Too many times, though, that visitor arrives and reads all they can… then leaves your page or site. This is known as an exit in analytics. Visitors don't just disappear from your site, though… they often provide clues that they are exiting. This is known as exit intent.
What is Exit Intent?
When a visitor on your page is deciding to leave, a few things happen:
Direction – Their mouse cursor moves up the page towards the address bar in the browser.
Velocity – Their mouse cursor may accelerate toward the address bar in the browser.
Gesture – Their mouse cursor doesn't move down the page any longer and they stop scrolling.
Conversion optimization experts identified this trend and wrote code into pages that observe the mouse cursor and can predict when the visitor is going to exit. When the exit intent behavior is identified, they initiate an exit pop-up… a last-ditch effort to engage with the visitor.
Exit intent pop-ups are an incredible tool and have proven effective to:
Provide a discount code for the visitor to stay in session and make a purchase.
Promote an upcoming event or offer and have the visitor register for it.
Request an email address to drive engagement via a newsletter or email automation journey.
How Effective Are Exit Intent Pop-Ups?
According to various sources, a business can expect a 3% to 300% increase in engagement thanks to this handy conversion rate optimization (CRO) tool. At the very least, why not try to engage with a visitor that you know is leaving? Seems like a no-brainer to me! In the research that led to the below infographic, Visme found 5 advantages of Exit Pop-ups:
They are absolutely effective in engaging a visitor that is leaving your site.
They are less intrusive than pop-ups that appear during a visitor's interaction with your site.
They provide a clear and distraction-free call-to-action (CTA).
They can reinforce your value proposition that you've already notified the visitor of.
They are relatively risk-free… there's nothing left to lose!
In the infographic, A Visual Guide to Exit Pop-Ups: How to Boost Your Conversion Rate by 25% Overnight, Visme provides the anatomy of a successful exit intent pop-up, how it should appear, behave, and be laid out. They offer the following guidance:
Pay attention to the design.
Polish up your copy.
Ensure that it's contextually relevant to the page content.
Offer a means of exiting or closing the popup.
Don't be annoying… you don't need to show it every session.
Add a testimonial or review to support your value proposition.
Modify and test different formats.
For one of our Shopify clients, a site to buy dresses online, we implemented an exit intent pop-up using Klaviyo with a discount offer the recipient will receive when they subscribe to their mailing list. We also entered the subscriber into a small welcome journey that introduced them to the brand, the products, as well as how to follow the brand on social media. We get about 3% of visitors to sign up, and 30% of those have utilized the discount code to make a purchase… not bad!
If you'd like to see some additional examples of exit intent pop-ups, here's an article walking you through some styles, offers, and advice on creation: