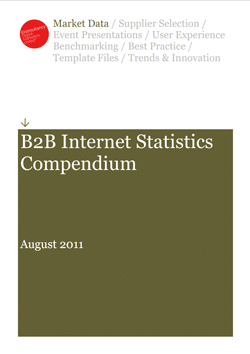 Econsultancy just released their August 2011 report of B2B Internet Statistics, detailing the most recent finds on online marketing, e-commerce, the Internet, and related digital media. While the report offers a lot of great findings, here are some interesting statistics that really stood out:
Industry events and tradeshows remain critical for B2B marketers. In 2010, 85% of marketers invested in event marketing, and 28% of that group plan to increase those investments in 2011. If they were given incremental budget, tradeshows are the number one channel in which marketers would invest.
Digital Media is 8 of the top 10 most effective channels for reaching the B2B audience.
63% of B2B marketers recognize that traditional initiatives have a strong impact on online activity in terms of search traffic, web traffic, and online conversions.
On average, marketers spend 38% of their total budgets on brand awareness, 34% on lead generation, and 28% on customer retention. By contrast, 28% of online budgets are dedicated to awareness with the difference allocated between lead generation and customer retention.
More than half (55%) of the B2B organizations surveyed currently have a department whose primary focus is on customer retention and loyalty. 94% of these companies report there was senior level executive support for creating such a department. More than one-third (36%) of respondents indicated that their department reports directly to the CEO; 21% report to the Sr. VP/VP of Marketing and 15% report to the Sr. VP/VP of Sales
If you primarily deal with B2B clients, I highly recommend you take the time to sit down and read this report, which addresses all the aspects of the online marketing industry.