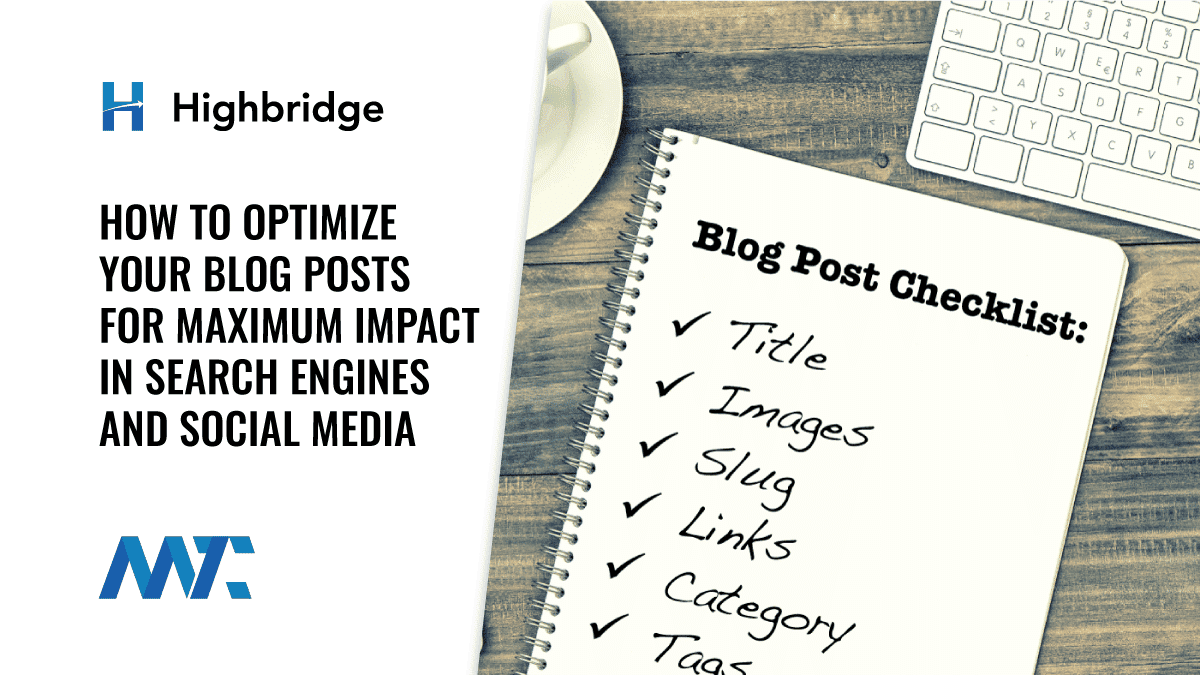 One of the reasons that I wrote my corporate blogging book a decade ago was to help the audience leverage blogging for search engine marketing. Search is still unlike any other medium because the search user shows intent as they seek information or research their next purchase.
Optimizing a blog and the content within each post is not as simple as just throwing some keywords into the mix… You can utilize a few tips and tricks to optimize the post and fully leverage every blog post.
Planning Your Blog Post
What is the central idea of the post? Is there an answer you're trying to provide to a specific question? Don't confuse folks by mixing disparate ideas in a single blog post. Is the topic remarkable? Remarkable content gets distributed on social media and can draw more readers. Decide what type of post you're going to write.
What are the keywords and phrases that you can target in your blog post? Have you viewed trends to see if there are more searches for them?
Are there external links you can refer to when writing your post? Providing value to your readers means providing them as much information as possible as they are researching the topic you're writing about.
Are there internal links you can refer to when writing your current post? Linking internally to other posts or pages can help a reader dive deeper and revive some old content that you've written.
What supporting data can you provide that supports your post? It's not enough to write your opinion for it to be accepted, including other expert's quotes, statistics, charts, or references are important for your opinion or advice to be taken seriously.
Is there a representative image or video that you can utilize that leaves an impression on the reader? Our brains don't often remember words… but we do process and record images much better. Getting a great image to represent your content will leave more of an impression on your readers.
What do you want people to do after they read the post? If you have a corporate blog, perhaps it's to invite them for a demonstration or to give you a call. If it's a publication like this, perhaps it's to read additional posts on the topic or promote it to their networks. (Feel free to hit the Retweet and Like buttons above!)
Show some personality and provide your viewpoint. Readers aren't always looking to find just answers in a post, they're also looking to find out people's opinions of the answer. Controversy can drive a lot of readership… but be fair and respectful. I love debating folks on my blog… but I always try to keep it to the topic at hand, without name-calling or looking like an ass.
Optimizing Your Blog Post
I'm going to assume that your content management system is fully optimized and that your blog is both fast and responsive to mobile devices. Here are ten elements that matter for search engine optimization (SEO) when your site is crawled and indexed by a search engine… as well as elements that will engage your reader: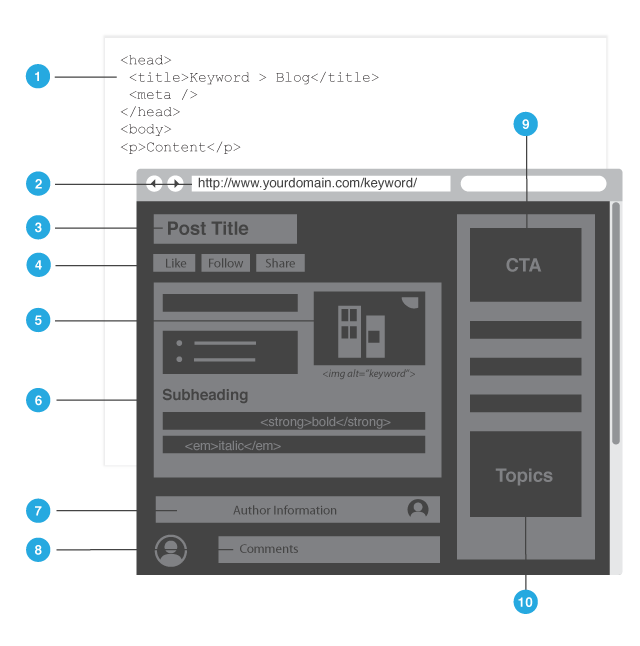 Page Title – By far, the title tag is an essential element of your page. Learn how to optimize your title tags, and you'll significantly increase the ranking and click-through rate of your blog posts in the search engine result pages (SERPs). Keep it under 70 characters. Be sure to include a full meta description for the page – under 156 characters.
Post Slug – the URL segment that represents your post is called a post slug and can be edited in most blogging platforms. Changing longer post slugs into short, keyword-centric slugs rather than having long, confusing post slugs will increase your click-through rate in the search engine result pages (SERPs) and make your content easier to share. Search engine users are getting far more verbose in their searches, so don't be afraid to use how, what, who, where, when, and why in your slugs to enhance the slug.
Post Title – While your page title can be optimized for search, your post title in an h1 or h2 tag can be a compelling title that draws attention and attracts more clicks. Using a heading tag lets the search engine know it's a critical section of the content. Some blogging platforms make the page title and post title the same. If they do, you don't have an option. If they don't, though, you can take advantage of both!
Sharing – enabling visitors to share your content will get you far more visitors than leaving it to chance. Each social site has its own social sharing buttons that don't require multiple steps or logins… make it easy to share your content and visitors will share it. If you're on WordPress, you can also use a tool like Jetpack to publish your articles on any number of social channels automatically.
Visuals – a picture is worth a thousand words. Providing an image, an infographic, or a video in your post feeds the senses and makes your content much more powerful. As your content is shared, images will be shared with it across social sites… choose your images wisely and always insert alternative (alt tag) text with an optimized description. Utilizing a great post thumbnail and the appropriate social and feed plugins will increase the likelihood that people will click through when shared.
Content – Keep your content as brief as possible to convey your point. Utilize bulleted points, lists, subheadings, strong (bold), and italicized text to help people scan the content more accessible and help search engines understand the keywords and phrases you wish to be found for. Learn how to utilize keywords effectively.
Author Profile – Having your author's image, bio, and social media links provides a personal touch to your posts. People want to read posts from people… anonymity doesn't serve the audience well on blogs. As well, author names build authority and social sharing of the information. If I read a great post, I often follow the individual on Twitter or connect with them on LinkedIn… where I read additional content they publish.
Comments – Comments enhance the content on the page with additional relevant content. They also allow your audience to engage with your brand or company. We've abandoned most of the third-party plugins and opted in just for the WordPress default – which is integrated into their Mobile apps, making it easy to respond and approve. Comments attract unwanted spam, so a tool like Cleantalk is recommended. Note: On some service sites, I have disabled comments that didn't add value.
Call To Action – Now that you have the reader on your blog, what do you want them to do? Would you like them to subscribe? Or register for a download? Or attend a demonstration of your software Optimizing your blog post isn't complete unless you have a path for the reader to engage deeper with your company. For WordPress, we incorporate Formidable Forms throughout to capture leads, integrate them into CRM systems, and push alerts and auto-responses.
Categories and Tags – Sometimes search engine visitors click through but don't find what they're looking for. Having other posts listed that are relevant can provide deeper engagement with the visitor and avoid them bouncing. Have plenty of options for the visitor to stay and engage more! You can help by ensuring you have a discreet number of categories and trying to assign each post to a minimum of them. For tags, you'll want to do the opposite – trying to add tags for keyword combinations that may drive people to the post. Tags don't help with SEO as much as internal search and related posts.
Editing Your Blog Post
The majority of these critical elements are all set up and automated with the installation and configuration of your blogging platform. Once I spend time on the content, I do go through some quick steps to optimize my posts, though:
Title – I try to connect with the reader and create a sense of curiosity so they click through. I speak directly to them with you or your!
Featured Image – I always try to find a unique and compelling image for the post. Images should reinforce the message visually. I've also added titles and branding to my featured images, so the articles pop when shared on social media, increasing click-through rates by over 30%!
Hierarchy – Visitors are scanning before they read, so I try to utilize subheadings, bulleted lists, numbered lists, block quotes, and images effectively so they can drill into the information they need.
Post Slug – I try to keep under 5 words and highly relevant to the topic. This makes sharing easier and the link more compelling.
Images – We always try to enhance the content with visuals that capture the visitor's attention. To get the point across, I avoid non-sense stock photos and create or utilize strong visuals, including infographics. And, we always name the file using keywords and phrases and utilize good, accurate descriptions in the alt tags of the image. Alternative text is used by screen readers for those with disabilities, but it's also indexed by search engines.
Videos – I search YouTube for professional videos to embed as a good portion of your audience will gravitate towards video. Video can be quite an undertaking… but it's not always necessary to record your own if someone else has done a great job.
Internal Links – I always try to include links to internal relevant posts and pages within my site so the reader can drill down for more information.
References – Providing third-party statistics or quotes to include adds credibility to your content. I often go out and find the latest statistics or a quote from a well-known professional to support the content I'm writing. And, of course, I will provide a link back to them.
Category – I try only to select 1 or 2. We have some in-depth posts that cover more, but I try to keep the target highly targeted.
Tags – I mention the people, brands, and product names I'm writing about. Additionally, I'll research keyword combinations people might use to search for the post. Tags help display related topics and internal searches of your site and shouldn't be overlooked.
Title Tag – Different from your on-page heading is the title tag that will be displayed in search engine results (and on the browser tab). Utilizing the Rank Math plugin, I optimize the title tag for search results whereas my title is more engaging for readers.
Meta Description – That short description under the title and link to your post on a search engine results page (SERP) can be controlled by a meta description. Take the time and write a compelling description that drives curiosity and tells the search user why they should click through to your article.
Grammar and Spelling – There are few articles I publish that I don't shake my head in embarrassment as I read days later or get a comment back from a reader on the stupid grammatical or spelling error I made. I try to verify every post with Grammarly to save myself… you should, too!
Promoting Your Blog Post
Social Promotion – I promote my posts on every social media channel, personalizing the preview and tagging people, hashtags, or sites I mention. If you are using a WordPress site, I'd highly recommend JetPack's paid services since it allows you to publish your blog posts automatically to virtually any social media site. FeedPress is another excellent service with integrated social media publishing, although it doesn't have LinkedIn.
Email Promotion – Watching our clients struggle to keep up with publishing in every channel is something we continue to observe. With an RSS feed, your blog is the perfect medium to be shared through your email marketing. Some platforms like Mailchimp have RSS feed script integrations ready to go, others have scripts you must write yourself. We've developed custom WordPress plugins that deploy custom email content for clients who want to tailor their integrations. And, JetPack also offers a subscription offering.
Updates – I'm constantly reviewing my analytics to identify the articles that rank well that I can enhance with additional content or better target in search rankings. This article, for instance, as been updated over a dozen times. Each time, I publish as new and repromote through each marketing channel. Since I don't change the actual post slug (URL), it continues to improve in rank as it's shared across sites.
Need Assistance With Improving Your Content's Return on Investment?
If you're producing a ton of content but simply aren't seeing the results feel free to contact my firm, and we can help you optimize your site for search, social media, and conversions to maximize the impact of your content. We've helped many clients to organize their content better, redesign their site templates, and help to enhance the content while measuring the impact of the content on their overall business strategy.
Disclosure: I'm an affiliate for some of the services I'm promoting in this article, and I'm including my affiliate links. I'm also a co-founder and partner in Highbridge.