I've been a modest user of Flickr and really haven't done much with it. My main reason for using Flickr was the group feature that allowed me to make an I Choose Indy Group for the website I Choose Indy. Joining Groups is a key feature of any social networking site and all of them seem to be catching on and offering them.
My son graduated from High School a week ago (with a respectable 3.81 GPA, a small scholarship, and accepted into the Physics program at IUPUI). I took a handful of photos at the graduation, zipped them up and sent them to all our relatives. Immediately, I began to have problems… some folks got the file and couldn't open it, for some it was corrupted, and some never received it at all.
This morning I decided to upload the images to Flickr and share the set with my family. I was actually dreading the process, though… upload, edit, upload, edit, upload, edit. Before I got started, I visited the Tools section of Flickr to see what may have changed and I found the Flickr Uploadr: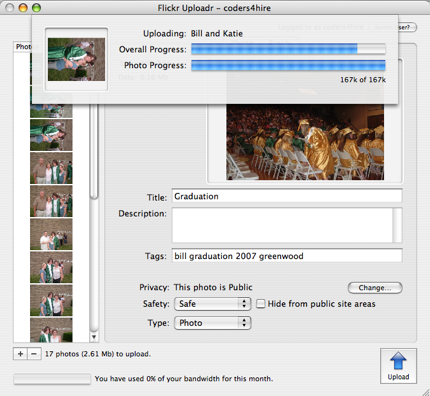 It worked amazingly well! My only complaint is that it didn't display the pictures in the tool with the right orientation (they were uploaded with the right orientation, though) so I wasted some time trying to figure out what was going on. Once the images were uploaded, I made a set, and shared it with my family and friends (you can email up to 50 friends and family in a single shot)!
Pretty cool. Thanks, Flickr! I hope to see more ways of actually displaying images in the future. It's been months since I logged into Flickr and it doesn't appear that there are any additional tools for actually displaying your images in a sidebar, flash file, slideshow, etc.
View Bill's Graduation Pictures