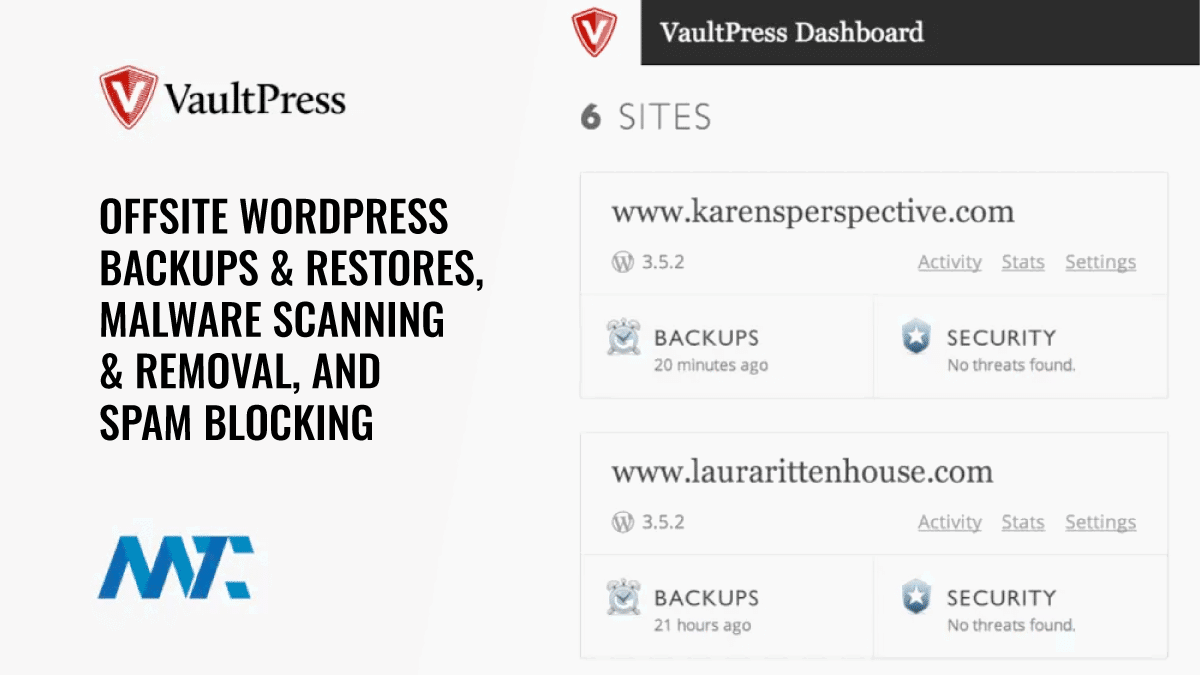 Some of our clients choose to host their WordPress instances in the cloud on their own hosting platform. Highbridge had been recently hired to help a company whose site had been hacked and malware injected throughout their core WordPress files. The site was subsequently delisted by search engines and the owner was notified via a Google Search Console alert.
It's not uncommon for companies with a talented IT group to configure and host their own instance of WordPress. If you're an experienced infrastructure engineer, you can build out an incredibly fast environment to host WordPress in for a fraction of the cost of many of the high-end WordPress-managed hosting platforms. However, there are challenges that you must be prepared for:
Backups and Restores – backing up WordPress is quite simple and there are a number of plugins and services available for this. However, you should absolutely ensure that you have several crucial challenges overcome. First, your backups should be off-site. That means they are not stored on the same server that your site is hosted on. Second, your backups are accomplished daily and don't overwrite old versions. We've had a couple of clients who had a single backup file and the malware was injected several days ago… so their backup was corrupted as well as the live site. Lastly, you should have the ability to easily restore or backup the site without a lot of effort.
Hardening WordPress – because the platform is so popular, it's an attractive target for hackers. WordPress is comprised of several technologies that all need to be secure: core files, theme files, plugin files, uploaded files, and hosting environment files. This means that you have to be diligent at maintaining your server, your WordPress instance, as well as all themes and plugins to ensure that security updates are maintained. If you've done nothing to harden WordPress and you're not maintaining updates… you're likely going to get hacked.
Denial of Service Attacks (DoS) – your company may come under attack by hackers who hope to disrupt your ability to keep a website or platform up and running. Aside from hardening your site to avoid malware and script injections that can take it down, your IT staff should also have the means to divert or block DoS traffic so that your site can be kept online.
This specific client didn't have scheduled backups that we could refer to before the malware was injected, didn't have a hardened WordPress instance, and was hosted on a cheap hosting service that didn't provide any support for removing the malware… so an expensive, emergency project was underway by our team to get the site back online. It took us several hours, but we migrated them to a managed server with all the security capabilities they should have had in place beforehand.
All of this pain and effort could have been avoided by using a service like VaultPress.
VaultPress: WordPress Backups and Security
VaultPress is a plugin and accompanying service from Automattic, the parent company of WordPress. The platform protects your WordPress site from hackers, hosting failures, viruses, user errors, malware, and other exploits.
VaultPress Security features include:
WordPress Backups – Automated backups stored in our offsite digital vault in real-time.
WordPress Restores – If anything ever happens to your site, a quick, painless restore will bring it back to its former glory — without contacting your host even once.
WordPress Site Migration – Thinking about moving your site from an unreliable, expensive, or slow host? Transfer or duplicate it now.
WordPress Automated File Repair – Fix detected viruses, malware, and other dangerous threats with a single click.
WordPress File Scanning – Automatically detect and eliminate viruses, malware, and other exploitable security problems that may be lurking on your website.
WordPress Spam Defense – Protect your SEO, readers, and brand reputation by automatically blocking all spammers with Akismet.
VaultPress makes it easy to keep an up-to-date backup of your site with both daily and real-time syncing of all your WordPress content. To ensure your site stays safe, VaultPress performs comprehensive security scans daily and makes it easy to review and fix threats.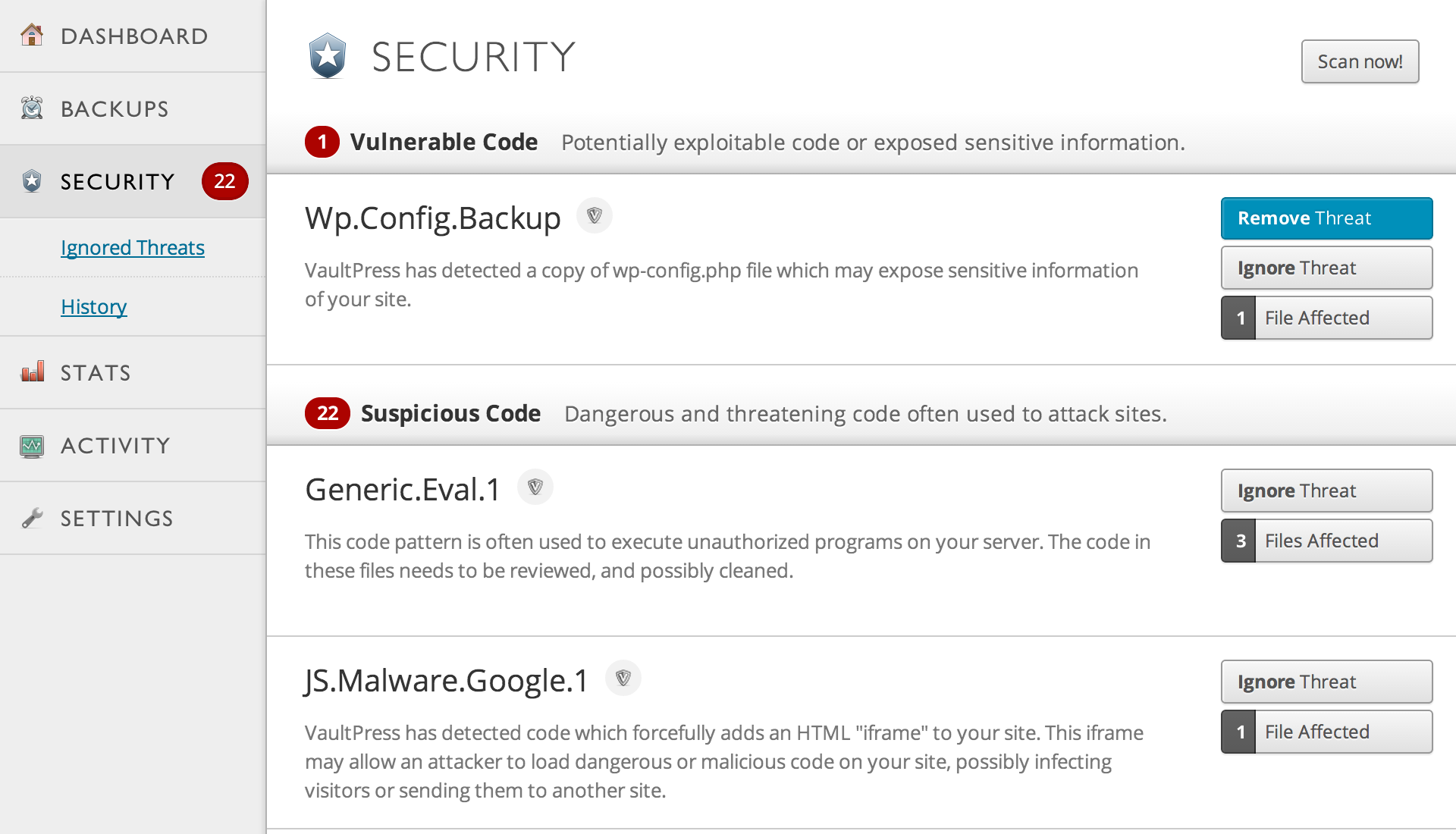 It's simple. The VaultPress plugin connects your site to the VaultPress servers, and WordPress-optimized backups and security scans will run automatically. Provide FTP or SSH information, and VaultPress can automatically restore any backup to your site with just a few clicks.
VaultPress is now bundled with the paid version of Jetpack, an add-on plugin that provides dozens of additional features to WordPress.
Disclosure: Martech Zone is an affiliate of VaultPress and we are using our affiliate links for all the WordPress services in this article.