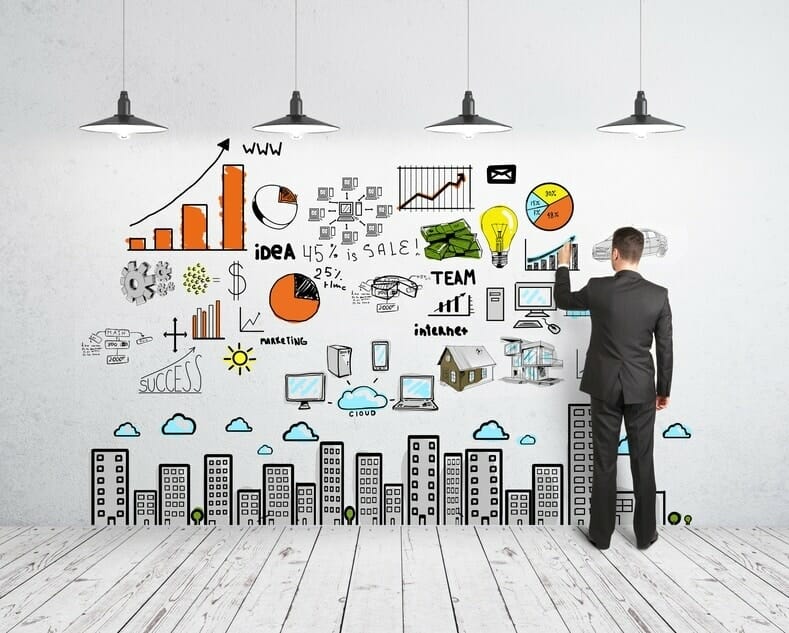 Nailed it. That's what I thought as soon as I saw the image below from MediaPlant's report sponsored by Microsoft, Dollars, Bits, and Atoms: A Roadmap to the Future of Marketing. It's a well-thought out and practical look at how technology is evolving to enable more effective marketing strategies. One diagram stood out as we've been assisting companies develop their online marketing strategies so I've included it below.
Marketing is in a state of transition, driven by changes in technology, demographics, and society. This map visualizes trends identified by industry leaders and experts, showing relationships between technologies and marketing tactics, and where the industry is headed.
I didn't want to share too much – be sure to read through the entire collection of reports at MediaPlant. MediaPlant is a communications firm specializing in B2B marketing, strategy, and technical development. Author Rob Salkowitz is an internationally recognized author and expert in entrepreneurship, innovation, and the disruptive effects of technology on business. Be sure to read this report and others at MediaPlant.
We've developed a methodology we call Content Authority with our customers that is a process that utilizes real-time data, streaming data, and other metrics to develop and identify gaps in business' content as well as predict demand for new content. Content marketing is typically the execution of linear strategies that product industry, product, and service-related content necessary for sales. Authority is the ability to grow and accelerate your reach, popularity, and recognition in your field. (Contact us if you'd like more info).
Agencies aren't keeping up with these advancements but the technology exists. Data Warehouse as a solution and marketing hubs are providing big data solutions that are bringing every piece of data critical to the customer journey into the grasp of marketers. This provides incredible opportunities for both segmentation and personalization – the holy grail of marketing: placing the message at the right time and right place to your customer or prospect without annoying them.